The Essentials
by John
With the decision made, we realized we had less than two weeks to get ready for the trip of a lifetime. What to take with us? More importantly, what to leave behind?
If I learned one thing on my voyage on the
Blue Moon
, it was that we'd need less than we thought. When I left the dock in Steinhatchee, my poor little 23' boat was so crammed with stuff that I could barely move. At the time, I estimated that I had brought approximately 1500 lb. of 'essentials' with me. Boxes of book, tools, spares, equipment, clothes, sleeping bags (2 different weights), boxes and boxes of food and drink... the list went on and on and on.
The funny thing was, as I went along, I came to value
space
more than
stuff
. And so little by little, I jettisoned things I really didn't need. In fact, many of the things I brought on that trip are still in their original packaging. I never did need them! By the time I reached Huntington, the
Blue Moon
was practically empty, my 'stores' pared down to the truly essential.
Another lesson learned was that on a boat, everything must have it's place. There was nothing that got my blood boiling quite so much as having to dig through boxes and boxes of stuff to find the one little thing I needed. Not only was that sort of head-in-a-dark-box search massively frustrating, it tended to further scramble my stores, making it even more difficult to find what I needed the next time (which was often 5 minutes later.)
So, the two rules for this trip were: bring as little as possible, and keep it organized as much as possible.
To enforce the first rule, Helena and I agreed we'd bring exactly one duffle bag each. To keep things in order, everything in the duffle bag would be inside another, carefully labeled stuff sack. By keeping foul weather gear in one sack, safety gear in another, shore-going clothes in third, 'fun' stuff (books, electronics, cameras, etc.) in fourth, etc., it would be relatively easy to find something when we needed it. I.e., without having to dig through a pig-pile at the bottom of a duffle bag.
"Stuff sacks are cheap," I said when Helena questioned the need for such obsessive order. "Sanity is not."
Thanks to my
Blue Moon
trip, we already had most of what we needed. We ordered a few new books from Amazon, along with some new long-sleeve UV shirts (one thing I actually wore out on my trip), and a new camera -- one that could take video and pictures under any conditions. One thing I've noticed on sailor blogs, including my own, is that photos of nasty weather are rare. That might be because the captain is too busy to take pics, but also because no one wants to risk their $500 video camera in rain, spray, and blue water. Thanks to a suggestion from my son, Chris, I found a camera that could survive just about anything nature can throw at it. But more on that when I have time to try it out.
So, with a week gone, and 6 days to go before our departure, how are we doing? In short: pretty well. Pretty well, that is, if we had 4 duffle bags to fill, instead of two. Gathering the 'essentials' is the easy part.
Now
comes the hard part.
It is Time to Pack
by Helena
Back in April, after meeting Captain Forsyth and Fiona, we decided to leave the boat yard and warm up with a cup of coffee. At the yard, the conversation was all about Fiona, now, at the coffee shop it was all about the Captain.
What a fascinating man. Born in England in 1932, he flew fighter planes, drove cars with no brakes, moved to Canada where he got his commercial pilot license, landed (no pun intended) a job with Brookhaven Laboratories in NY and helped them develop their particle accelerator. Oh, did I mention he circumnavigated the world twice?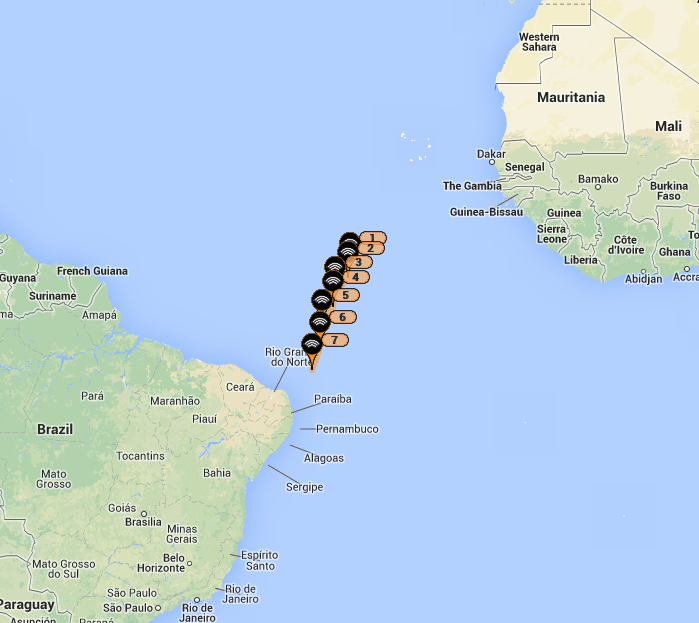 Fiona's current location
Now that we are about to spend 4 weeks together in a very tiny boat (really, really small), I decided it was time to learn more about the captain and the boat, and to figure out what we needed to pack.
To learn more about the captain and his adventures, I printed out many the many accounts of his voyages on his website (
http://www.yachtfiona.com
) and started to read. From reading these articles (sometimes between the lines) I started to make a long list of must-haves:
For beautiful sunny days sailing across the Bahamas: sun block, bikini, hat, mosquito repellent, sun glasses.
For rainy days sailing across the Atlantic: foul weather gear, sea boots, wool sweater, towel.
For stormy days on the Pacific: life jacket, harness, Dramamine.
As I read about Eric's travels, the same words kept turning up: "seriously sea sick...", "violently sea sick", "all of us got really sea sick..." OK, maybe he only mentioned that 3 times, but it was enough for me to start worrying. We stocked up on Dramamine. Later, I discovered a better alternative, much mentioned on sailing websites: Bonine. It must work, I thought, because it was so hard to find in the stores. I bought the last package in our local CVS, and the last two at the CVS in town. On the recommendations found on line, I also stocked up on wrist bands (I know these work, from personal experience) and, oddly, crystalized ginger, which many people swear by. I'm ready to try just about anything!
John being very pragmatic (I love that about him), organized our needs and wants into neat columns, added check boxes and separated items in groups. What a man!
We started shopping, and ordering online, and dragging things out of the basement, and taking things off the Blue Moon... So much excitement around here! We've turned our spare room into a voyage staging room: everything we think we might need has been put in piles in there. John just reminded me that somehow we need to get it all into two 36" long duffle bags. Good grief!
I need a piece of that crystalized ginger...
Next Episode:
D Minus Three