Friday, September 20, 2013
Today we will arrive Abrolhos Reef around 10 pm. I have a whole day ahead of me on Fiona.
After finishing my night watch at 4:00am, sooner than I expected it's time for my day watch from 8-11am. The sun is brutal, hot and we are almost done with one bottle of sunblock. I found an umbrella and I am using it as a protective shield against the sun. It works pretty well.
John and Eric spend most of the days fixing stuff, it seems that owning a boat is a never-ending chore. They worked on a cellular system, on the Sims card, on some computer programing that was running badly, etc, etc. Exhausting. John doesn't even have time or energy to blog, so I am doing most of that.
I was watching the horizon. For almost two days there is nothing but water 360. Amazingly enough, small colorful fishing boats pop-up from time to time -- what a hard way of making a living. In retrospect, traveling through Salvador and Ilheus reminded me of how lucky I am to have the life we live. Poverty, hardship, abandoned children, slums, beggars contrast with the beautiful nature. It is hard not to feel sad and wishing one could do something to help.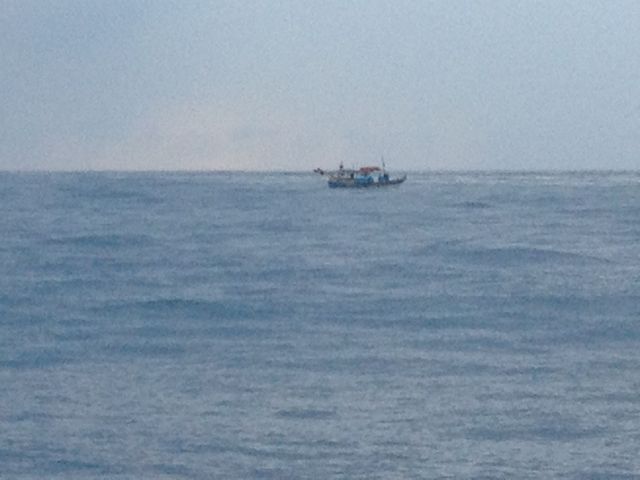 Typical offshore fishing boat
....
Torrential random rains called squalls are frequent, and we are using them to get some fresh water for bathing, not really bathing, more like rinsing off. It is more than we do with rations of 4 cups of fresh water per day. I take the opportunity to rinse my hair, it hasn't seen water in 4 days, yuck. The chills of the really cold rains are welcomed. Yes, even the dishes are washed with sea water when we are not on port.
So here I am back to my watch, and to my surprise, one whale or a group of them were jumping out of the water and throwing themselves on their back, creating fantastic splashing.
We have a nice routine set on Fiona, lunch at 12, tea with cookies at 3, happy hour at 5, supper at 7. The boat has two systems that control the self-steering: George and Victor. I thought it was funny.
Abrolhos was about 3 very long hours away. We were rolling from side to side, I guess because there was no wind and we were motoring.
The lighthouse ahead on the island is flashing it's beam every 6 seconds. I did not know that each lighthouse is differentiated by it's light beam frequency or pattern. Pretty cool.
We arrived in Abrolhos at 10pm. Because of it's shallow waters we were very careful. I was monitoring the depth, John was in charge of the anchor and Eric was glued to the radar. We found our anchoring place but to our surprise there were another 3 sailing boats already anchored there, none of them with their anchoring lights on, John and Eric were outraged at this, tskt, tskt, tskt.
Tomorrow we will spend the day anchored on the reef. I am looking forward to exploring it.
Next Episode:
Danger In Paradise