March 15-16 -- St. Lucia in the Caribbean
There were three rogue waves that could have dismasted our hopes of buying Petronella: not being able to get insurance, not being able to import her into the US, and not passing inspection.
A few days ago, we surfed over the first two. My super insurance agent, Lynn Callahan of
Heritage Marine Insurance
in Mystic CT, stuck with us long after most other agents would have abandoned ship, and helped us get the insurance we desperately needed. If that sounds like a plug, it is. Long time readers know I rarely recommend anyone or anything, but Lynn vastly surpassed all our expectations and we are grateful for all her work. If you are looking for insurance for your wooden hull or classic design, look no further. Highly recommended.
And then I was finally able to find someone at US Customs who was able to confirm that we would be able to import Petronella with her 1985 Mercedes diesel engine. These engines are legendary for their reliability and long life, but we were worried about meeting strict emissions requirements that weren't even laid down until years after the engine had been manufactured. I thought that the engine would qualify under the grandfather clause that granted exceptions to such engines, but I needed more than that. I needed confirmation from someone in authority. A few days ago, I got it.
That cleared the way for the survey. We'd already found one of the few surveyors in the Caribbean qualified to survey a steel boat -- Christopher Kessell who was based in St. Lucia. It was just a matter of scheduling a survey, and getting Petronella from St. Martin to St. Lucia.
The owners, John and Gill, were greatly relieved about the insurance and emissions requirements, and were happy to sail Petronella to St. Lucia. After a fairly stormy passage, they dropped anchor off the Rodney Bay Marina, the only marina in St. Lucia with a travel lift. Helena and I flew down to meet them.
I wanted to be at the survey for the usual reasons, but also to pick Chris's brains about steel boats. He knew a lot about metal yachts, having grown up on one. He was also a fan of classic designs, and seemed thrilled to be surveying one of the famous Joshuas.
I told him I was mainly concerned with the three essentials: the hull, the rigging, and the engine. I'd already seen the sails, electronics, etc. I considered them to be replaceable 'accessories'. The hull, rigging, and engine were different. I didn't want to undertake extensive or expensive repairs to the basic boat. But as long as those three essentials were sound, we'd definitely buy Petronella.
Assuming he didn't find some disaster we weren't anticipating.
The first day we spent with Petronella afloat, surveying everything we could without hauling the boat. That included digging through every locker and deep bilge in the boat -- and Petronella has
a lot
of lockers. We spent a lot of time looking a few small rust spots at the bottom of one of the deep bilges in the bow, trying to guess how deep the rust went, without being able to do something simple, like, oh, hit the rust spot with a center punch.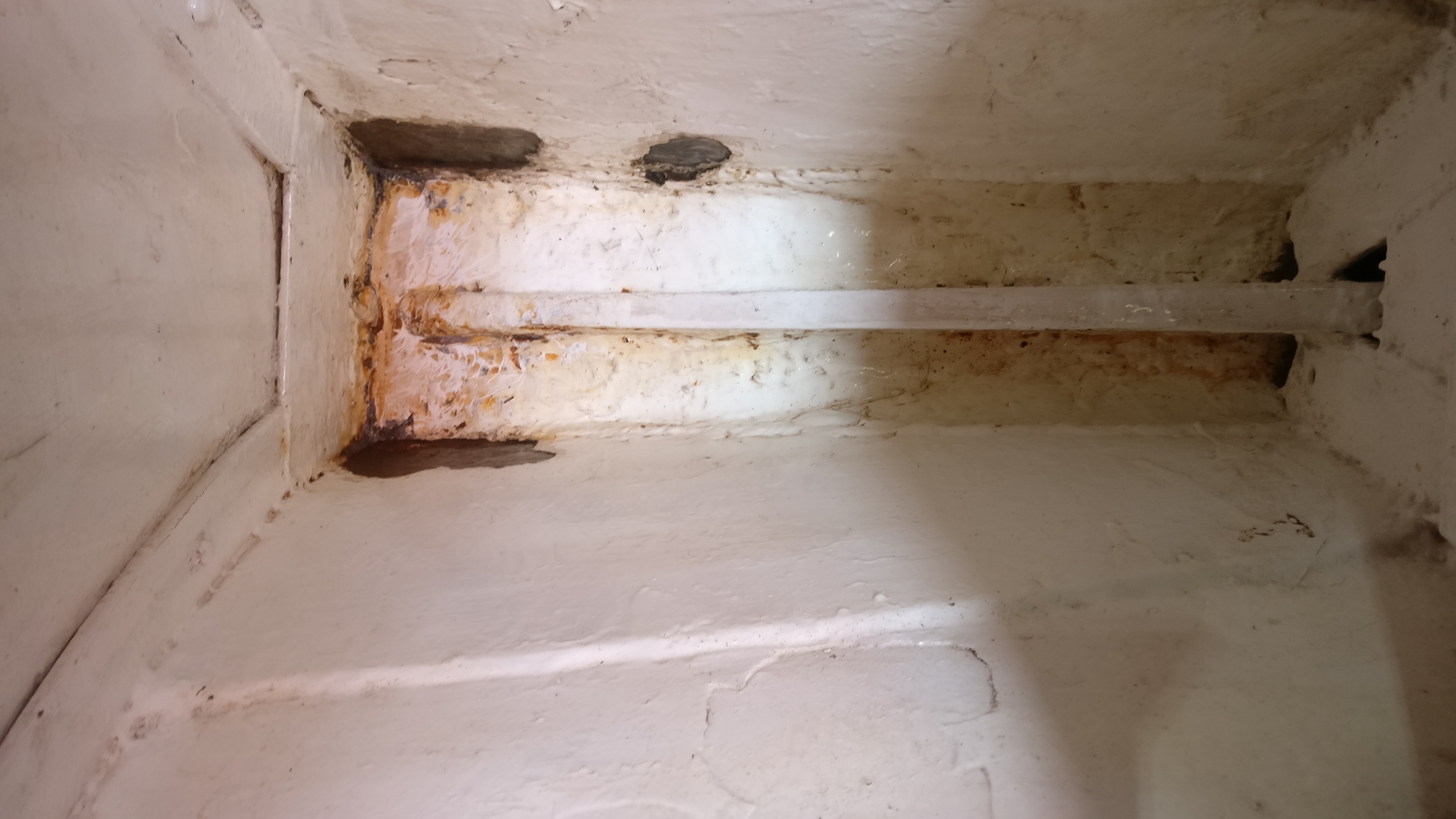 Rust in the bilge
"We don't want to sink her at her mooring," Chris said, wisely. John and Gill vehemently agreed. We'd have to wait to haul her to find out how bad the rust was.
As I hoped, Chris spent a long time inspecting the engine. He knew a lot about the big diesel -- more even than John who had spent the last 10 years taking care of it. He even told them that they'd been starting it wrong all those years. There was no need to give it any throttle when starting the engine.
"An diesel in good shape should start with no throttle at all," he said. John and Gill seemed skeptical at this, but when we tried it, it started beautifully.
"That's a good sign," Chris said.
Chris wanted to take the boat for a sea trial. That meant testing the engine under load.
"Lot of owners baby their engines, never running it at more than 1600 or 1800 rpm. Then when they really need their engine to pull them out of a jam, and run the engine at high revs, pieces start to fly off and spit out of the exhaust. If that's going to happen at high revs," he told me in private, "you want to find out now."
I fully agreed.
We motored out into Rodney Bay to put the engine through its paces. Gill put Helena at the helm, to give her a taste of handling Petronella. We did the usual maneuvers, testing the engine and transmission, but through out all, Gill kept the engine rpms below 1800, and indeed that seemed a pretty reasonable speed even to me.
But Chris wanted to see more.
"Bring the revs up to 2000," he told Gill.
She seemed reluctant to go past the self-imposed limits they had put on Petronella's poor engine, but grudgingly gave the engine more throttle.
No bits flew off.
"Let's try 2200," said Chris.
Now genuine fear seemed to cross Gill and John's faces.
"She'll handle it," said Chris reassuringly.
Shaking their heads, they increased the revs to 2200. No smoke billowed out the exhaust. No sudden noises emanated from the engine. It continued to run smoothly.
2200 rpm was the most she would do, and clearly 2200 was beyond what John and Gill had ever called for (and more than I would use except in an emergency.) But the engine ran brilliantly, and I think even they were impressed by how their old engine performed.
"Very good, very smooth," said Chris as he signaled Gill to resume normal revs.
She seemed relieved.
Then it was time to return to the mooring to inspect the rigging. How? The only way possible.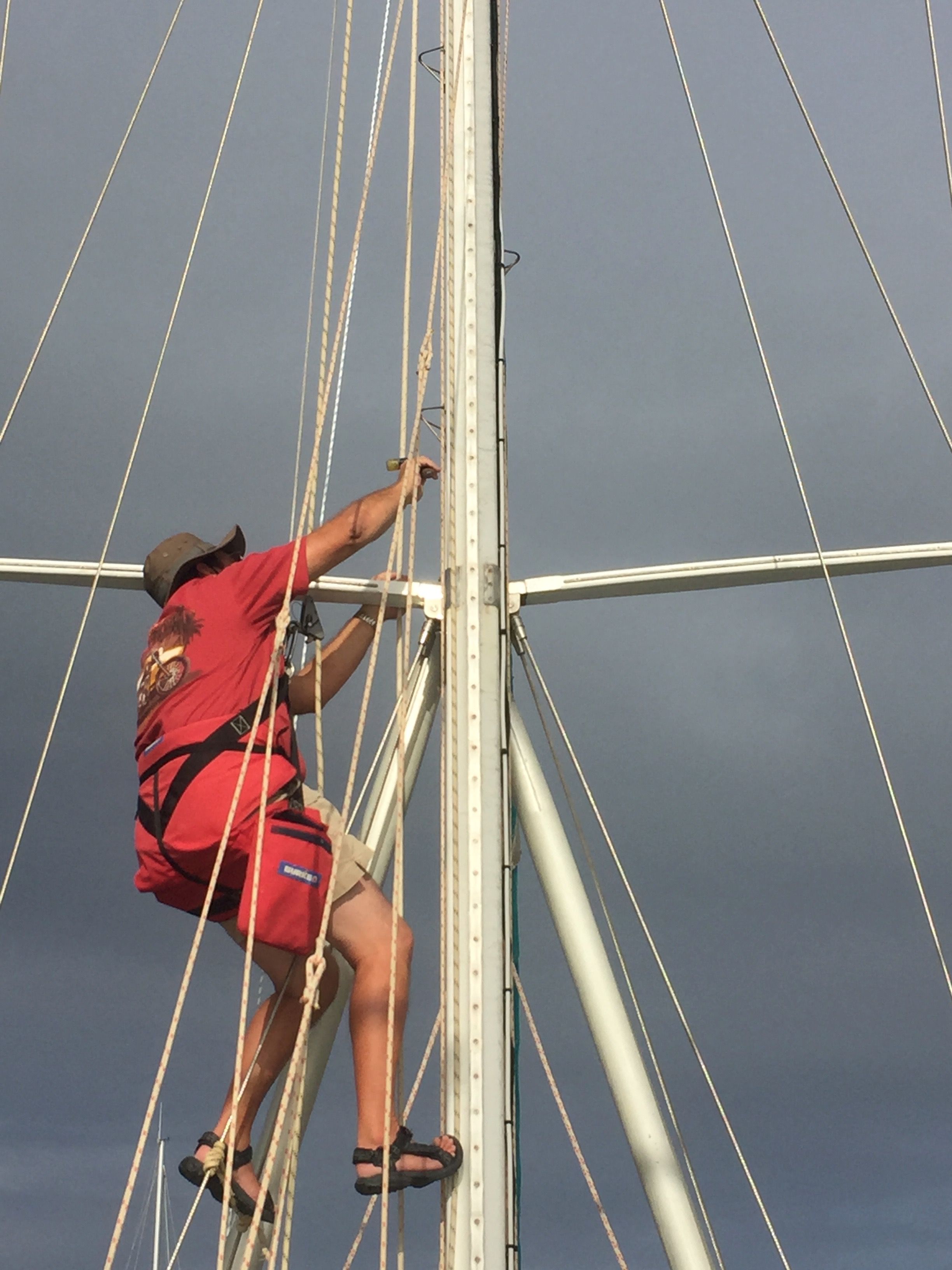 Chris heading up the main mast
Frankly, I was glad it was Chris and not me up that mast, but tapped his way up one side of it and tapped his way down the other side, and was generally well pleased. The masthead tri-color was twisted a bit to one side, and one of the spreaders needed adjustment, but everything else looked good.
And he had quite the view, so he should know.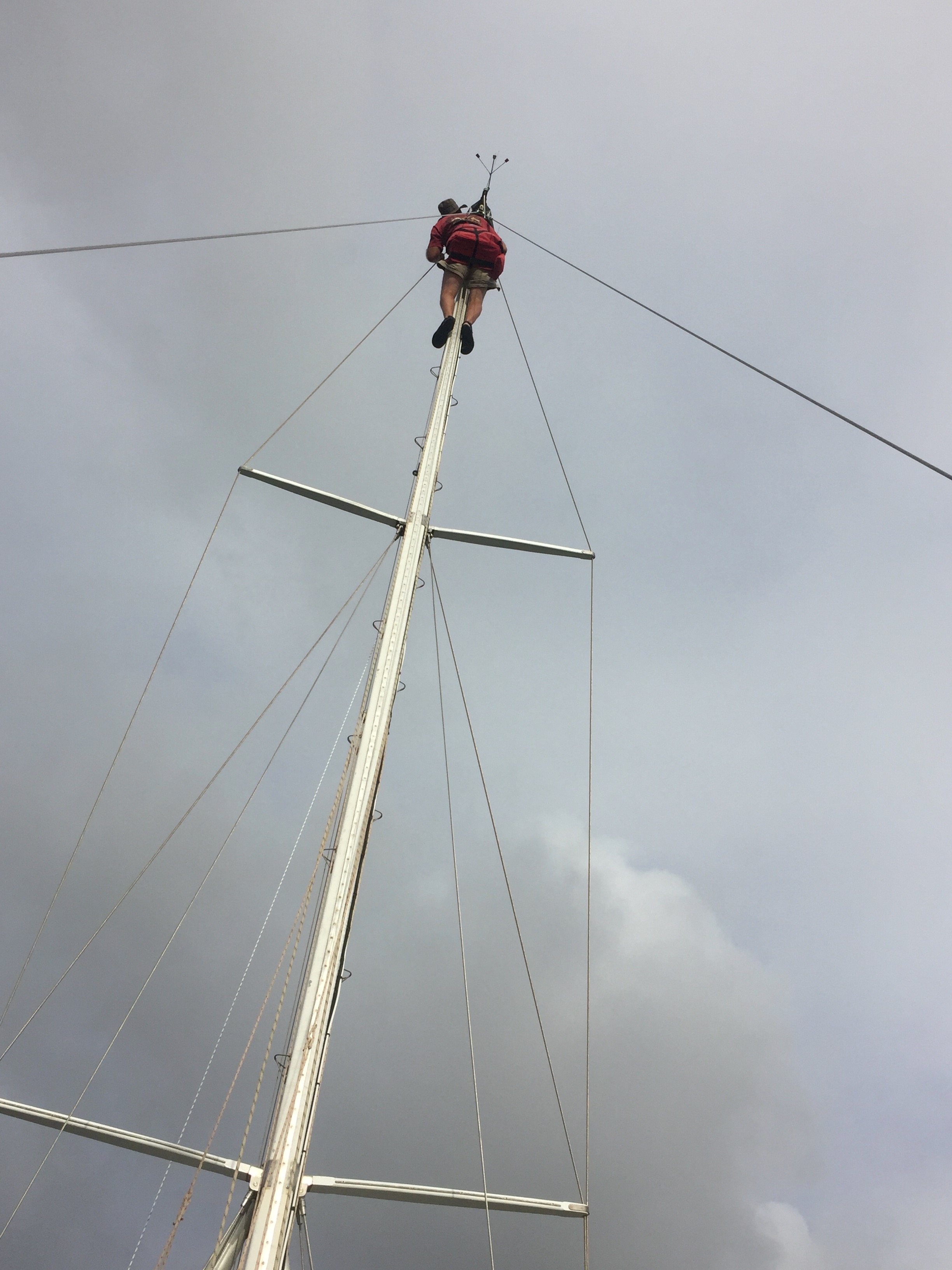 At the mast head
The next day, we hauled Petronella out to inspect her bottom. Her very impressive bottom.
I have to say Gill wasn't the only one who was nervous. I guess every boat owner hates to see her precious home dangled over concrete. I know I did, and I didn't even own her yet!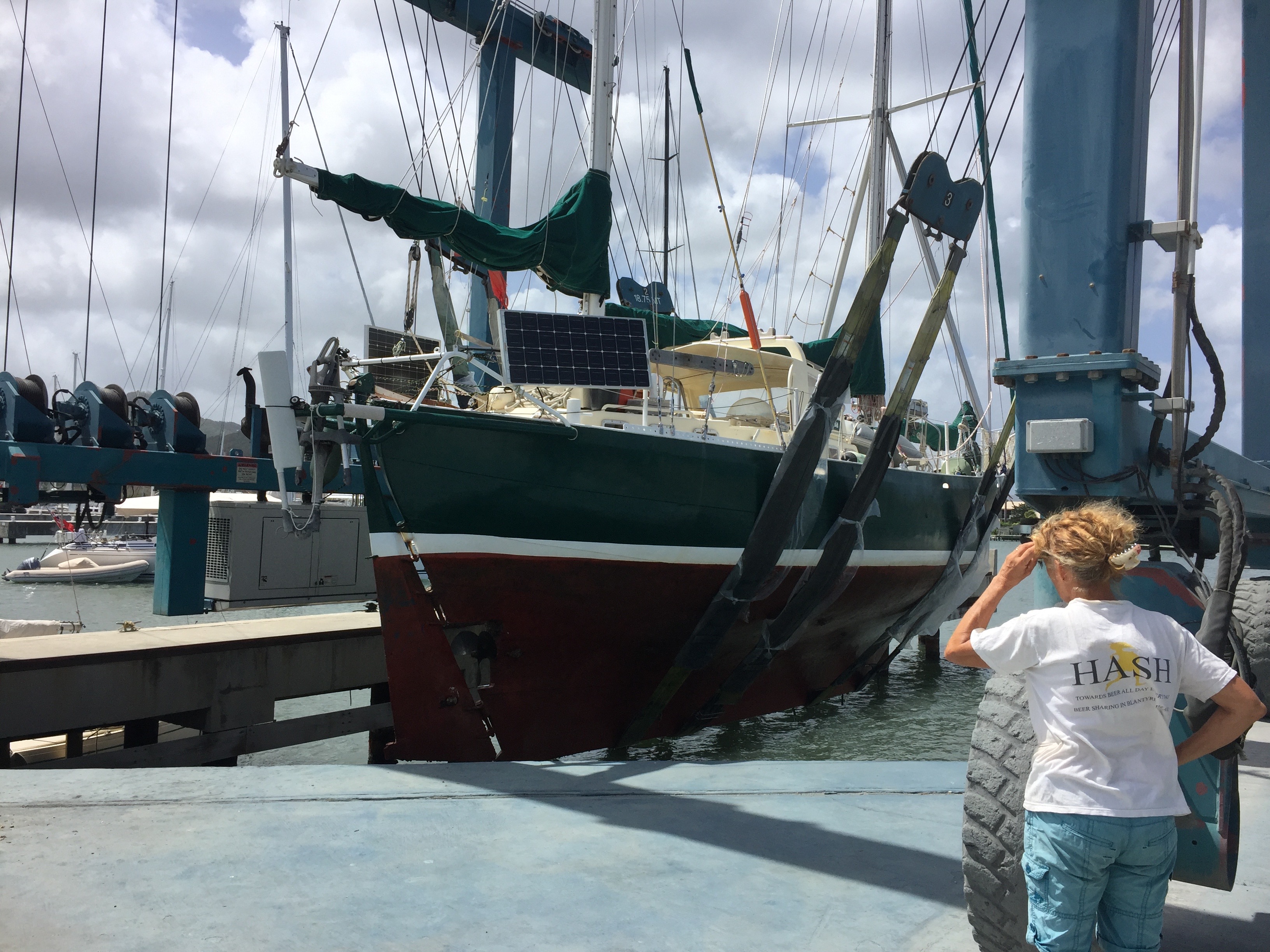 Gill just a little nervous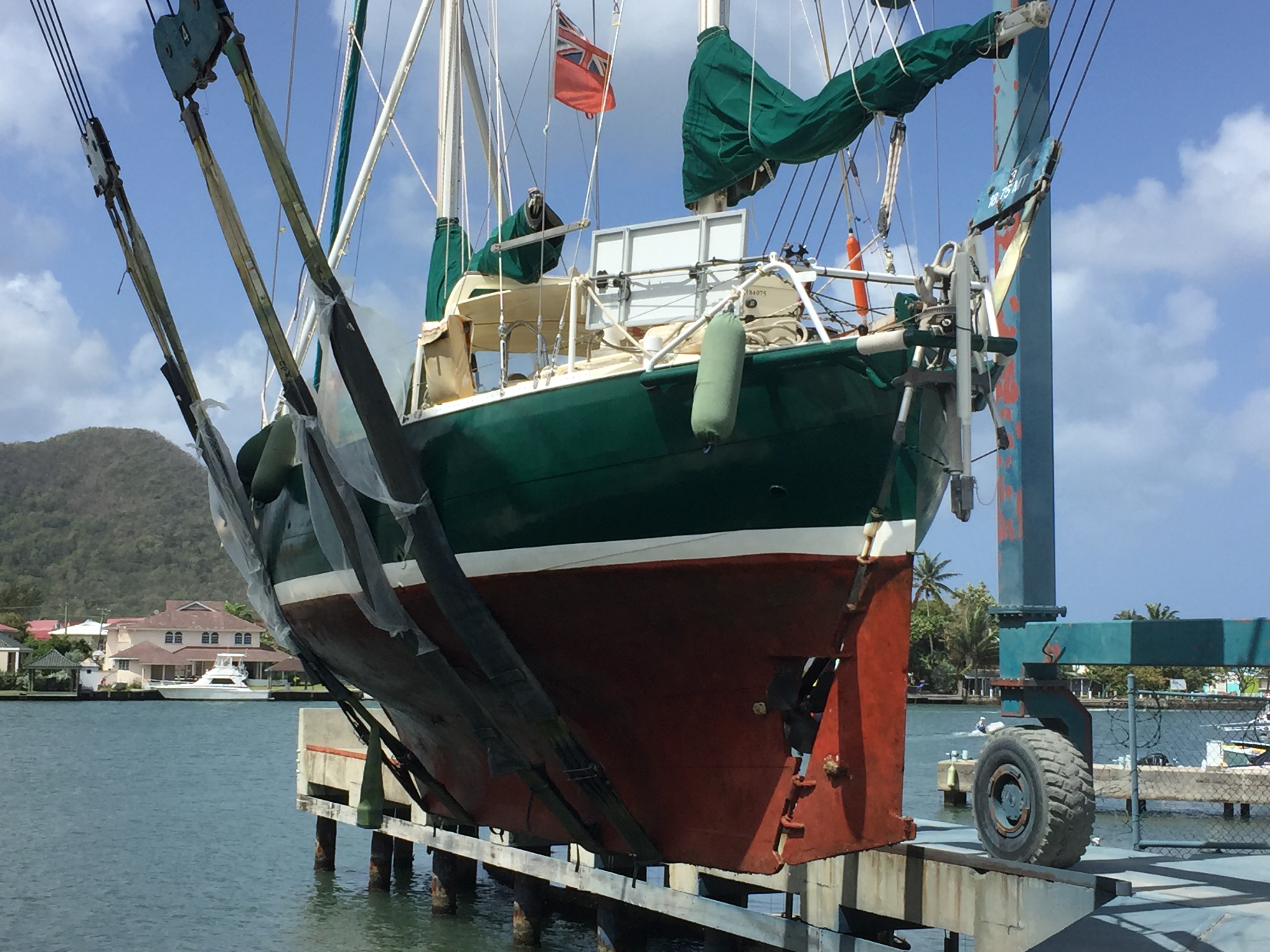 However, the boys at the marina knew their stuff and she was soon blocked up on the hard.
Having read just enough about steel boats to be dangerous, I had rented a rather expensive ultrasonic tester, which was supposed to be able to read the thickness of the steel hull. Chris had one, as well, but the purchase price of my rental unit was about 40 times the price of his, so we spent a lot of time taking readings. Generally speaking, we found the steel to be around 5mm -- exactly the thickness it had been the day she was built.
But what about around those rust spots? Wouldn't the steel be thinner there? That was my big worry, so I spent a lot of time trying to pin down the location of the rust spots from the outside. We had a couple of elusive 3mm readings, but found them impossible to replicate. Had they just been false readings? Glitches? As time passed, the paint dried out in the hot sun, and the machine stopped taking readings.
So much for modern technology.
"I'm going to try my hammer," said Chris, who proceeded to try to knock a hole in the boat with his ball peen hammer from the inside and the outside. He made a racket in the processes, but produced no daylight in the bilge.
"If it can survive that kind of hammering, it can't be too thin," he pronounced. "That's a hundred times more punishment than it will ever get from the sea."
I was a little more leery. There had been those low readings, even if we hadn't been able to reproduce them.
We debated it back and forth for awhile, but in the end, John and Gill decided to err on the side of caution.
"You won't be happy unless you know it is okay," they said to me and Helena.
We agreed, so they had the problem fixed.
How do you 'fix' a suspect spot on a steel boat? Nothing could be easier. That's one of the huge advantages of a steel boat. No replacing planks, no replacing sections of fiberglass (how would you even do that?) Just cut out the suspect section and weld a new piece in.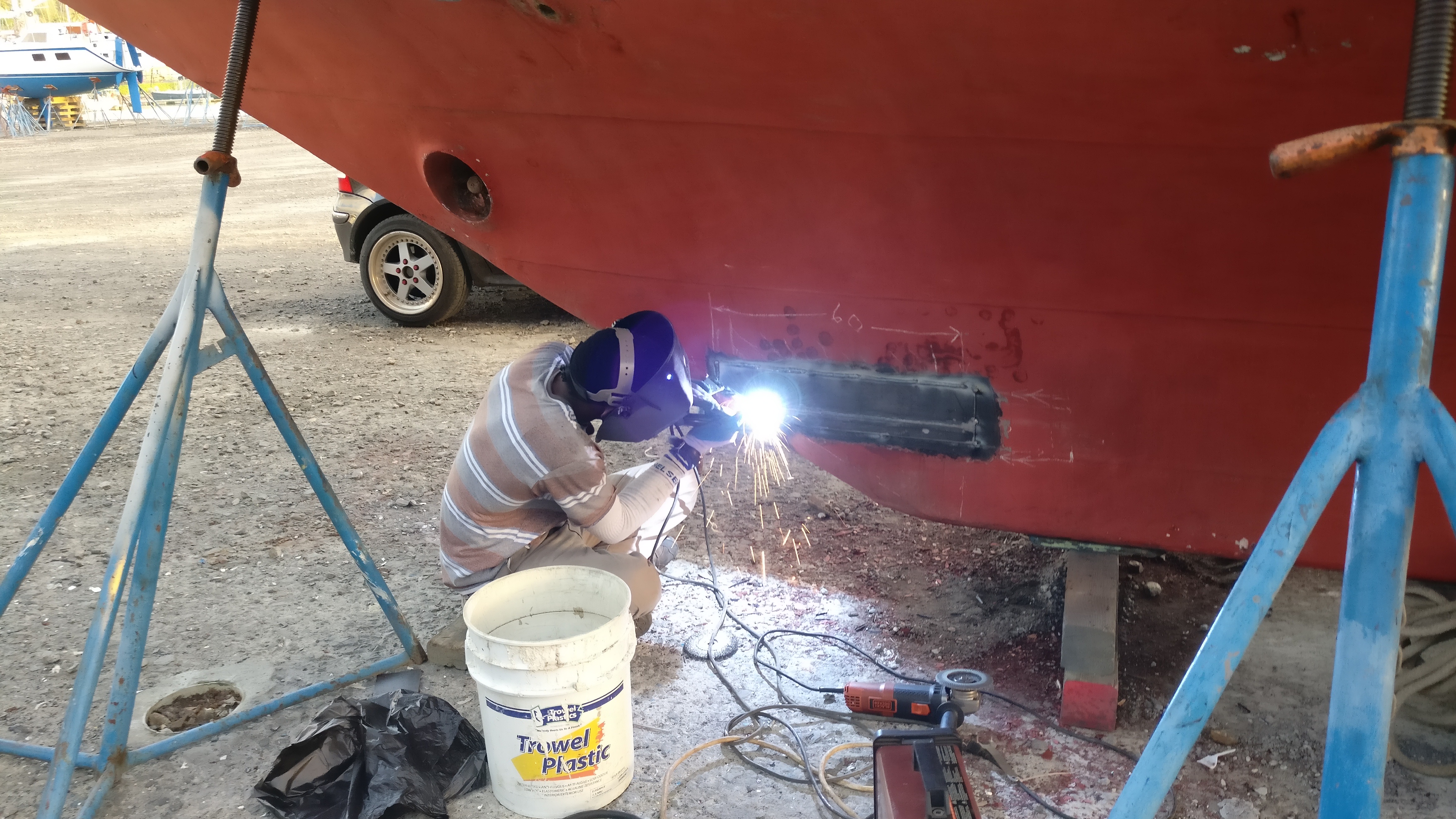 Rust spot? No problem, man!
We located a welder and, voila, problem solved.
Of course, Chris surveyed several hundred other parts of the boat that I don't have time to talk about, but in the end, he pronounced her to be in very good condition.
We were buying a boat.
A
steel
boat.
Next Up:
Shakedown Cruise