Okay! After a whole lot of prep work, including getting a second opinion from Cutts & Case -- a well known boat builder in this area -- taking down sails, disconnecting the various wires coming down the mast, taping all the turnbuckles to make it easier to re-tune the rig, removing the staysail boom, getting the outboard off the wooden bracket clamped onto the backstay, removing said bracket, and getting Helena off to Brazil again, we were finally ready to start work on the mast.
To really get started, though, I first had to get Petronella to the service dock. The very narrow looking service dock. And since my first mate was off to Brazil, I had to do it alone.
Actually, the marina would have been happy to send a launch to tow P to the dock, but I figured it was time to solo in Petronella. After all, I've been handing boats practically my whole life. Sure, Petronella was a bit bigger than most of my boats (by like 4x in displacement!) by, hey, how hard could it be?
So, I got up early, had a couple of cups of coffee, rigged bow and stern lines, put out plenty of fenders on the port side (thank God it was a port-side tie-up!), made sure I had a clear path to the bow on port-side, and tied the dingy to the mooring pennant.
Ready on deck, I went below to do my normal engine checks -- including checking both throttle and shift cables -- started the engine, and checked to make sure steering was working.
Then I hit pause for a moment and visualized everything I would do once I dropped the mooring line. I always find this a useful thing to do, even when Helena is on board. It gives me a chance to catch my breath, to take one last look around, and -- most important -- to plan what I was going to do.
There was a light wind blowing, so we should just drift back a bit from the mooring. There was plenty of room behind us, I could see. Once clear, we would motor forward slowly, past that other moored boat, then between those two empty mooring balls...
Once I had a plan in mind, I went forward, and confidently dropped the mooring line.
One good thing about having a heavy, long keel boat is that things don't happen too quickly. I calmly walked back to the cockpit while P considered the prospect of drifting down from the mooring. She'd pretty much made up her mind to do so by the time I had the wheel in hand.
A while later, we had drifted back clear of the dingy, and I put P smoothly into gear. We slowly gathered way, past the moored sailboat, and between the two empty balls, just as I'd planned.
Part 1 executed perfectly.
The service dock was on the other side of the marina, so I had a bit of time to fret. Okay, I admit that my heart rate rose
just a tad
, thinking about maneuvering P into a pretty tight dock space. I had walked the dock yesterday, just to see what I was getting into. There were several other boats on the next pontoon. Definitely would have to avoid hitting/sinking them. There was also an awkward turn, but I'd worry about that when I got there.
By the way, where the heck was that dock? I had maneuvered around to where I thought it was, but it was no where to be seen amidst the forest of masts to my starboard side. Where was it?
I stepped up to the starboard side deck, to see if I could spot it from there. No, but I could see a red-shirted dock boy waving at me. Phew! Just a little further.
I continued on, until I could see the service slip emerging to starboard. Gosh, yes, there was a bit of a dog-leg to the left on the approach.
My heart was really revved up at this point, but it was no time to faint. I stopped P's forward motion, and used prop wash to make the turn towards the slip. I would have to stay a bit to starboard, so I would have room to make the dog-leg to the left, and into the slip.
Recently, Helena had picked up a book that had a brilliant tip, and I intended to use it. Basically, even with the throttle at dead low, Petronella moves just a bit too fast to approach a dock. There is no way to reduce the throttle further, so in the past, I have had to reverse strongly to bring her massive bulk to a gradual stop.
The new idea (new for me, anyway) was to take her out of gear when approaching the dock, putting her into gear if she lost too much way. The book said this would give me much more control over my boat's speed.
Basically, it's neutral, drift forward, put in gear for a few seconds to keep boat moving forward, put in neutral again so you gather too much way, repeat...
Using this system, we very slowly maneuvered through the dog-leg to port, with the bow ending up slightly closer to the dock than the stern. By then, the dock boy had the bow line. I put P into reverse, gave her a medium burst of throttle, which stopped her within a few feet,
and
neatly pulled her stern into the dock (prop wash, again.) I stepped off with the stern line, and voila, we were docked.
Trivial, right? But it was the first time I'd done it on my own, and I was extremely pleased.
In a few minutes, the marina rigger was on the boat, all business, and the job was underway.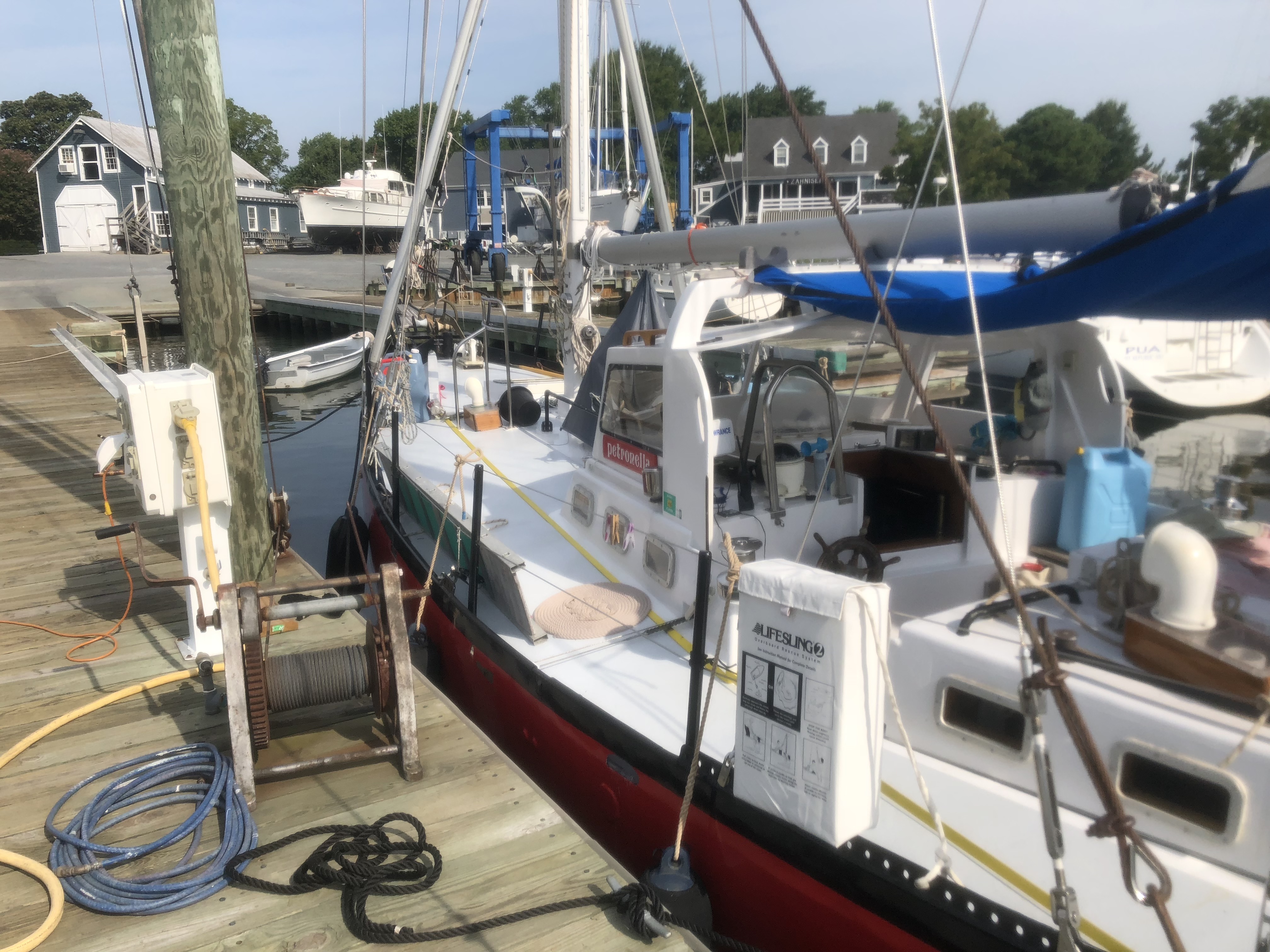 Petronella in service slip
He quickly had the boom on deck (I'd already done all the prep. All he had to do was pull the pin.)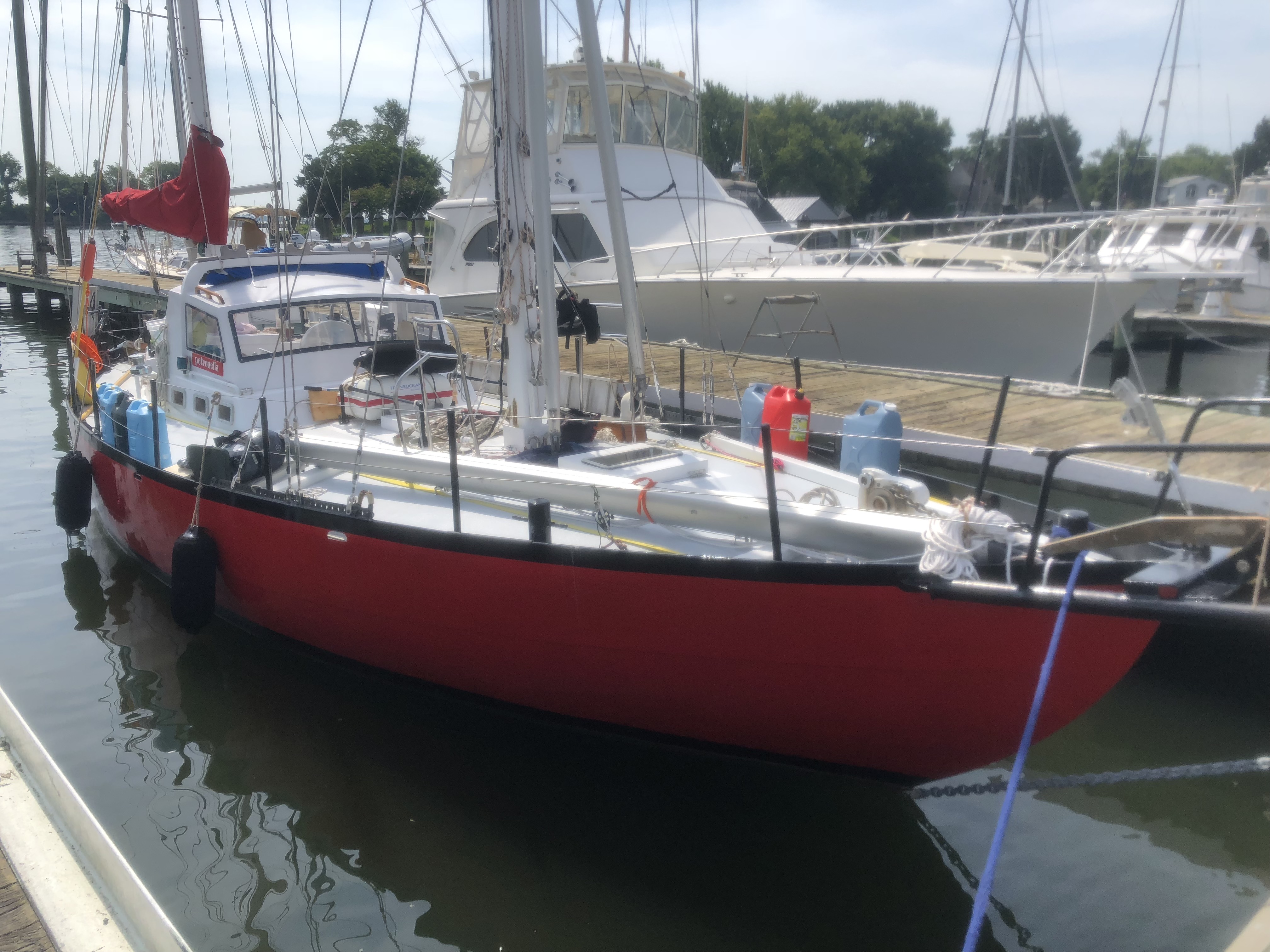 Boom down!
With a bit more prep, the crane guy showed up and the rigger was soon up the mast, attaching the sling.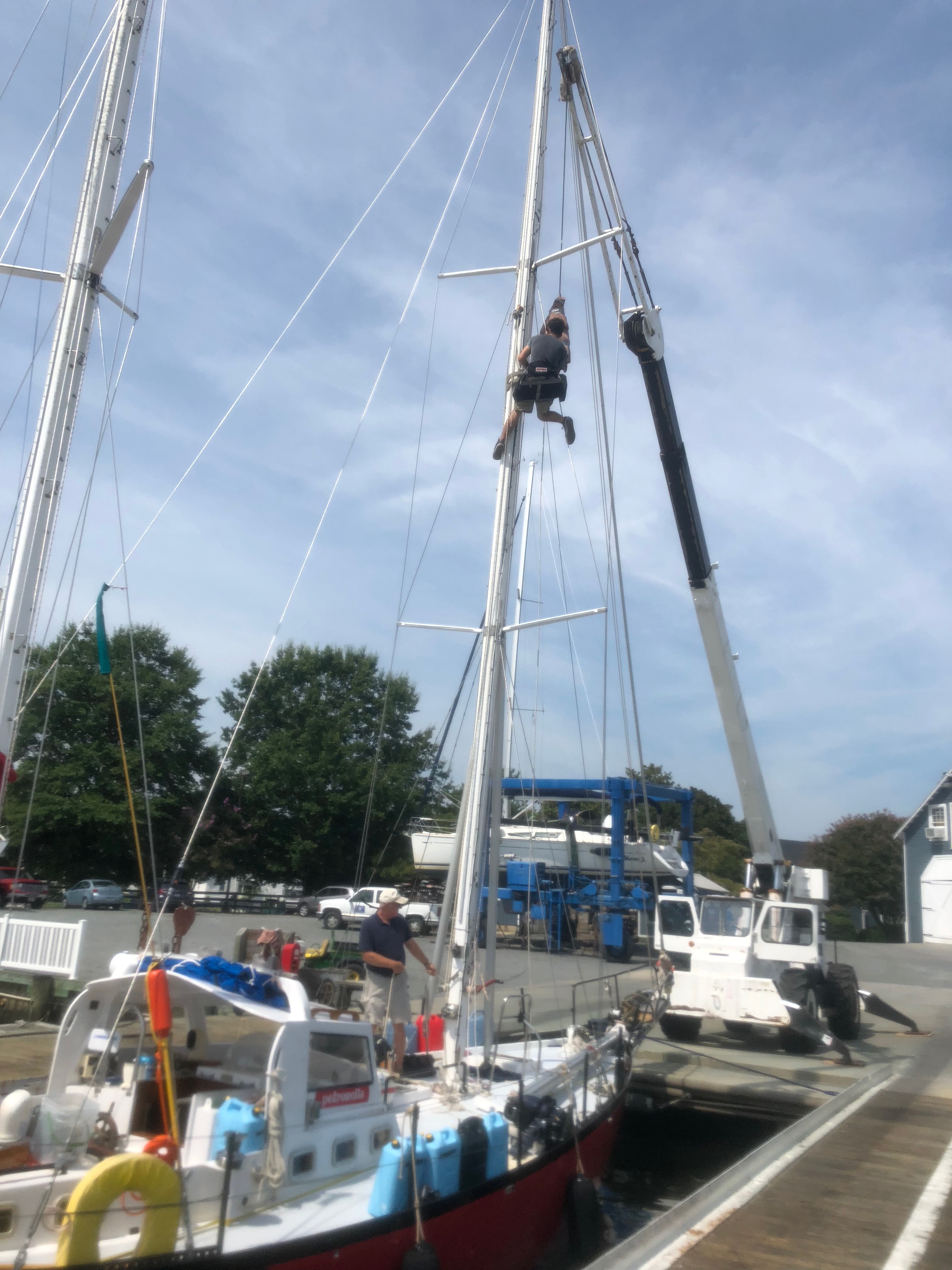 Hooking up the crane
Then, like clock work, even more people showed up and soon my precious, recently rebuilt ProFurl was disconnected.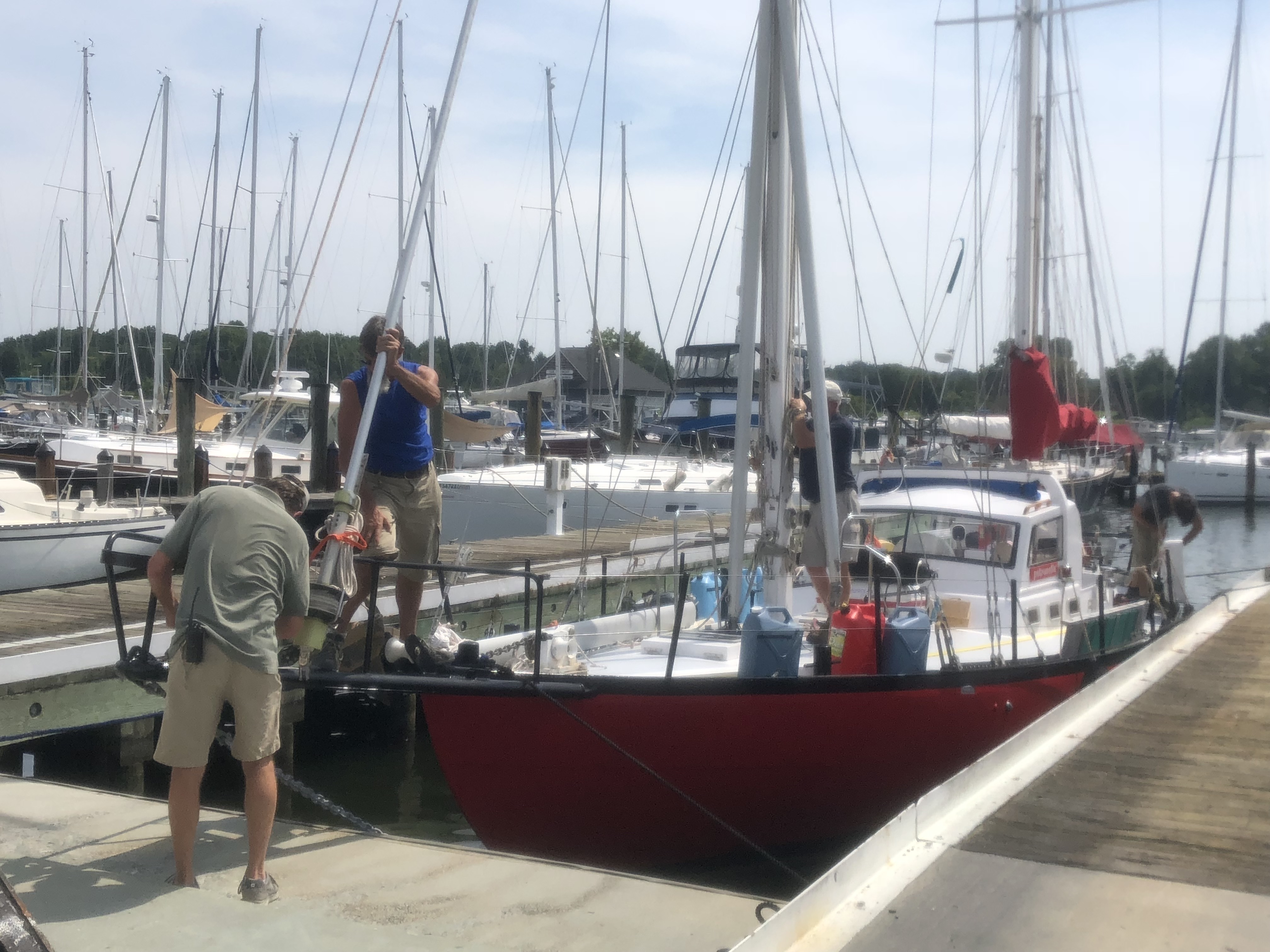 Whole crew in action
Before I could get really nervous, the rigger was disconnecting the shrouds and, just like that, they were pulling the mast up! I thought I might be sick, but I decided to video the process instead. Naturally, I hit the wrong button on my phone and missed the first part of the maneuver...
And, as neat as you please, the mast was down, and the boys were off to the next job. It's a real pleasure to watch people who know what they are doing.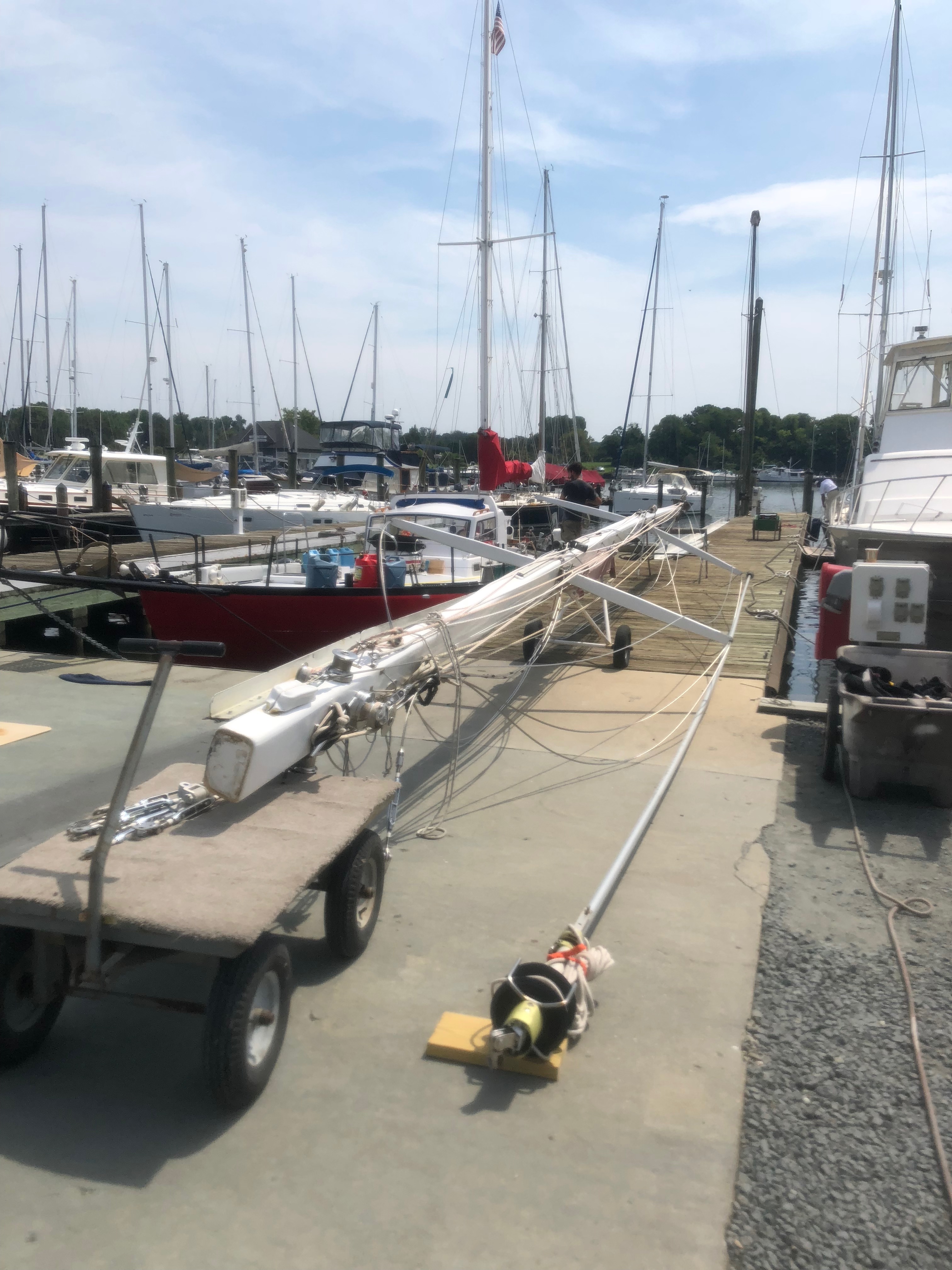 Mast down!
Then I had my first chance to inspect the bottom of the mast. It wasn't what I was expecting -- a mass of rotting, soggy wood -- but it was definitely cracked and open on the bottom. Enough to soak up a significant amount of water? Maybe?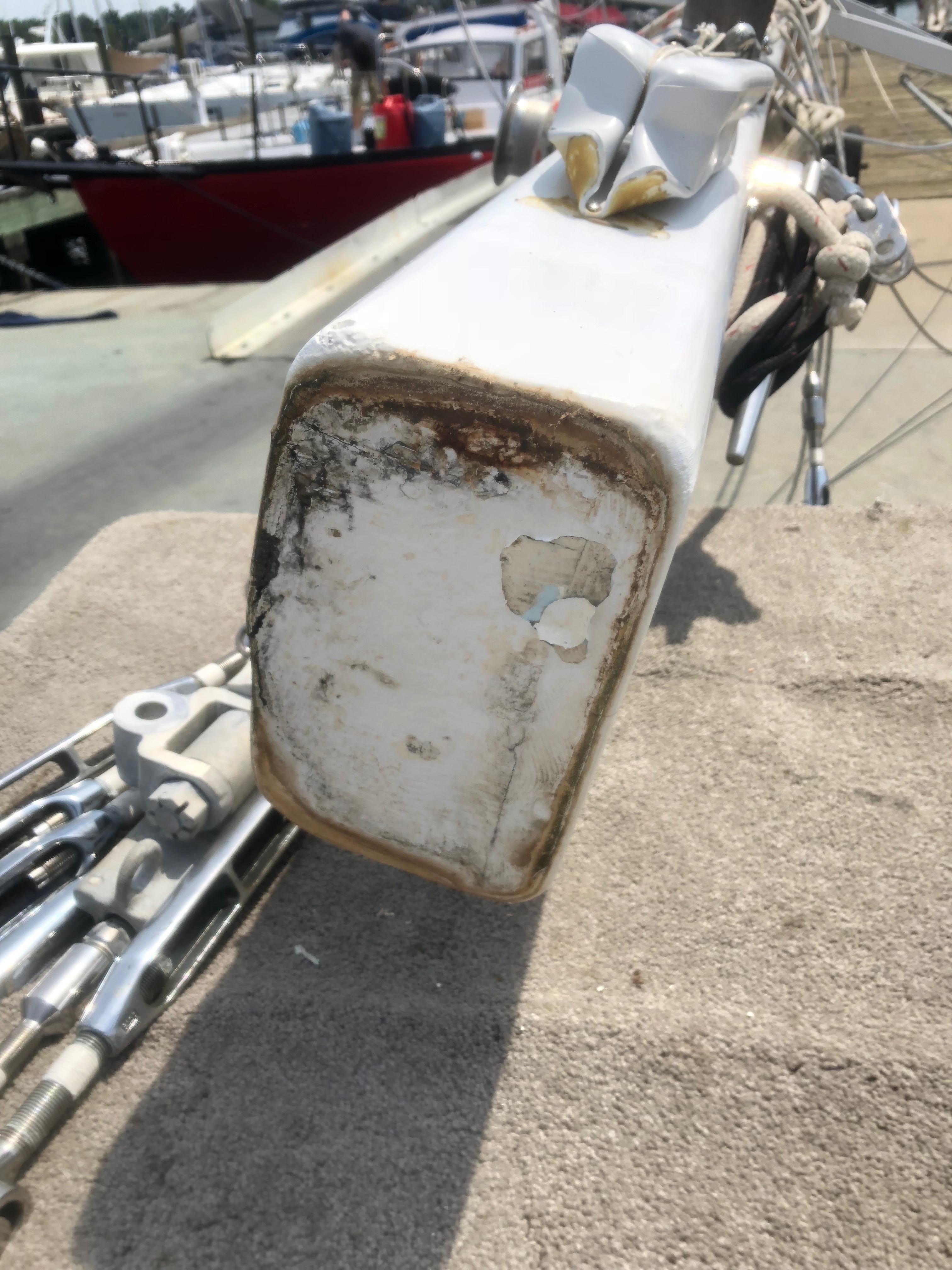 First look at bottom of mast
Then it was round to the other end to get my first really good look at the mast head, complete with it's integrated radar reflector. Wow. It looks like business. There are a few changes and repairs I want to make up there.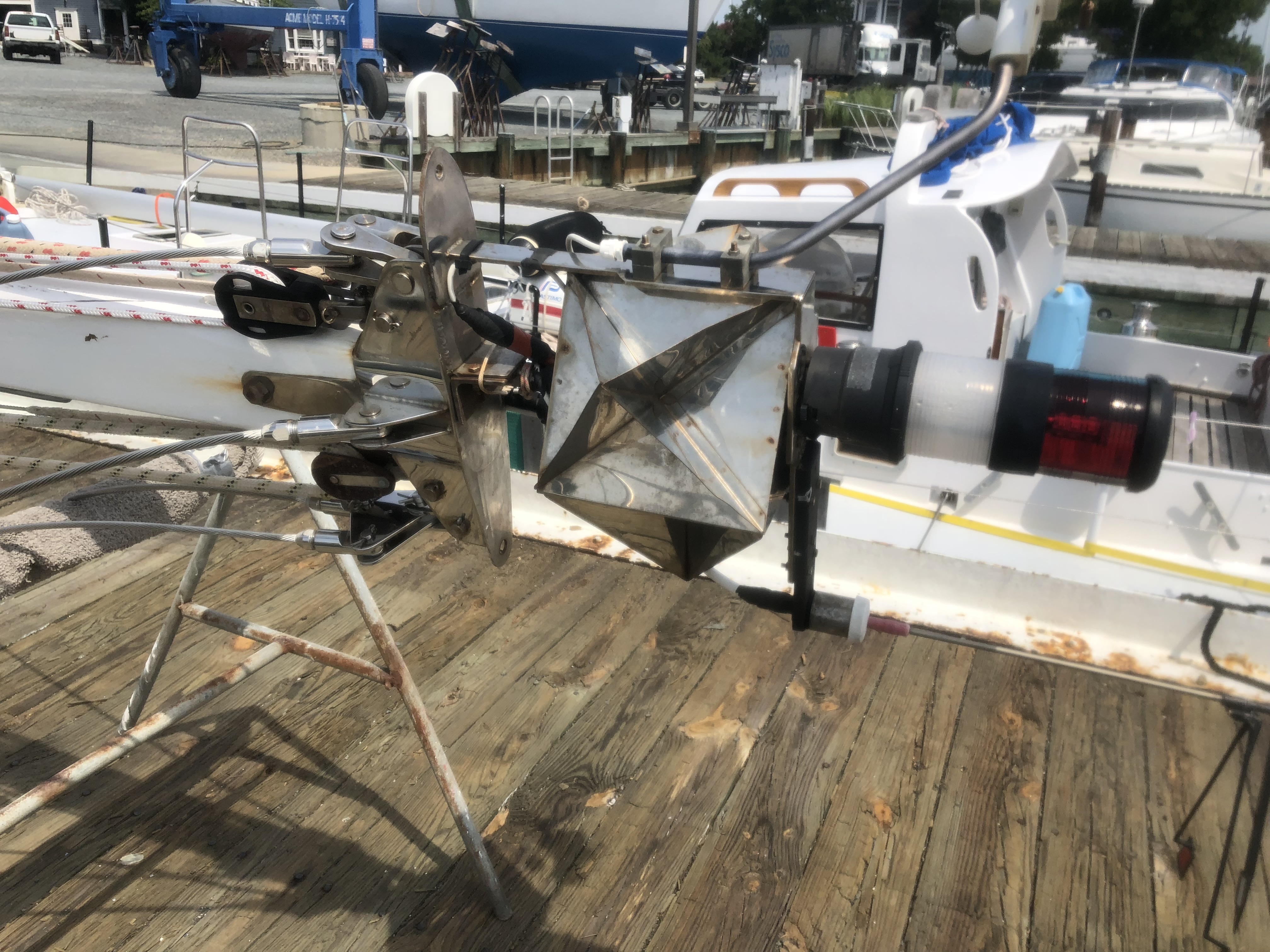 First look at mast head
And that was it.
Dave the boat builder will be back from his vacation on Monday, and then we will start to figure out where the rot is coming from, and how to fix it.
Finger's crossed...
Next Up:
Fixing a Wooden Mast - Part 2