October 1, 2013
Morning revealed the real beauty of Abraao. The quaintness of the night was replaced by intense colors. Green from the mountains and forest above, blue from the sky, cobalt blue from the sea and splashes of colorful fishing boats and tourist schooners.
While we are getting Fiona ready for departure, Eric asked if we would like to go onshore for a coffee and breakfast. Yes! I answered without hesitation. He must have sensed my disappointment yesterday.
We hop -- I mean we very gently lower ourselves -- into the dinghy and surprise! the motor is not starting. After some serious sailor talk between Eric and John, and several strong pulls on the starter, and more sailor talk, the motor finally started. We happily cruised to the shore.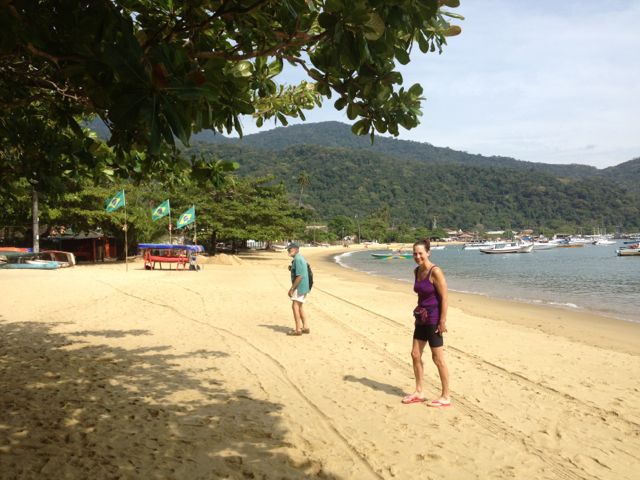 Feet on the beach. At last!
It was the first time during this visit that we got our feet in sand. Interesting because when you think of Brazil or cruising, the first thing that comes to mind is the beach. Here we are 2 weeks later, first time on sand. It felt good walking barefoot in clean water.
Amidst the simplicity of the island it was surprising to find a very fancy padaria -- brazilian word for bakery. But besides breads and sweets it also serves sandwiches. (It just occurred to me that sandwich has 'sand' in it.. Hahaha, my students will think that is funny).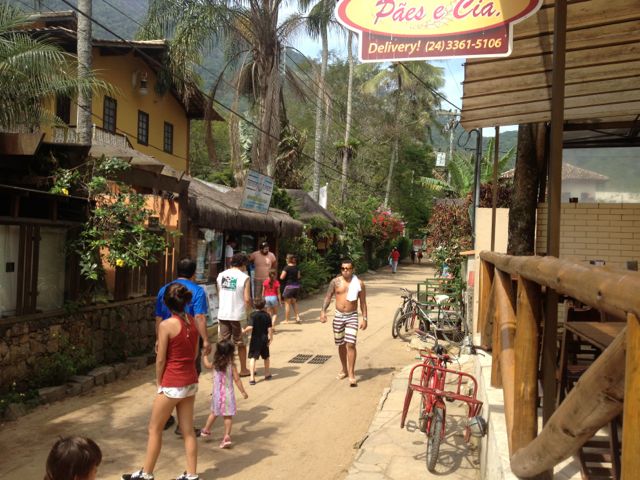 Abraao by day
Even though the forecast was for rain, we had a gorgeous day on shore. Back on Fiona, we raised the anchor and set sail. Actually, there was no wind, so we also set the motor.
Imagine this: a sailboat floating gently over aquamarine colored water, the seas are calm, hardly a ripple, the breeze keeping you cool under the hot sun, paradisiac views of beaches, fishing boats and little colorful houses nested among palm trees. You are wearing a bikini, your companion is next to you, he or she cannot stop thinking about how amazing you are, your preferred beverage is in hand... now that is cruising!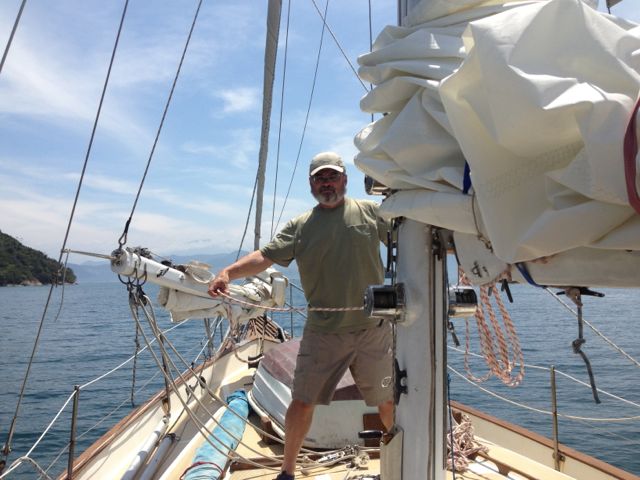 Getting underway!
Sounds like fantasy right? Well, it wasn't. It was the most perfect moment of our trip. We just sat there, paradise cruising for about 5 hours. Just enjoying the view and the (long awaited) moment.
Slowly the clouds started to cover the sun, the wind picked up and we were all up and down again. A bumpy ride ahead of us.
The wind was hitting us dead on the nose, so the boat was rocking up and down and sideways again. We have about 24 hours until our final destination.
Again the sails have to be adjusted, the lines hauled, etc. All that means another stress moment for me. As usually, I am sent below so I am not in the way of the manly work being done up on deck. I could do without this part of cruising life. I sit in my bunk waiting for the "man overboard!" call. It is an agonizing wait. John is trained to tell me when they are done, so I can stop holding my breath. I really don't like this part. I really don't.
After Happy Hour it was the time to determine the watches -- our last ones. The sea was so crowded with small fishing boats it was amazing. I have never seen so many tiny boats together. John and Eric stayed on watch together and I went to sleep, leaving the determination of when to wake me up to them.
At 12 was my wake-up call. It is very dark, no moon and I look and outside is like a lighted Italian Christmas tree. Green, red and white little lights everywhere. Ships with all-around red and white lights (not normal running lights) are wooden fishing boats, fishing with lines. Boats with green and white lights are fishing with nets. Ships with both all-around red and green are just there to confuse us. We couldn't find any reason for those lights.
Eric told me that it is a good idea to shine a light on our sail, so the fisherman know we are sailing and maybe get out of our way. I pointed a light at the sail as much as I could, every time I peeked outside.
Suddenly, the fisherman were all behind us, and looking ahead all I saw was darkness. For the first time during a watch I was a bit freaked out by not seeing where we were going, sailing blindly forward into a murky, misty darkness. Eerie.
Last watch on this trip... Well, I have the 6am, too, but it is not as exciting as the night watches. Back to the bunk for my last night of sleep on the go...
Next Episode:
Mission Accomplished