I've been working on a history of Petronella for the
French Maritime Museum, in La Rochelle
, which is collecting information on the 70 or so Joshuas built by Meta. I thought I would record it here for my own use, and for anyone who might be interested. This is Petronella's history as I know it at the time of this writing. It is subject to change as new information surfaces. Given that caveat, here is P's fabulous history -- so far!
1973
In 1973,
Petronella's
original owner, Helmut Liebscher, placed an order with
Meta Naval Shipyard
-- a steel boat builder made successful by its association with Bernard Moitessier and the original Joshua.
1976
Meta completes the build of the 29th Joshua hull in Tarare, France, and ships it to Helmut in Germany. Helmut finished the build himself, including the construction of her timber masts.
Meta included the rudder fittings for the same trim-tab self-steering system that Moitessier used, but Helmut chose to install the more modern Aries wind vane.
Upon launch, she is powered by a 40 hp diesel engine of unknown make.
Her original name:
"Liebel Auf Berlin"
.
1976-1997
Helmut and his wife Giesler use
Liebel
to take paying passengers for cruises in the Mediterranean and for at least nine Atlantic crossings. Helmut and Giesler eventually settle in St. Barts where they build a house and a set of guest rooms, mainly with their own hands. Around 1985, with a hurricane approaching St. Barts, they decide to put to sea to avoid being wrecked. The 40 hp engine lacks sufficient power to turn the boat in the wind, so they are forced to reverse through the other boats moored in the harbor, past the rocks at the entrance, beam on to the waves and swell before they could turn and motor clear.
"Never again!" said Helmut, and being a man of action, he threw away the 40 hp engine and installed an 72 hp Mercedes/Wizemann
OM-616.918
diesel, which is still running well.
1998
At the end of the 1997 sailing season,
Les Weatheritt
-- author of
"Your First Atlantic Crossing"
and several other sailing books -- and his partner Gloria spot
Liebel
in Trinidad where Helmut has laid her up. Looking for an upgrade from their 32-foot ferro-cement boat (named Petronella), they contact Helmut in St. Barts.
Back in London for work, Les tells his sailing friend Rod about this Joshua, and Rod immediately volunteers to go half-shares in her.
When Les returns to the Caribbean for the 1997 winter season, he sails the 32-foot
Petronella
to St. Barts to see
Liebel
again. He and Helmut strike deal, subject to Rod's approval.
In 1998, Les and Rod fly to St. Barts to inspect Liebel. Rod agrees to the sail, and the he and Les then sail Libel back to Trinidad.
In May, 1998
Liebel
is taken out of German registration, and into the British Small Ship Register as
Petronella
.
Although Liebel is already well known in the Caribbean, particularly in the French community of sailors, she gradually becomes known as
Petronella
over the next 10 years.
2003
Les and Rod sail Petronella from Tortola to the Azores. Rod leaves the boat in Horta, and Gloria rejoins the boat. Les and Gloria spend the winter of 2003/4 in the Azores, and in the summer of 2004 sail Petronella back to the Spanish Rias of Northwest Spain. While in the Azores, Les writes his second sailing book,
"Caribbean Passage Making
" and a novel,
"Summer Storms"
.
Les and Gloria sail from the Azores to Europe, heading for a classic boat event at Brest. They hoped to sail to the Joshua heartland of La Rochelle, to possibly winter over at the Maritime Museum, offering Petronella as an exhibit, but they are too late to make Brest and land in Vigo Spain. They then head south to the Algarve.
2006
Interested in another boat in California, Rod sells his share in Petronella to Les in July 2006.
In November, with the boat now in Portugal, Les sells Petronella to John and Gill Douch.
John and Gill sail Petronella to the Algarve, before going through the Mediterranean for a few years in Turkey.
They then sail across the Atlantic back to the Caribbean and spend a few years there.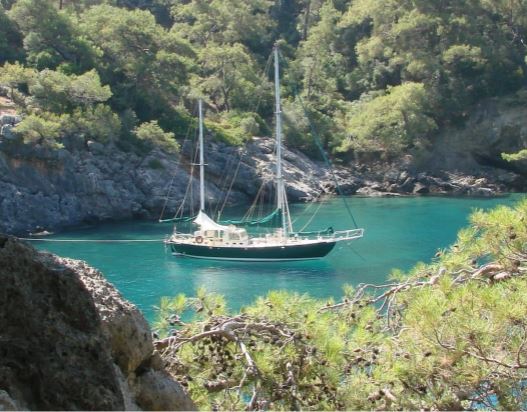 Petronella in Turkey
2017
John and Gill sell Petronella to
John Almberg
(author of
"An Unlikely Voyage -- 2000 miles in a small wooden boat"
) and his wife Helena. The four then sail Petronella from Martinique to Georgetown in the Bahamas, where John and Gill say farewell to their P, and head home to the UK.
John and Helena spend the spring of 2017 cruising in the Exumas, then return to Florida where they import Petronella into the States, and re-flag her as a US boat. In the summer of 2018, they sail her to Norfolk, Virginia, where the famous steel boat builder,
Howdy Bailey
, restores her to near-original condition.
2018
Petronella is currently in Georgia, heading south to Florida where she will be fitted with new sails, and spend the winter exploring more of the Bahamas.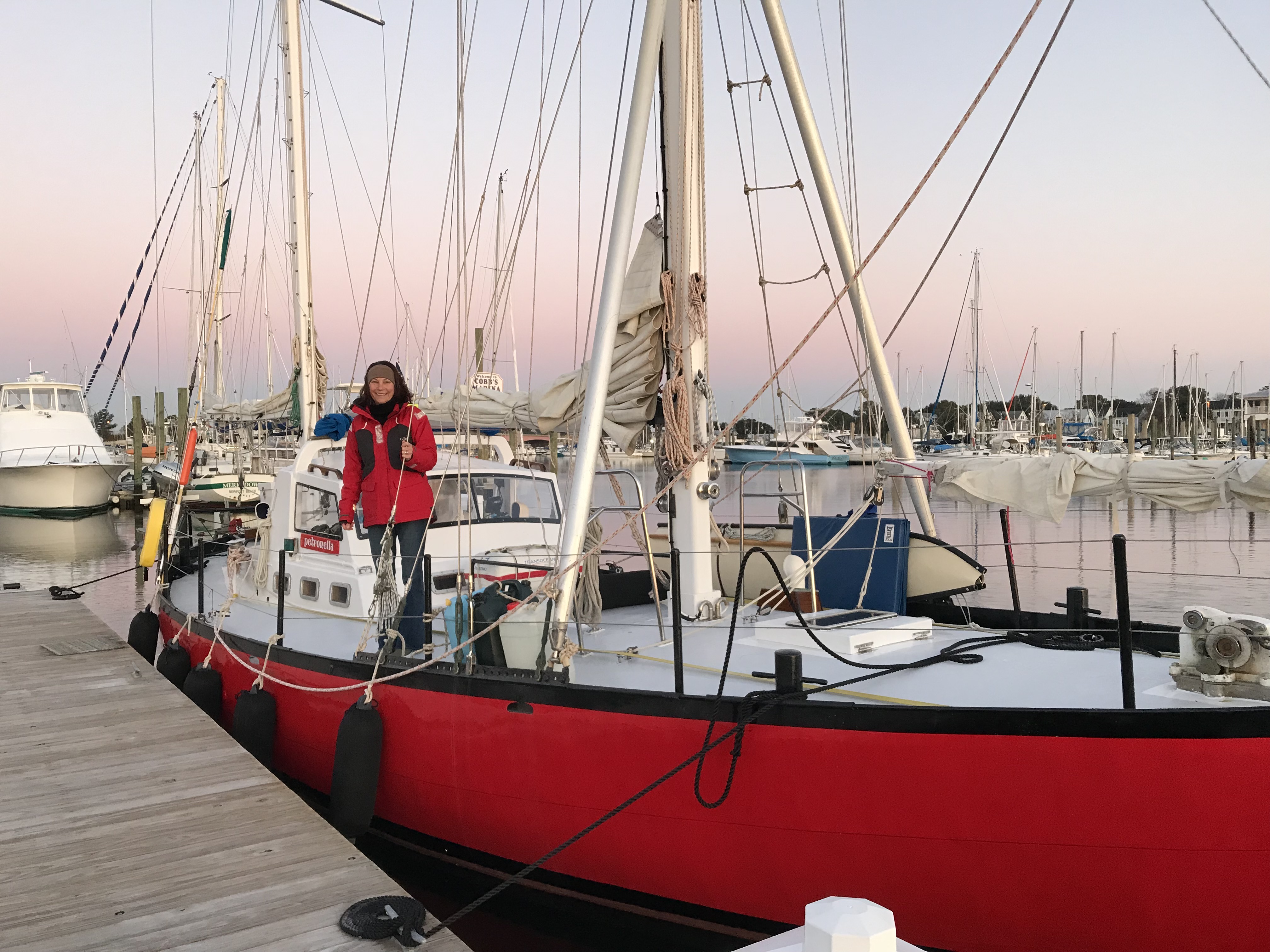 Petronella in Norfolk, VA after her restoration
Next Up:
A DIY Outboard Lifting Crane