When we left frigid Norfolk 10 days ago, I didn't want to immediately head offshore. First, because the weather was truly dreadful and the thought of heading out into the wet, freezing cold North Atlantic just seemed like work, and this isn't about work. But more importantly, I wanted to take a short shakedown cruise before heading offshore again. A shakedown for Petronella, to discover any bits that might have broken during her long lay up (for example, the
transmission control cable
), and a shakedown for the crew, to get us back into the rhythms and habits of the cruising life.
It turned out that both reasons were valid. I discovered a number of weaknesses on Petronella, including the way Wanda -- our Aries wind vane -- was rigged. Just not cutting it, but more on that in a later post after I fix the problem.
And it took longer for me personally to get back into cruising mode than I expected. I had really gotten back into the go-go-go of life ashore, and found it hard to shake that off. I was obsessing over every little thing that went wrong, and just couldn't relax and enjoy the moment. A good slapping from my fed-up first mate finally brought me around, and I finally downshifted into the correct gear. Thank you, Helena.
Our intention was to cut inside Cape Hatteras, back to the all-weather inlet at Beaufort, and then hop offshore to continue south. However, the weather seemed to have other ideas. I was looking for a three-day window to head south -- moderate winds with no southern component, and not too large seas -- but this time of year, that kind of weather is rare, and three days of it in a row just wasn't showing up in the forecast.
I kicked it around with a couple of cruisers in Beaufort, and they agreed it was a conundrum: wait a week for the right weather, or just head south on the ICW? Which was the more efficient? I wasn't sure, but everyone else seemed to be fixed on the ICW.
Problem is, the ICW is hard work. People think it's easy, but it's not. You have to steer every inch of the way (mostly), and because of budget cuts, the ICW isn't getting maintained the way it should be, and you have to be on constant alert watching for shoals. We ran aground ourselves just south of Great Bridge (my fault), and I didn't look forward the long shallow run from Beaufort to Southport.
When a 43-footer left Thursday morning down the CW, I was almost convinced we should follow her, but something held me back, and I'm glad it did. Late Thursday afternoon, the heavy winds died away, the clouds cleared, and the forecast was for 24 hours of moderate northerly winds. I took one look at the sky, and asked Helena if she was up for an overnight sail to the next cape south, near Cape Fear.
"Sure!" she said, and that was all I needed. Petronella was ready for sea, so there wasn't much to do besides untie the dock lines and go. It was nearly dark when we left, and full dark when we motored out the inlet, but there was a slice of moon in the sky and the Milky Way to cheer us on. Outside the inlet, Helena hoisted the main and jib (she's all into doing everything herself these days), and we were off. It was an easy sail with the wind on our starboard quarter all night, and by morning, we were headed into Mason Inlet, just north of Cape Fear.
We could have anchored at Wrightsville Beach, but with the whole day before us, we decided to cut Cape Fear inside and motor down the ICW to our favorite town on the ICW: Southport. We had thick fog and drizzle on the treacherous Cape Fear river, but between the AIS and our own eyes, we managed to crawl down the east edge of ship channel without getting rundown by a container ship.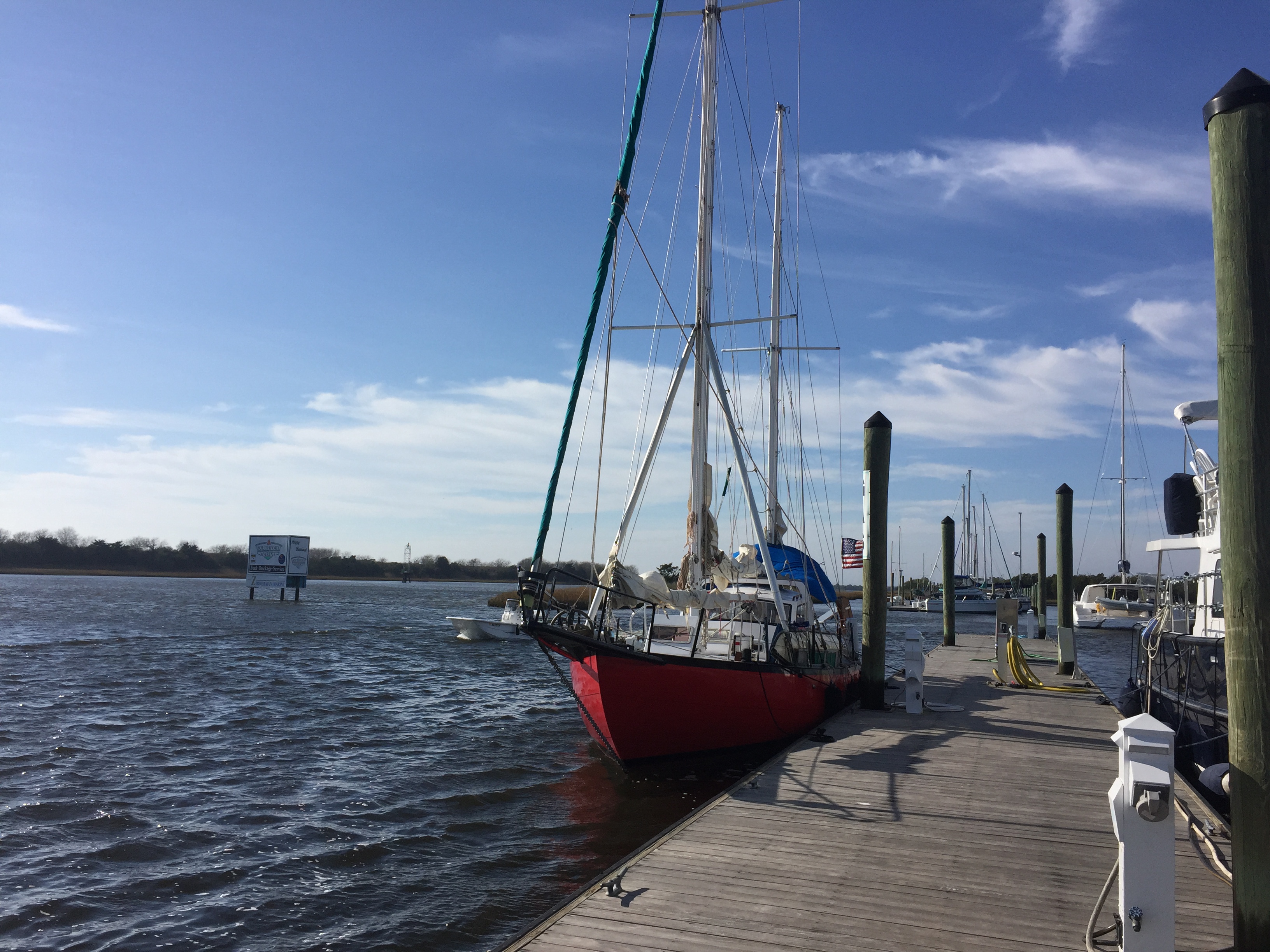 Tied up a the dock in Southport, NC
And then we were tied up at the Southport Marina dock. We'd saved three long days on the ICW with one overnight hop, and were very pleased at ourselves. I'm writing this on the day after, and we still haven't seen our friends coming down the ICW yet. I don't expect to see them until tomorrow.
So, that is my new strategy: to wait for one day weather windows, instead of three day ones. I've been charting out a string of inlets that are all about 50-75 miles apart, so that if necessary we can move south in a series of overnight hops. Of course, if a three day window appears...
Happy Christmas, from Helena and I aboard Petronella!
Our Christmas Tree (so cute!)
Next Up:
Bomb Cyclone