When we bought Petronella, her dingy consisted of an old inflatable that literally held itself together until the very day we arrived in Florida from the Caribbean, and a old Honda 2.3 hp outboard. I'd done my best to keep the Honda going, including replacing its rusty old carburetor.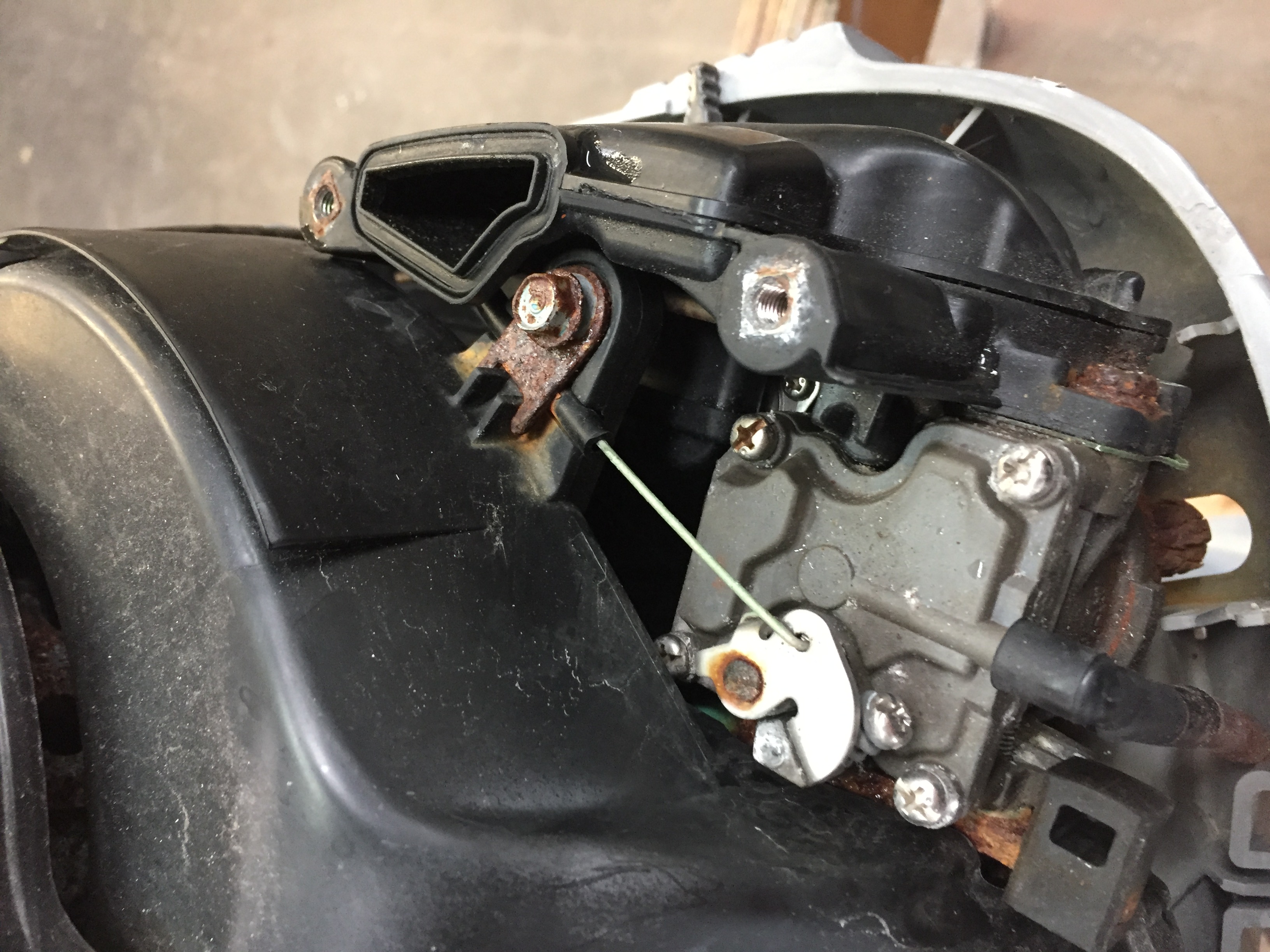 Inside the old Honda 2.3... rust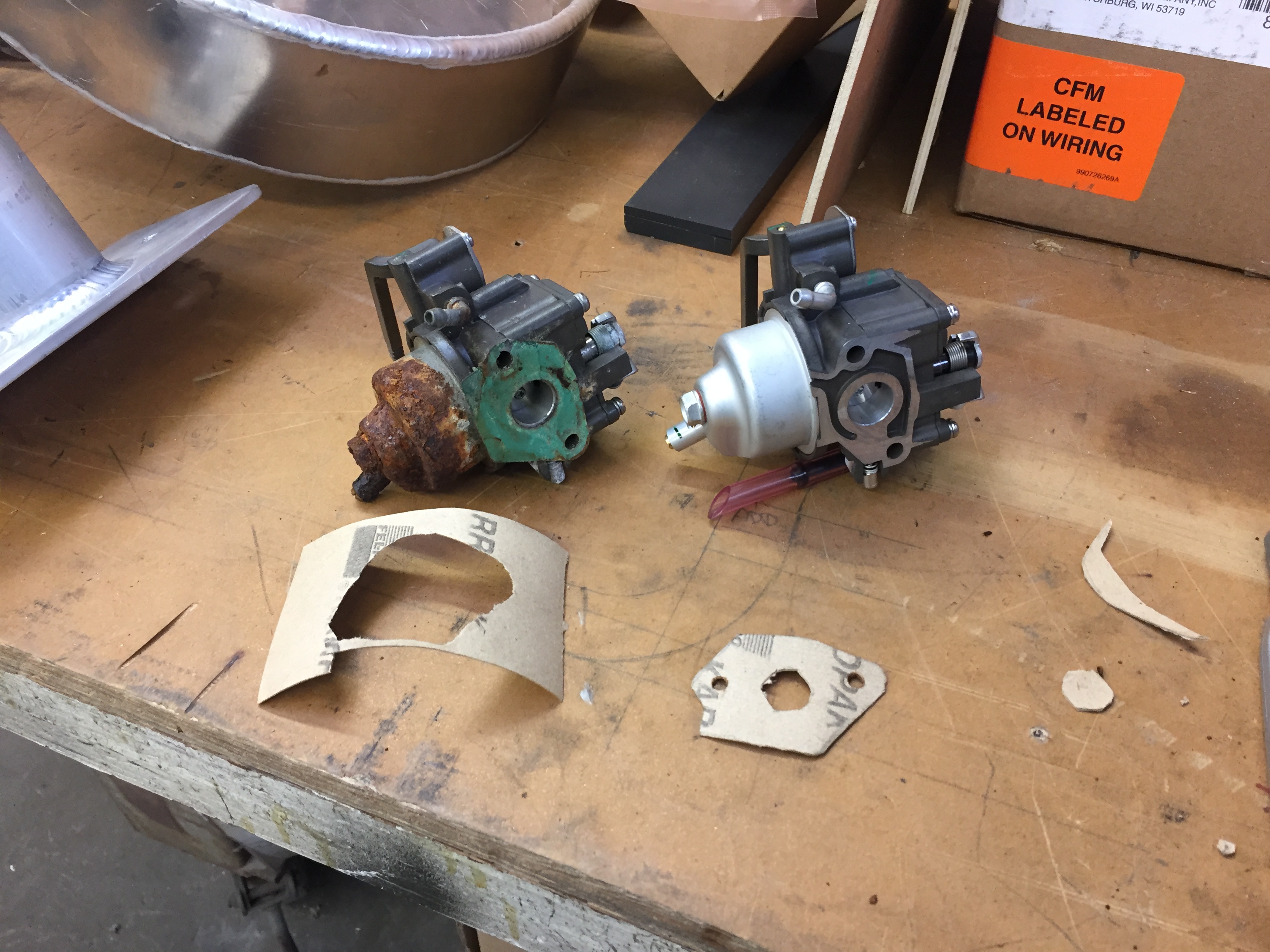 Rusty old carburetor, and its replacement
The new carburetor got the dead engine running again, but it wasn't reliable. And as my uncle Marty used to say, if you are going to have an engine on a boat, it needs to be reliable.
When it refused to start again in Beaufort, NC, we had enough. I didn't want to get stuck in the Bahamas with a non-working outboard. It was time for a new one.
The 2.3 hp engine was enough to move the PortaBote along with two people at a stately pace of 4 or 5 knots, but I'd read that a 4 hp engine would get the boat up on a plane, which would greatly increase our speed and range of exploration. Yamaha -- my preferred brand -- makes an excellent, 37 lb. 2.5 hp engine, but I was really tempted by the 59 lb. 4 hp model.
Weight vs. speed... Weight vs. range...
After agonizing over this decision for at least 10 minutes, I went with my gut and sent Helena off for the 4 hp model. Surely I could figure out some way to lift the beast on and off the dingy, right? All I'd need was some sort of crane... a DIY lifting crane. Yeah, that was it! No problem!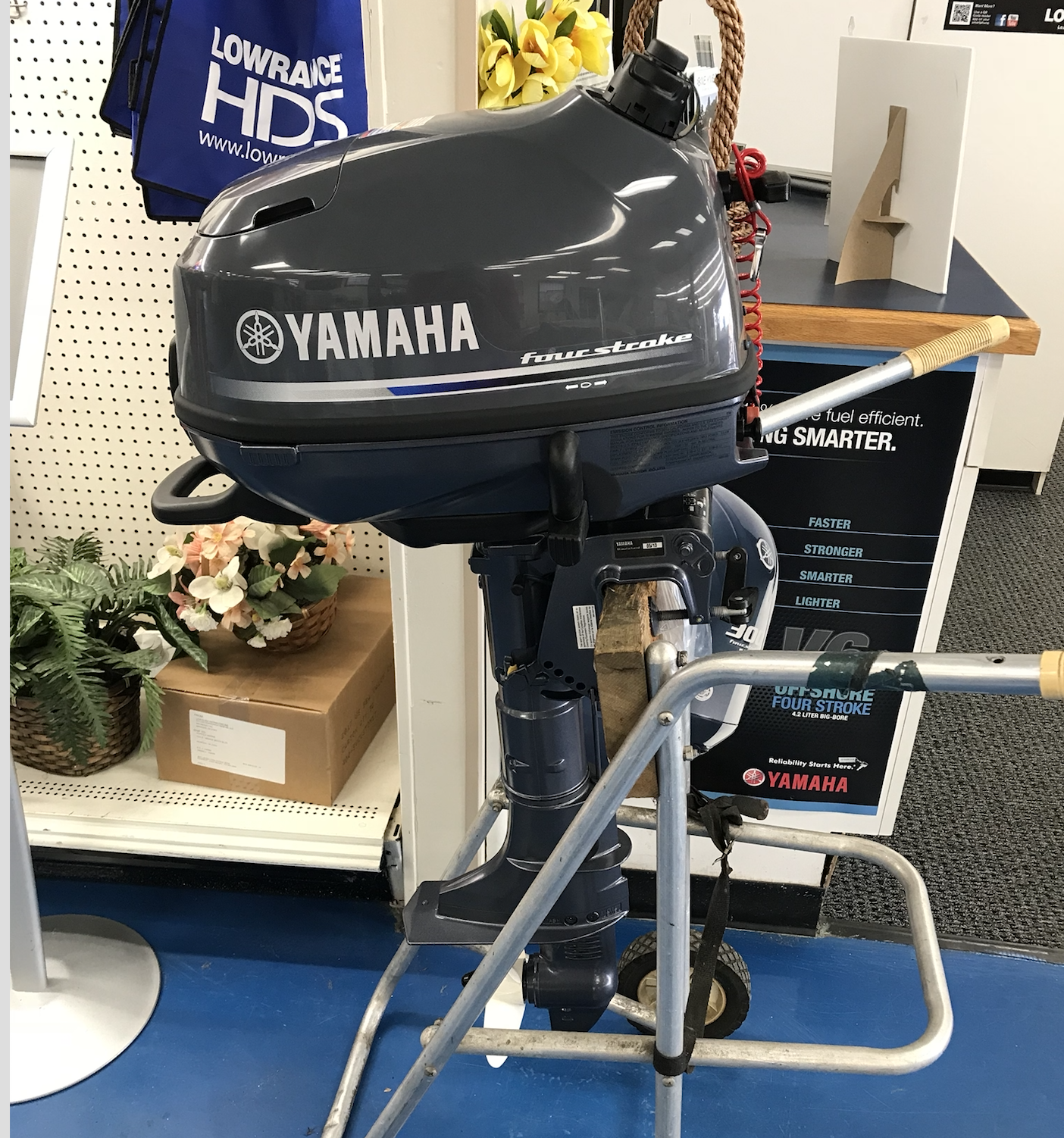 Our 60 lb. Yamaha
Lifting the engine from the dock onto Petronella's outboard bracket just confirmed the need for a good, sturdy crane. There was no way I was going to be able to just hand the outboard down to Helena, waiting in the dingy, as we had done with the small Honda. We needed some mechanical help.
Yet, we didn't have room for a dedicated crane like you see on some boats. No, our crane had to be removable, and preferably made out of parts that could be used for other purposes on the boat. We didn't have room to store things that were dedicated to just lifting the outboard.
With those two criteria, I sat down to design a simple, but sturdy lifting crane, made mainly from things we already had on the boat. The video below shows the result.
We are currently in Sister's Creek, just north of Jacksonville, FL, waiting for some heavy fog to lift. We're aiming to spend a few days in St. Augustine.
Next Up:
The Restoration Continues