Monday -- 24 JUL 2017 -- Off the coast of Florida
More alert readers might notice that there is a huge gap in my blog -- the events between leaving Georgetown in the Bahamas, and leaving West Palm Beach FL for points north.
First, a brief synopsis: After Petronella's previous owners, John and Gill, left us in Georgetown, Helena and I were joined by our son Nick. The three of us had a fabulous cruise through the Exhumas, crossing the bank to Nassau, across deep water to Great Harbour Cay, and then west across the bank again to the edge of the Gulf Stream. We had a fairly easy crossing, nipping into Lake Worth Inlet just ahead of a big storm.
Since then, we have been wildly busy, selling my mom's house, settling our affairs, and -- mostly -- refitting Petronella for the next leg of her journey. We emptied out every single one of her many, many lockers, cleaned her from stem to stern, replaced her house battery bank, sorted out all her spares and equipment, refreshed the varnish in the main salon, replaced all the salon and v-berth cushions... the work went on and on, and the point is that I had no time or energy left for blogging. I considered trying to catch up, but realized that would leave me so far behind that the blog would never reach real-time again.
I have loads of pictures and memories of that trip, but it will have to wait for a day when I have lots more spare time. Meanwhile, we pick up our story which is currently in progress....
* * *
After a 6 week refit of Petronella in West Palm Beach FL, Helena and I
finally
shoved off and headed north towards (hopefully!) cooler weather.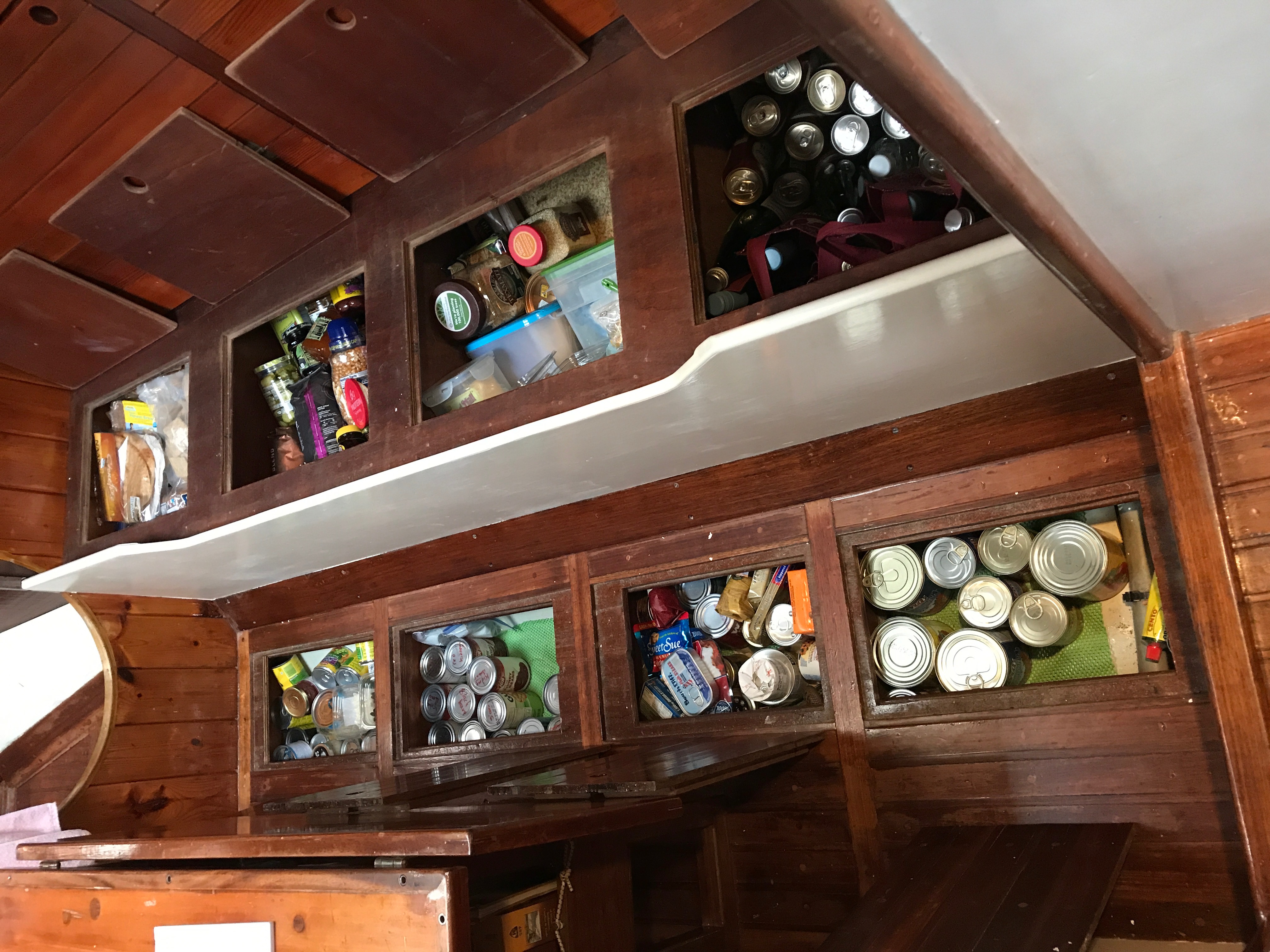 Lockers stuffed with provisions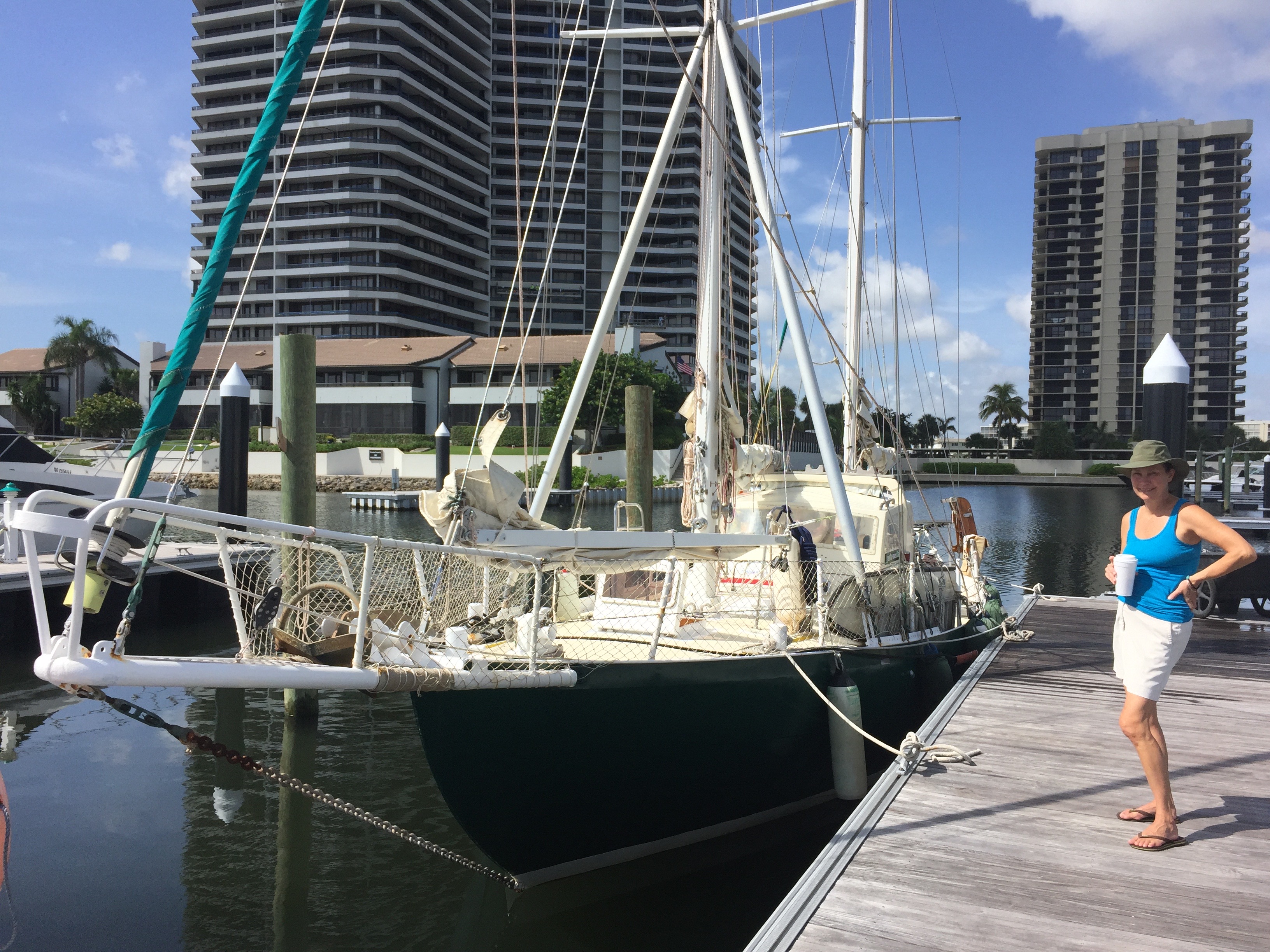 Petronella (and Helena) read for sea, after refit in West Palm Beach, FL
First impressions: sailing offshore is soooo much easier and more pleasant than grinding out the miles in the ICW (Intracoastal Waterway.)
Main reasons: speed, no steering, and shade.
Let's consider
speed
first. When motoring up the ICW on the
Blue Moon
, we generally did about 5 knots. Even with very little wind (currently 5 knots apparent, from the starboard quarter,) we are making about 7 knots over the ground. How is that possible? We are traveling on the back of a great river: the Gulf Stream. As a result, we have covered about 35 n.m. — as the crow flies — in the last 4.5 hours.
That's amazing! It took a Herculean effort to cover 35 miles on the ICW in a day. Oh, and we are not done for the day, even though the sun is heading west. We can keep going all night. No one travels the ICW at night. I don't know how far we will get by morning, but it will be several times what we could have done in the big ditch.
Hercules took today off, but one of his former jobs was
hand-steering
all day, otherwise known as
the worst job ever
.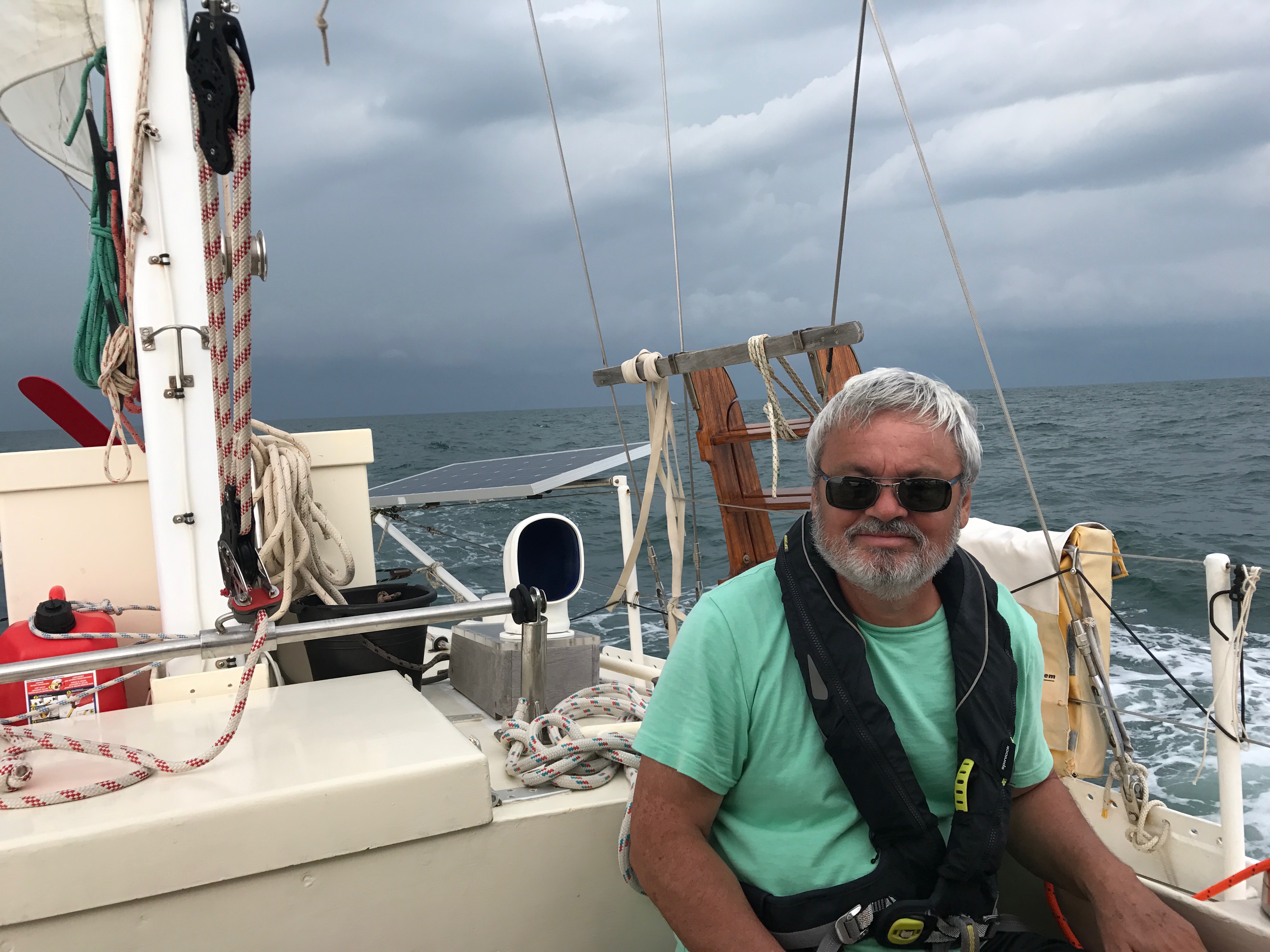 Me. Not steering.
Wanda, our Aries wind vane, did all the steering today. Thank the stars.
All I had to do was look around once in awhile to scan the horizon for ships and/or maniac power boaters. Haven't seen either for the last few hours. No weekend warriors, no kayakers paddling obliviously, no first time jet-skiers stalling out right in front of us.
Marvelous!
And finally,
shade
. Because we have been on a steady course north all afternoon, Helena has been able to keep the cockpit nicely shaded. When you are following the twisty ICW, this is not so easy to do. For a connoisseur of shade, like myself, this is of critical importance.
Looking forward to a quiet night of steady progress. Will we get it? Only one way to find out…
Next Up:
Taken for a ride