And then it was time to launch.
I always find it stressful to see Petronella dangling from a Travelift, but of course, the launch went without a hitch and we were soon anchored in the St. Mary's River. We had a few last minute chores, including changing the oil and oil filter, but we were soon ready to go.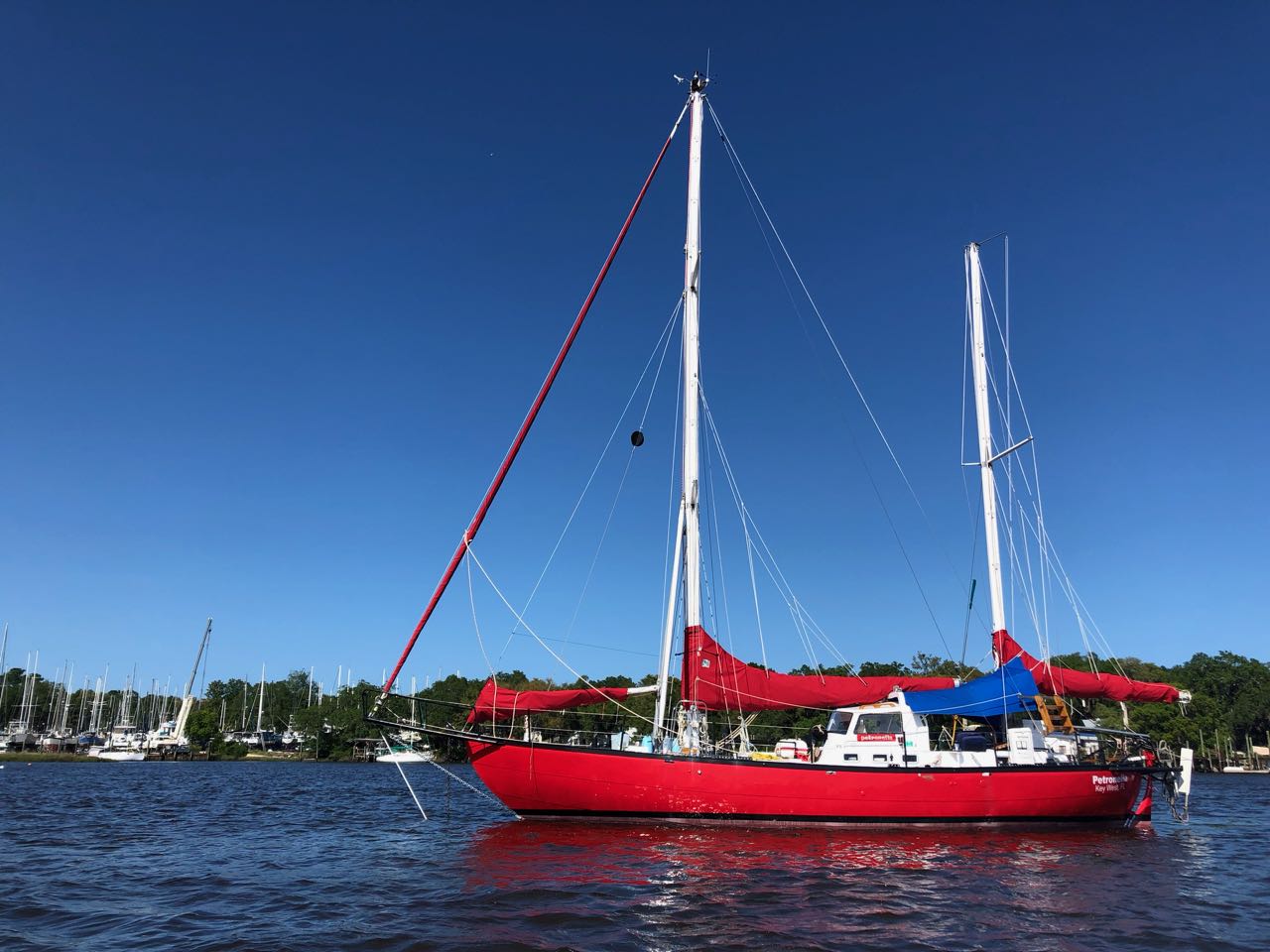 Anchored off St. Mary's Boat Services
While there, we spotted a Roseate Spoonbill fishing at low tide. I'm always amazed to see a pink bird... Just doesn't seem natural!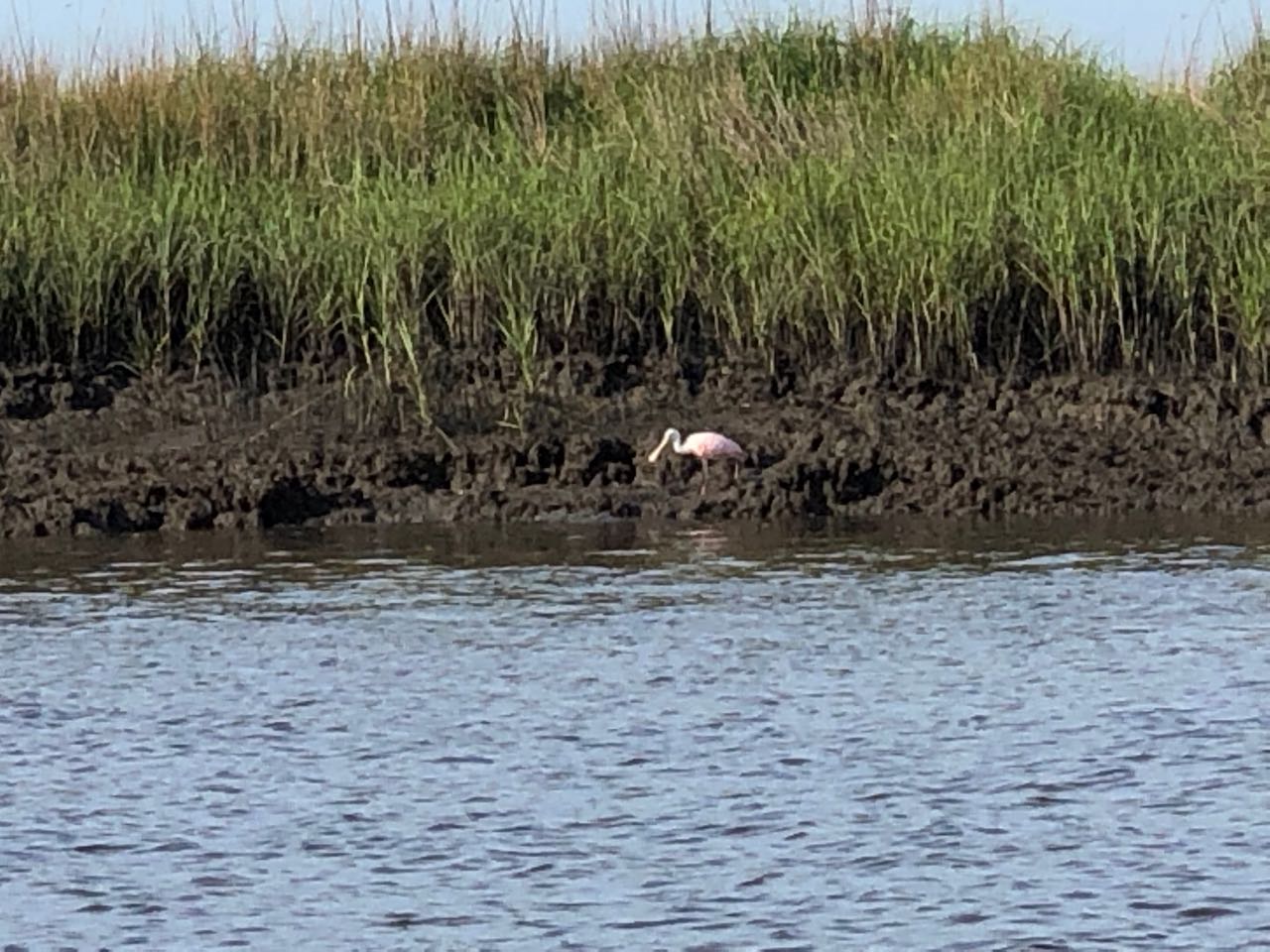 Weird pink bird!
As soon as our son Nick arrived, we left for the Cumberland Island anchorage -- a kind of mini-shakedown cruise. About halfway down the St. Mary's river, the oil pressure gauge spiked up to maximum.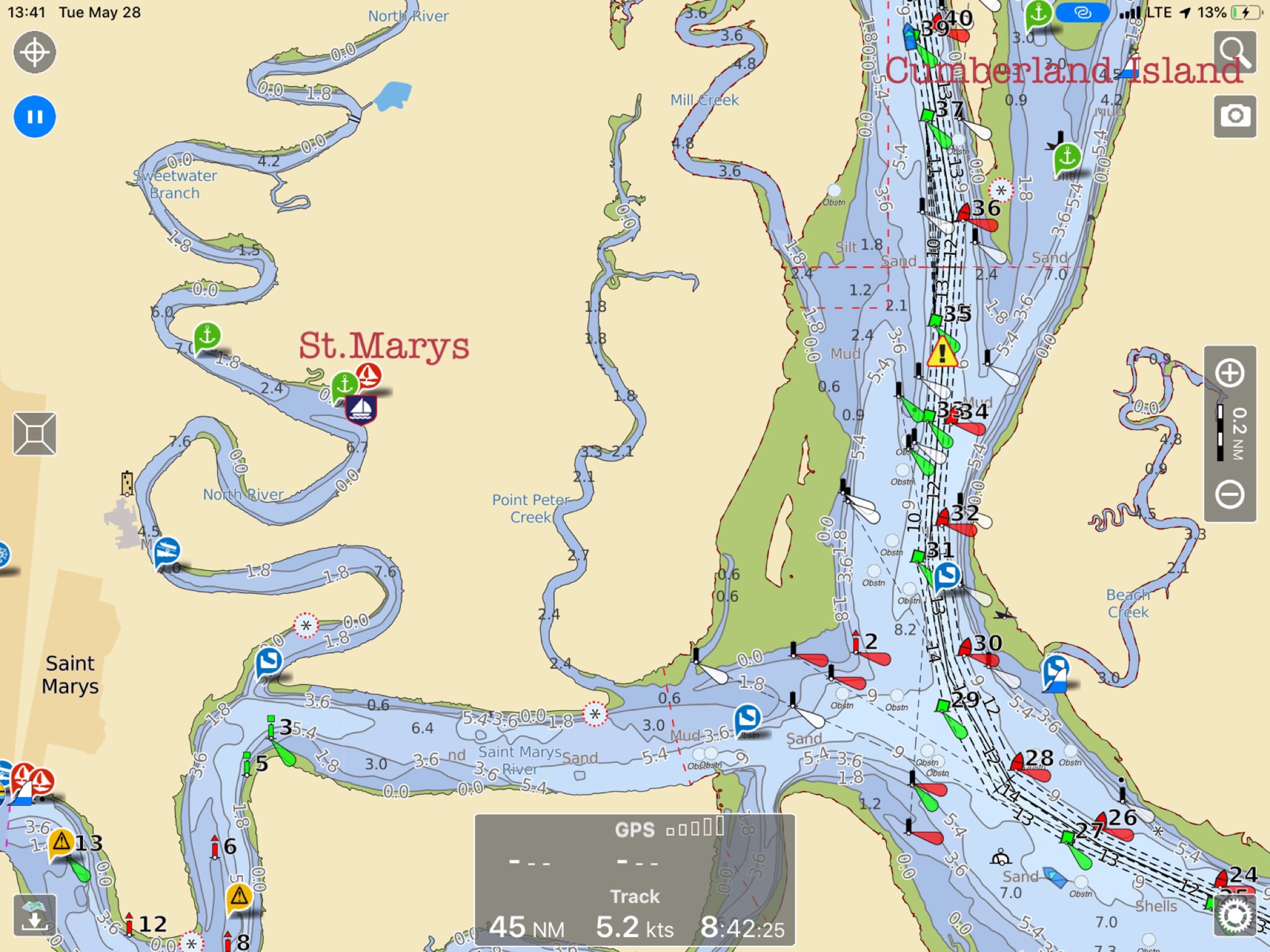 St. Mary's Boat Services and Cumberland Island anchorage.
"That isn't good," I thought. Perhaps the brand new oil filter had got clogged up? That was my first guess. We anchored at the mouth of the river, and I installed a new oil filter, hoping that would fix the problem.
Nope. Still pegged. It was time to consult Nigel.
Nigel Calder's Marine Diesel Engines, I mean. Probably every cruiser owns this book. It is great for troubleshooting engine problems. In this case, Nigel had me trace the problem from the gauge itself (no problems), all the way back to the oil pressure sending unit on the engine. I say that like I know what I'm talking about, but I had no idea what an oil pressure sending unit was until this problem cropped up. Now I know, and I also found the problem: a broken sender wire. Easy-peasy to fix, and we were soon underway again with a working oil pressure gauge.
In retrospect, I was glad the wire chose that moment to break. It would have been that much more difficult to trace and repepair at sea. It seemed King Neptune was watching out for us.
Cumberland Island is always worth a stop. It has to be one of the most pristine, beautiful islands on the east coast. It's an easy dingy ride from the anchorage to the park dock. Nick and I walked across the island, through the enchanted forest of Live Oaks.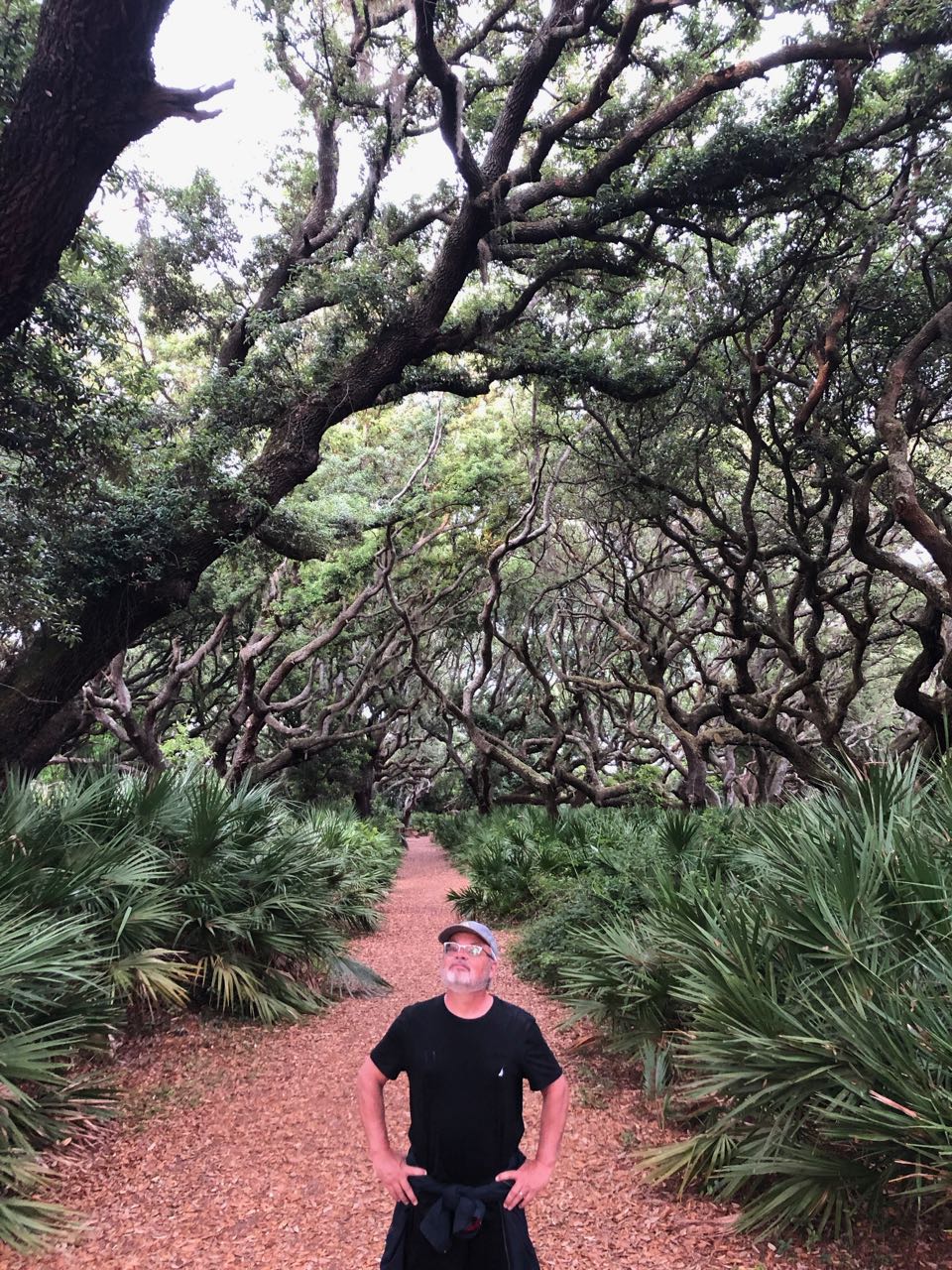 Wow, the trees are amazing.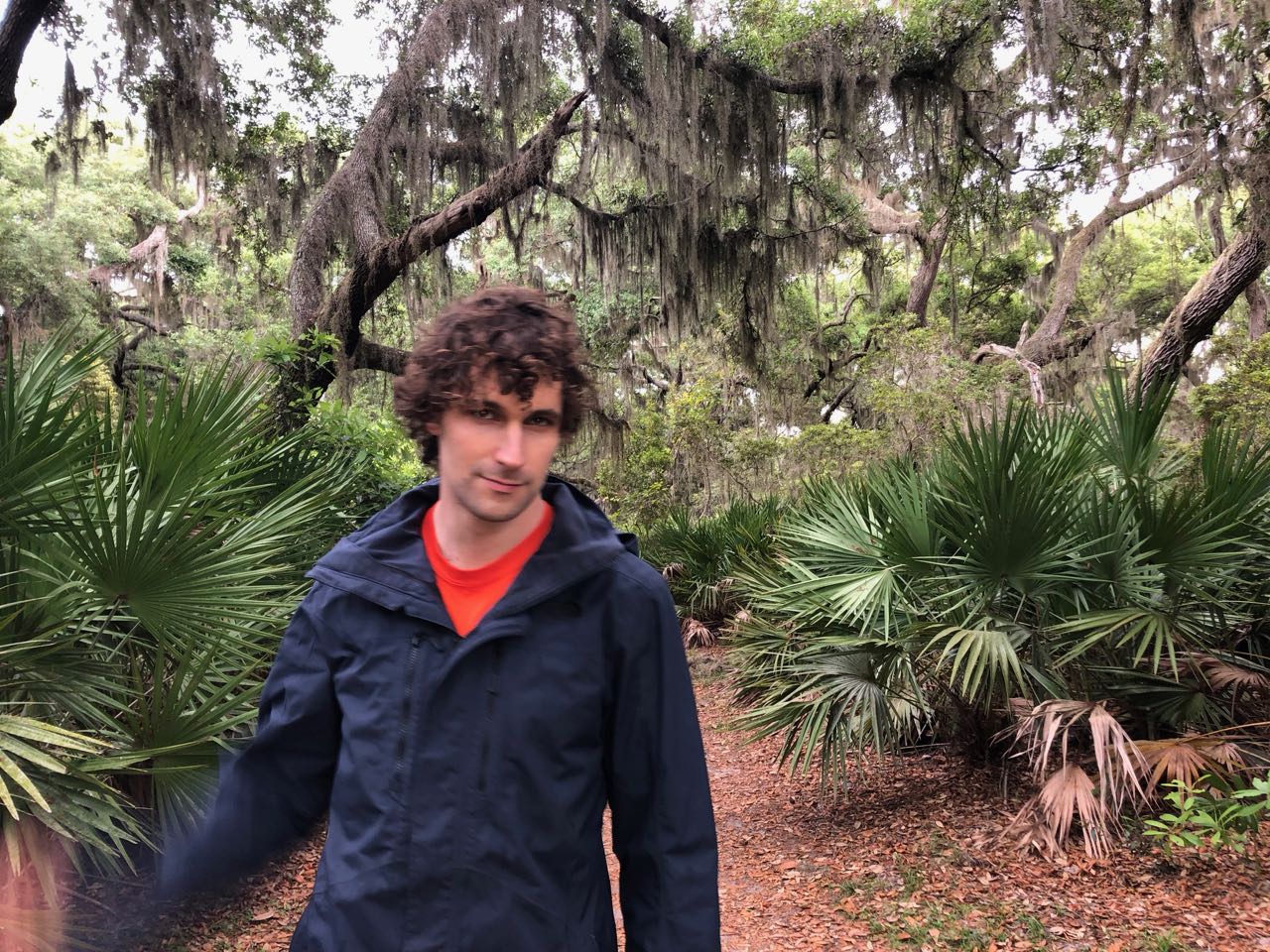 Able Seaman Nick
We had a decent weather forecast for the sail north. A cold front was approaching, but it was supposed to be weak. After that, we'd have high pressure. Probably not a lot of wind, but it would build in from the south as the high moved offshore. It was time to go.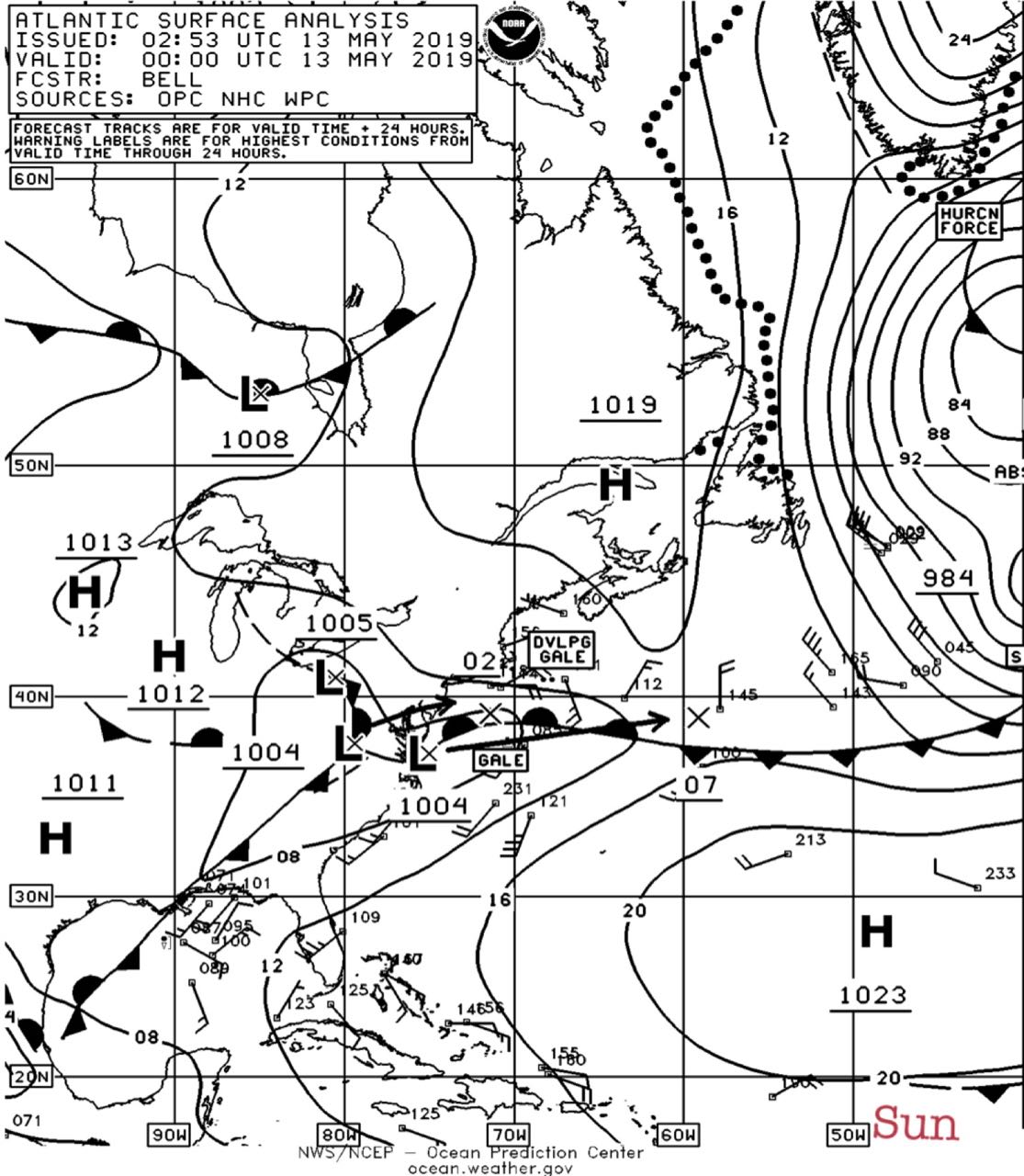 The weather on the day of departure
In fact, we were close hauled the first day and only made 80 miles or so. But after that, the wind was always aft of the beam, and we were soon making our usual 120-140 miles a day.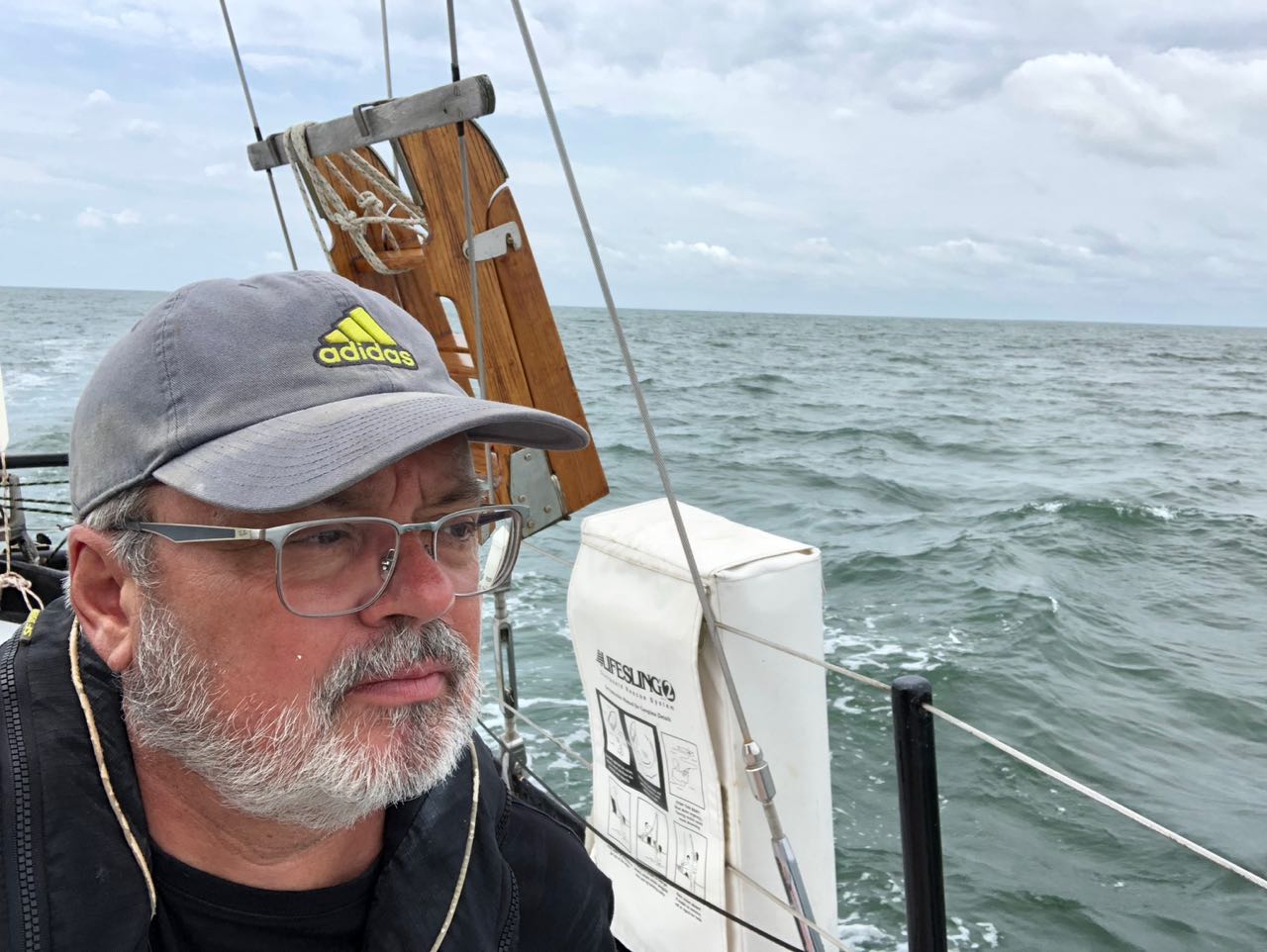 It's all about the weather, once you are at sea.
Our goal was to sail directly to Block Island. The first question was how to best play the Gulf Stream. As you can see from the track below, the GS was about 100 nm offshore from St. Marys. It then took a long jog to the east off the South Carolina coast before weakening appreciably south of Hatteras.
After doing some calculations, we realized it would be quicker to sail directly to Hatteras than to follow the Gulf Stream. However, when passing the Cape, I wanted to be outside the Gulf Stream, just in case the wind turned northerly. We'd had enough of northerly gales off Hatteras last spring, and I didn't want a repeat performance!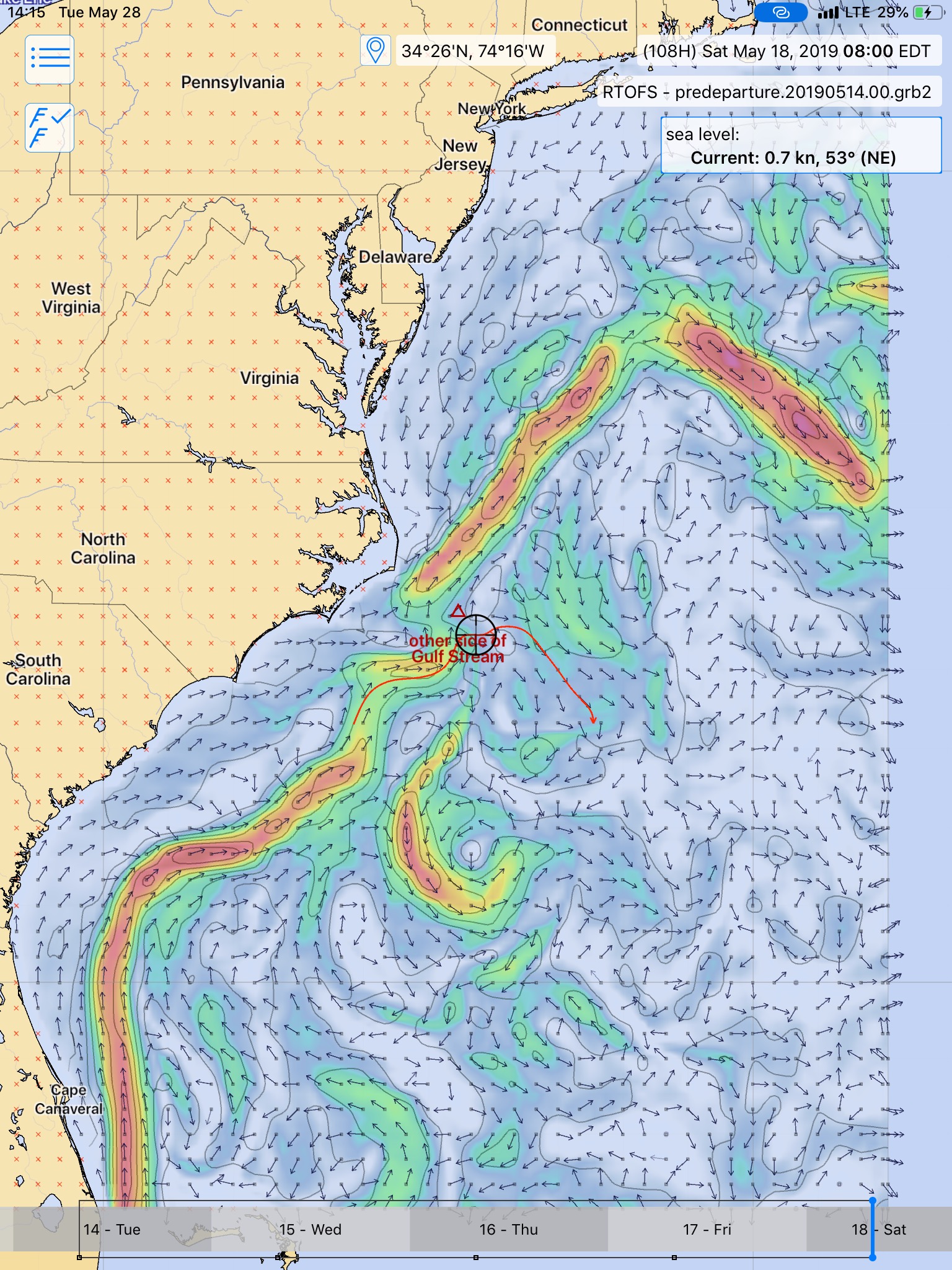 The Gulf Stream on the day of departure
Good sea berths are really important while sailing offshore. Last year we'd fitted our starboard side pilot berth with a lee cloth, and this year we fitted two more to the two berths on the port side. The port-side pilot berth is really too small for adults, but the lee cloth helped keep cushions, etc., in place. On the port-side settee, it helped keep the off-watch crew in place.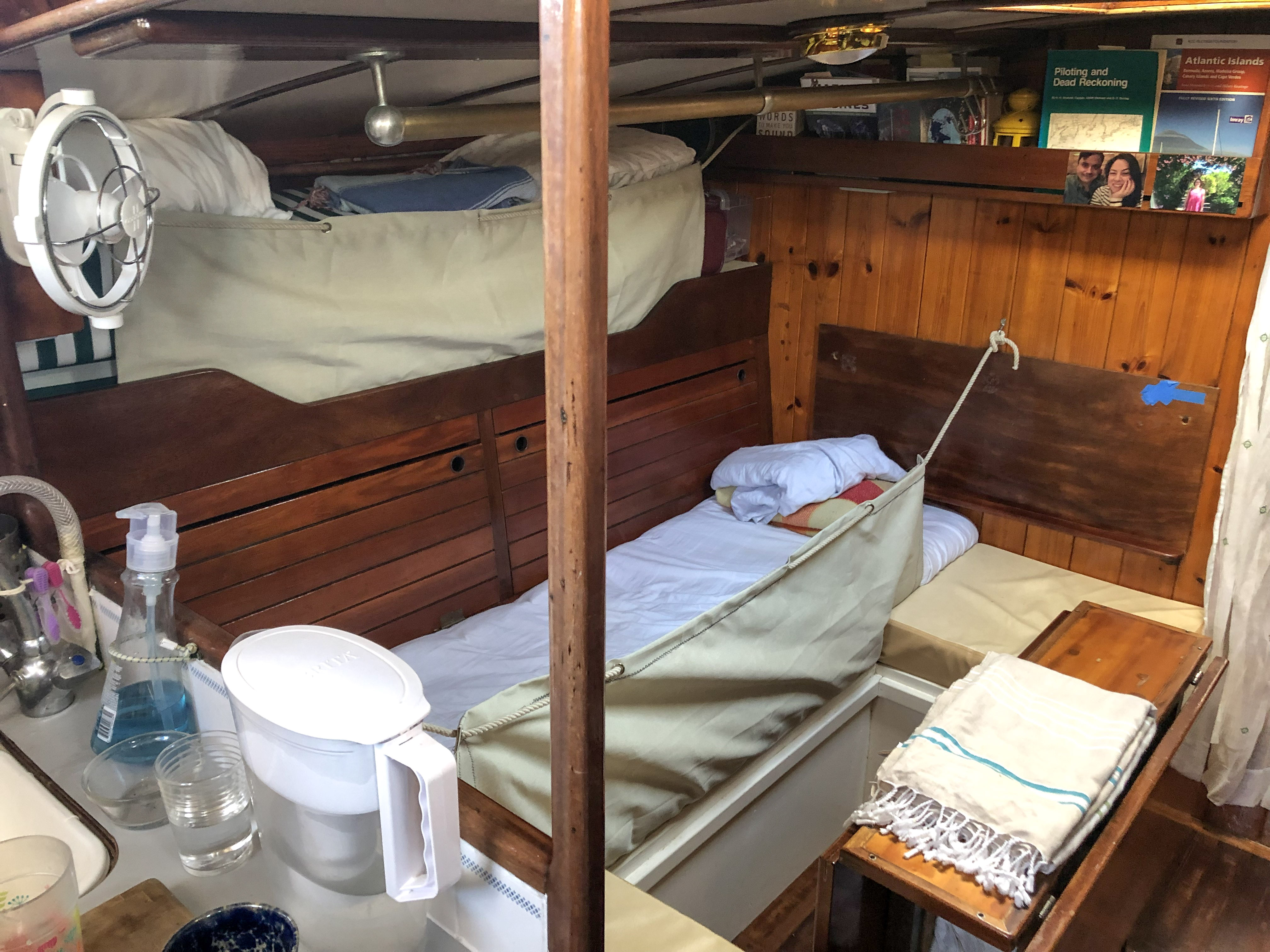 New lee cloths in use at sea
Of course, we had some fantastic sunsets, including one which looked ideal for seeing the always elusive green flash. Did we see it? Alas, no. But sailors are optimists, so there is always another chance tomorrow!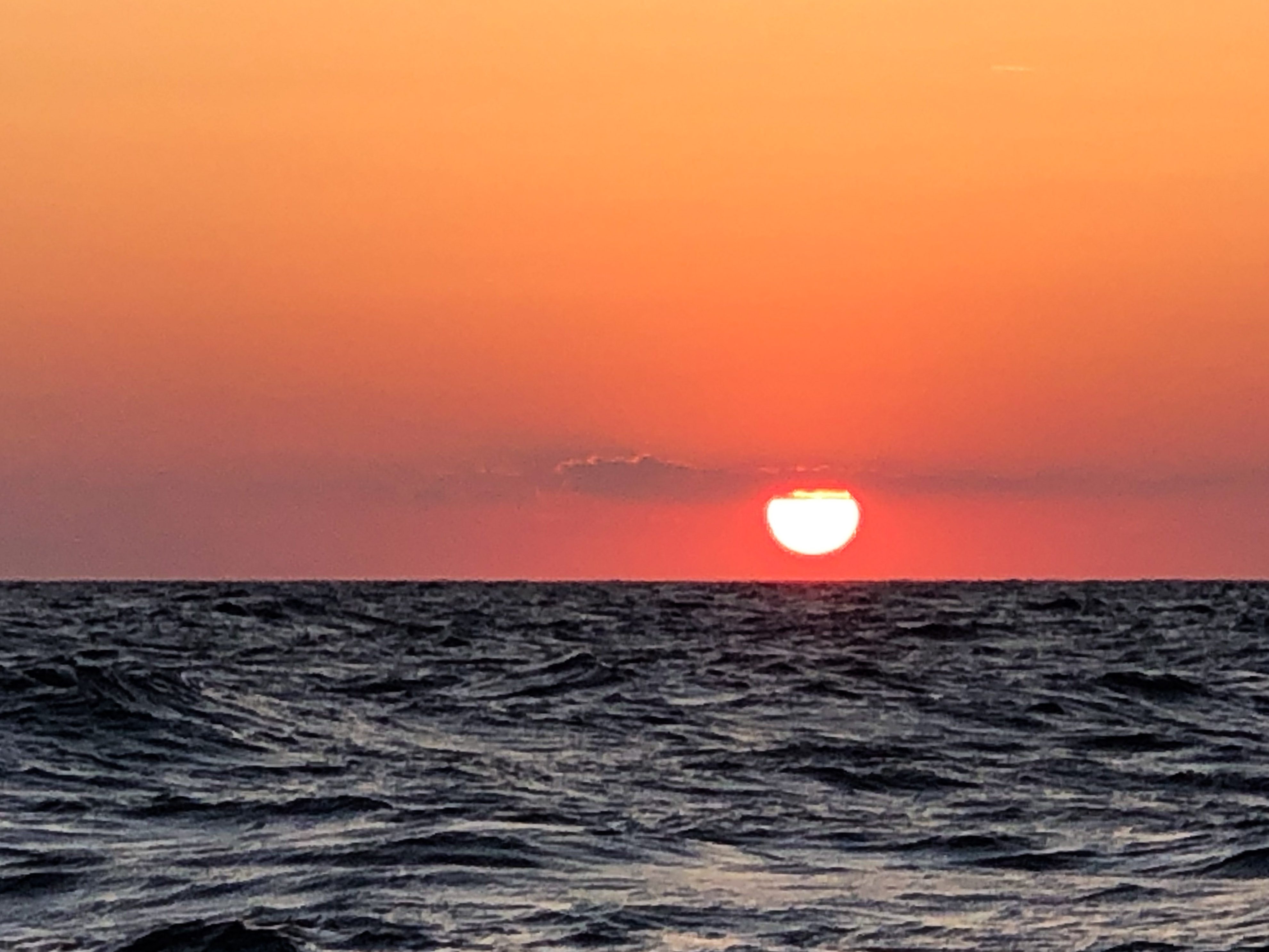 Perfect conditions for green flash?
After four days, we rounded Cape Hatteras without problems, but then our weather window threatened to close. It looked nasty enough to take evasive action, so we diverted back across the Gulf Stream to Cape May, NJ. It still looked like we would have time to reach Block Island by Memorial Day, as long as the weather gods were kind to us.
Alas, they weren't. After spending two nights in Cape May, letting a nasty front blow by, the wind was not fair for Block, and in fact, it looked like another northerly would blow in before we could get there. We didn't want to buck this wind, so we headed straight for NY Harbor. We'd take the East River to Long Island Sound, and still have time to reach Block Island.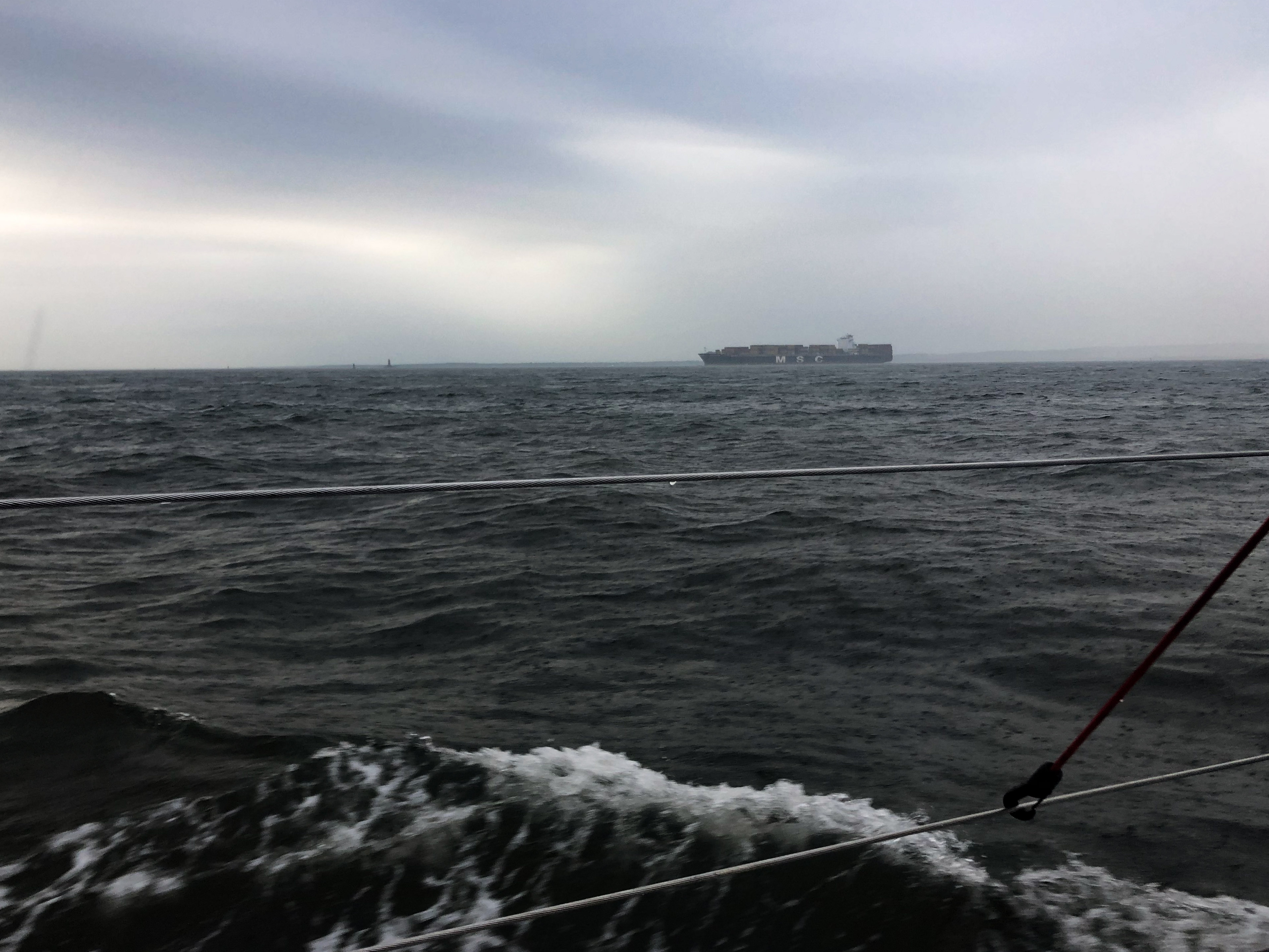 Stormy day in NY Harbor
The weather was a bit stormy when we entered NY Harbor, but it soon moderated and we had a terrific run up the East River, with all its amazing sights. It was a lot less scary in Petronella than in the tiny Blue Moon, I can tell you that.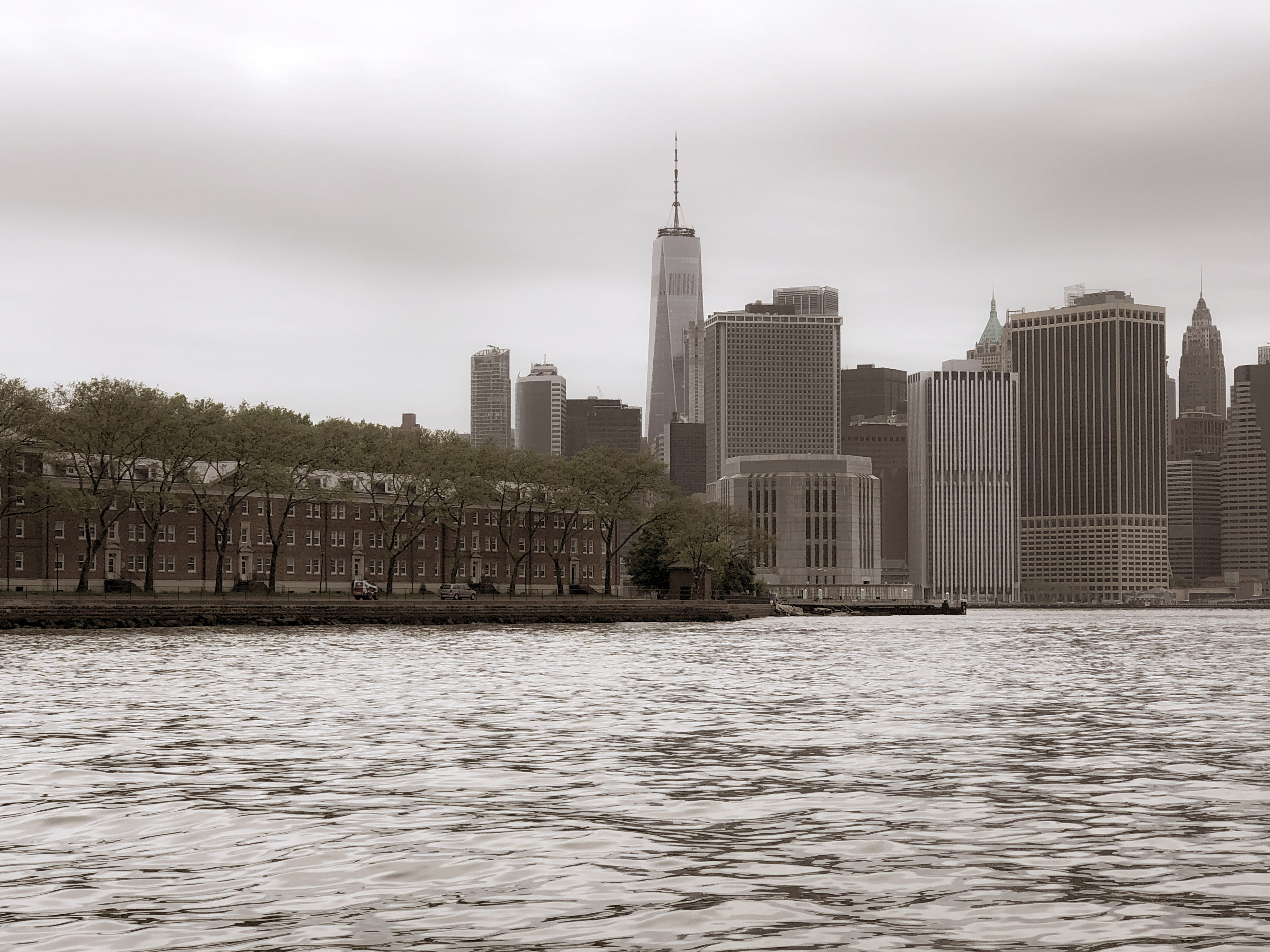 New York City, with Governor's Island in the foreground
And then we were in Long Island Sound -- possibly the best, certainly the easiest cruising ground on the east coast. We had the current with us and a fair (if light) wind, so we sailed the rest of the way to Oyster Bay and dropped anchor after a very long day.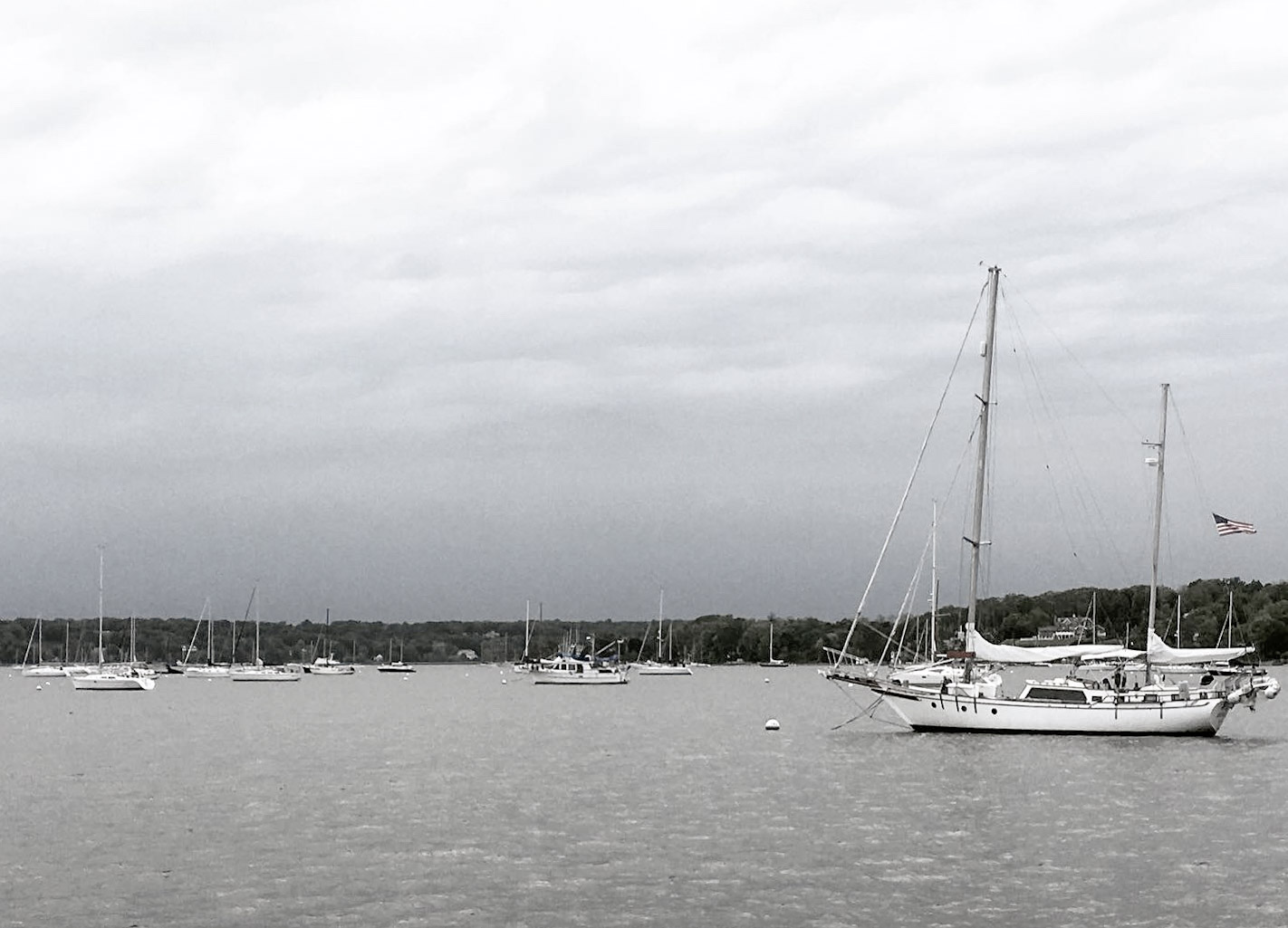 Anchor down in Oyster Bay
Our time? 8 days from St. Mary's GA to Oyster Bay NY, including a two day stop in Cape May. That's our best time ever, and a heck of a lot faster than the two months it took to cover the same distance in the Blue Moon. We didn't achieve our goal of sailing non-stop to Block Island, but we did make it past the Chesapeake, so we were satisfied.
There's always next year.
Next Up:
At KYC