Monday, September 16, 2013
Awaken by the Captain fiddling with the engine. At 5ish...he needed John's help with some screws or something. While the Captain and John were getting covered in grease, I prepared coffee and enjoyed the morning -- love this vacation.
I am very happy that we are staying on shore for all these days. I am not even using my wrists bands, but of course we haven't sailed yet. I am getting used to the boat with each sway I learn which ropes (lines) to hold on, which ones will not hold me on, and my footing around the boat is getting a bit more stable. Surprisingly, I am quite comfortable. I stopped hitting my head on the boom (big metal post that holds the main sail) and I am not banging my foot on the outside port-holes every time I walk by (I learned that when I was washing the deck yesterday). On another hand, when I walk on shore, I look like I am drunk (I also feel like that) with the ground swaying from one side to the other.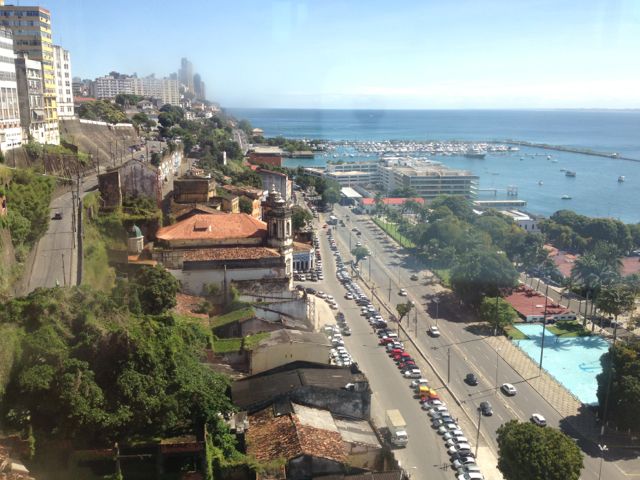 Marina from far above
This adventure is teaching me, besides other things, the skill to wait. To get on and off Fiona, we have to step off the boat onto the dock. Well, the dock is sometimes far and sometimes close to the boat, so I have to wait until it is close enough to step off or on. It is a waiting game between Fiona and I, and she always wins... I have to wait for her. Talking about waiting, we have to wait for Internet connection, for loading images, for opening web pages (I am talking dial-up speed, remember those days?). In the restaurants we wait for the waiter, we wait for the food, we wait for the beer, we wait for the check. We get back into the marina we wait for Fiona.
I am glad I am becoming an expert in waiting because today we had to help Eric with the federal police immigration paperwork (entry papers). We walked into several wrong buildings and after a lot of walking we finally ended up in the correct office. We were done with our business in about another 45 minutes and we were told to return to the same office to get the port exit papers. I asked if we could get them now (I was the official interpreter) and the answer was, "No, first you have to go to the federal customs office, then to the captain of the ports, then back to the federal police then back to the captain of the port office". A lot of patience that took.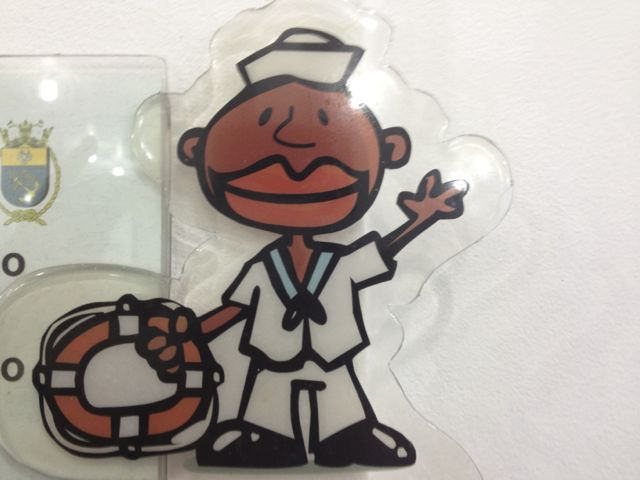 Logo of Brazilian Navy
While we were waiting for the offices to open again after their two hour lunch break (now, that's what I call a lunch break), we took ours. We found a really nice restaurant on top of Mercado Modelo, a local market for tourist with two floors covered with tents selling local art and souvenirs. For lunch, John had delicious sun-dried meat with vegetables, and the Captain and I shared a Moqueca de Camarao -- Brazilian shrimp sort of curry.
The Captain went back to his dealings with Brazilian bureaucracy, John and I went to explore the historical part of the town. We visited churches covered with gold, dating 1550's and walked narrow cobble stone streets.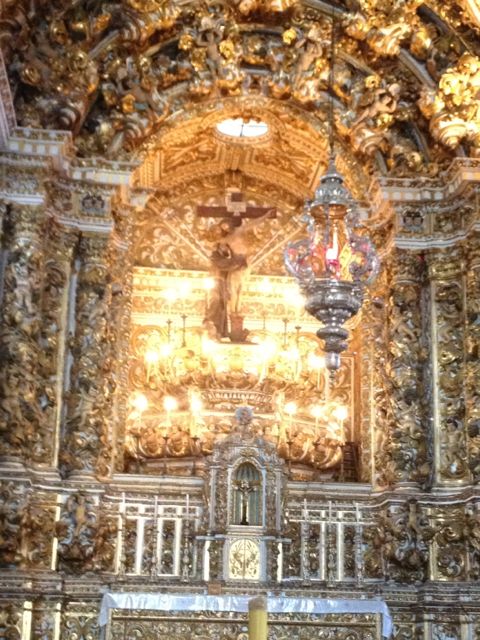 Baroque Church
Back in the boat, we spent our last night on the dock, anxiously anticipating tomorrow when we are leaving the secure waters of Bahia Marina into the Atlantic Ocean.
Tomorrow morning, anchors away!
Next Episode: I
n Deep Water