Here's a hint: if you every need to replace your bowsprit, make sure of the length.
When I did emergency bowsprit surgery back in the Carolinas in 2010, I never thought to measure exactly how much I cut off. In fact, I just kept cutting the bowsprit back until I found solid wood.
Then when I started building a new one, I just followed along with the full set of plans. What could possibly go wrong with that?
But once the sprit was done, as I was varnishing (there's lots of time for thinking during the varnishing phase), a question started to tickle at the back of my brain: was the sprit the right length? How did I know? Was I
really
so sure that the Original Builder had built the Blue Moon's bowsprit exactly to plan? He'd made several other changes. What if he'd made the sprit a couple inches too short? Or too long? In that case, the whisker stays that I'd carefully put away and kept to reinstall, would be too long, or too short.
What then?
Tony and I talked about this possibility, but for a week or so I stayed firmly in denial. Of course the stays would fit. The turn buckle installed on each stay would cope with small differences. Besides, I'd put too much work and money into the sprit. It
had
to fit!
Anyway, it was too late to do anything about it. If the stays didn't fit, then I'd improvise. I could use galvanized chain for stays, for example.
"There's no problem on the
Blue Moon
," I said confidently, "that can't be solved with some rope, or tarred marlin, or chain."
"I hope so," Tony said, shaking his head.
By the time the last coat of varnish dried, my confidence was getting stretched pretty thin, but I tied my new sprit on the roof of my car, and tied a positive smile on my face. I'd be working on the
Blue Moon
on the Ketewomoke club dock, and with my luck, there'd be a whole crowd of members on hand to watch. If it didn't fit, it was going to be darn embarrassing.
I brought the
Blue Moon
along side the dock to face the first test: would the sprit even fit into the hole in the stem? I was pretty sure it would but...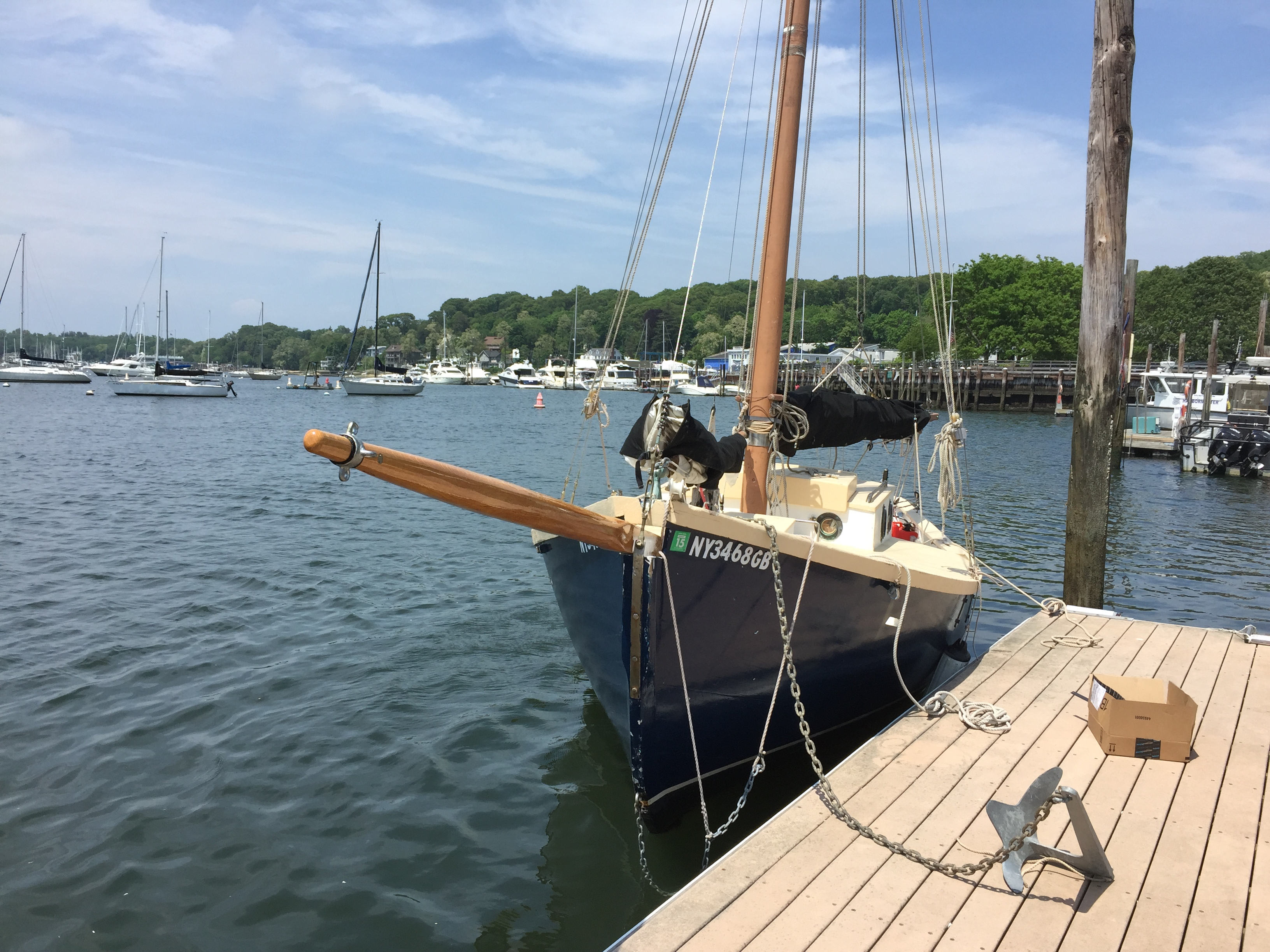 Step 1 - Fitting sprit in stem
Phew. It fit perfectly. First hurdle behind us.
With the butt end of the sprit clamped to the Sampson post, it was time to fit the whisker stays. These are the to wire stays that provide lateral support. The stays run from the kranze iron back to steel chain plates about 4 feet back from the stem, just under the rail. You can just see them on both sides of the boat, in the photo above.
I did
not
take a picture of this step because... well, because the stays didn't fit! The one on the port side fit okay, but the one on the starboard side was a couple inches too long. I'd been mentally prepared for both to be too long or too short, but just one of them? That didn't make any sense.
We puzzled over this unexpected problem for awhile until Tony said: "I wonder if they are the same length?"
Doh! As soon as he said it, I realized that was the problem. Most bowsprits -- the
Blue Moon's
included -- are not mounted on the centerline, which is usually occupied by something more important, such as the forestay chain plate. You can see in the photo above that the sprit is on the starboard side of the centerline. Of course the stays would be slightly different. If I had them reversed...
We quickly unshackled them and compared their lengths on the dock. One was indeed an inch or so longer.
We reattached them with the longer one on the port side and, voila! they fit perfectly.
Of course I forgot to take pictures until she was back on her mooring. Her she is with both whisker stays attached and my retractable bobstay in place. I prefer it to the fixed bobstay the
Blue Moon
came with, so reinstalled it.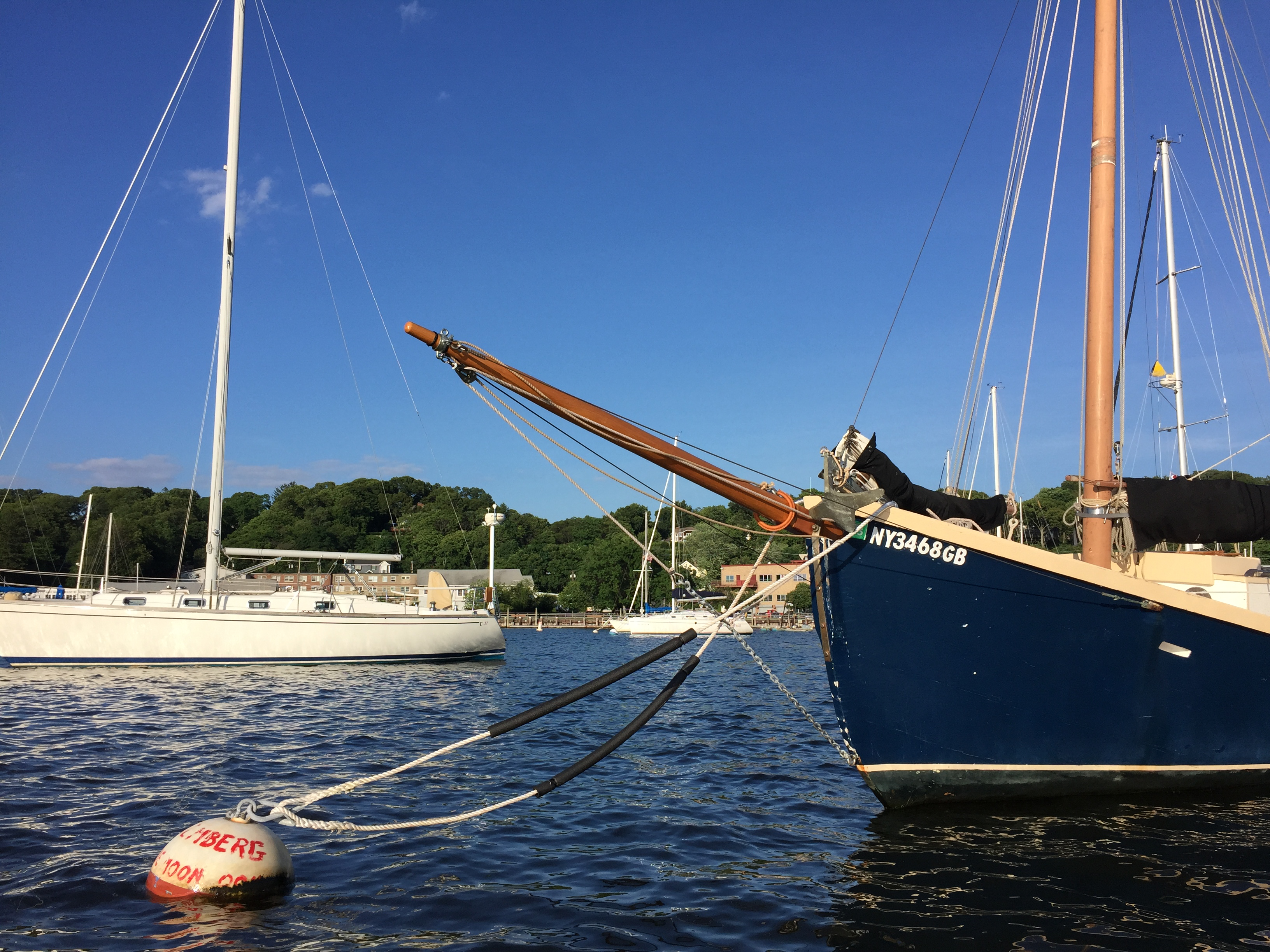 Bowsprit installed.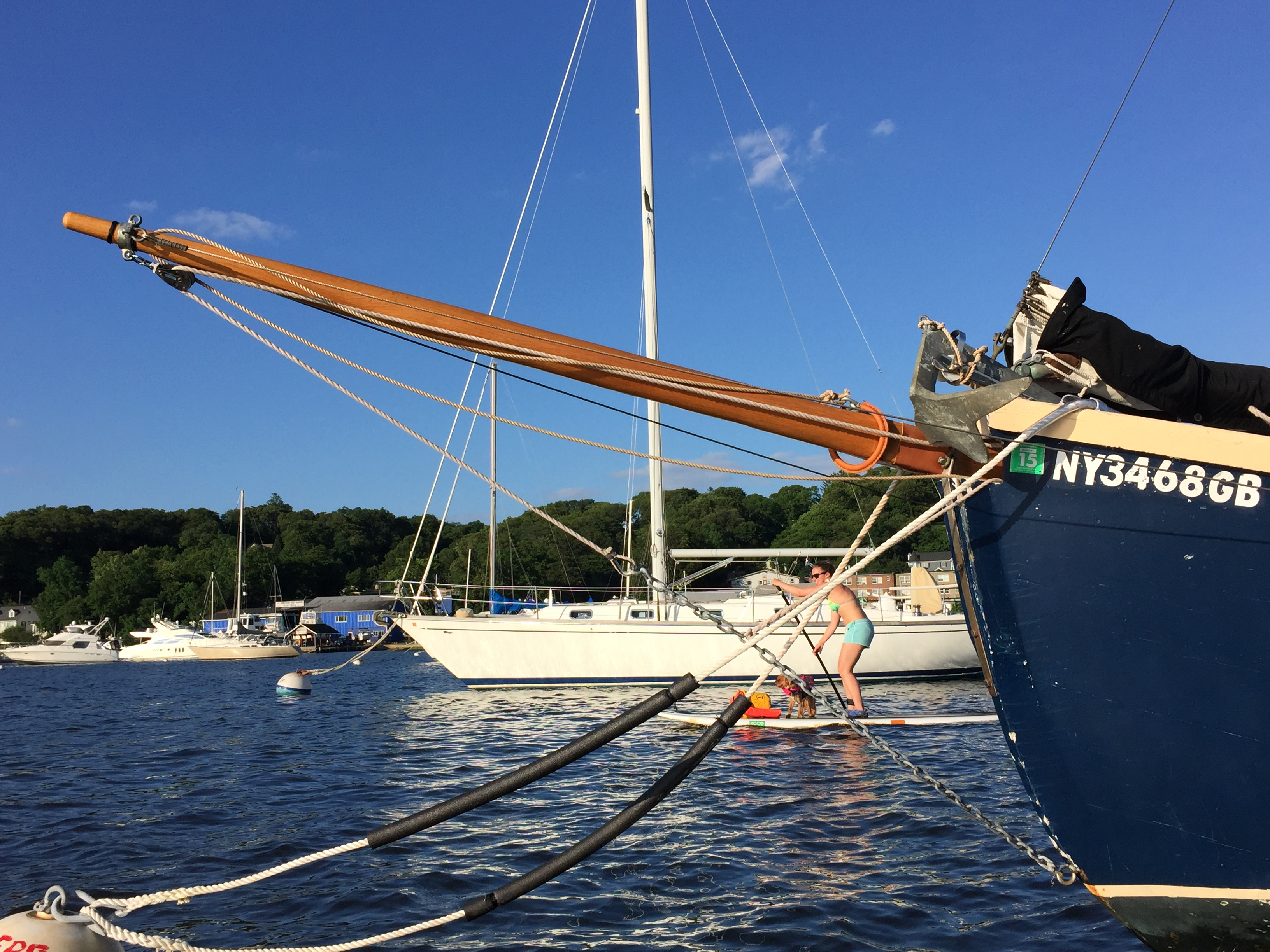 The Chief Harbor Dog has his chauffeur row him out for a closer look.
I normally trice up the bobstay on the mooring to keep the mooring lines from chafing. It's rigged here just for the photos.
Another small improvement I made was to attach a heavy piece of leather to the base of the sprit, so the anchor doesn't ding my varnish every time I haul it home.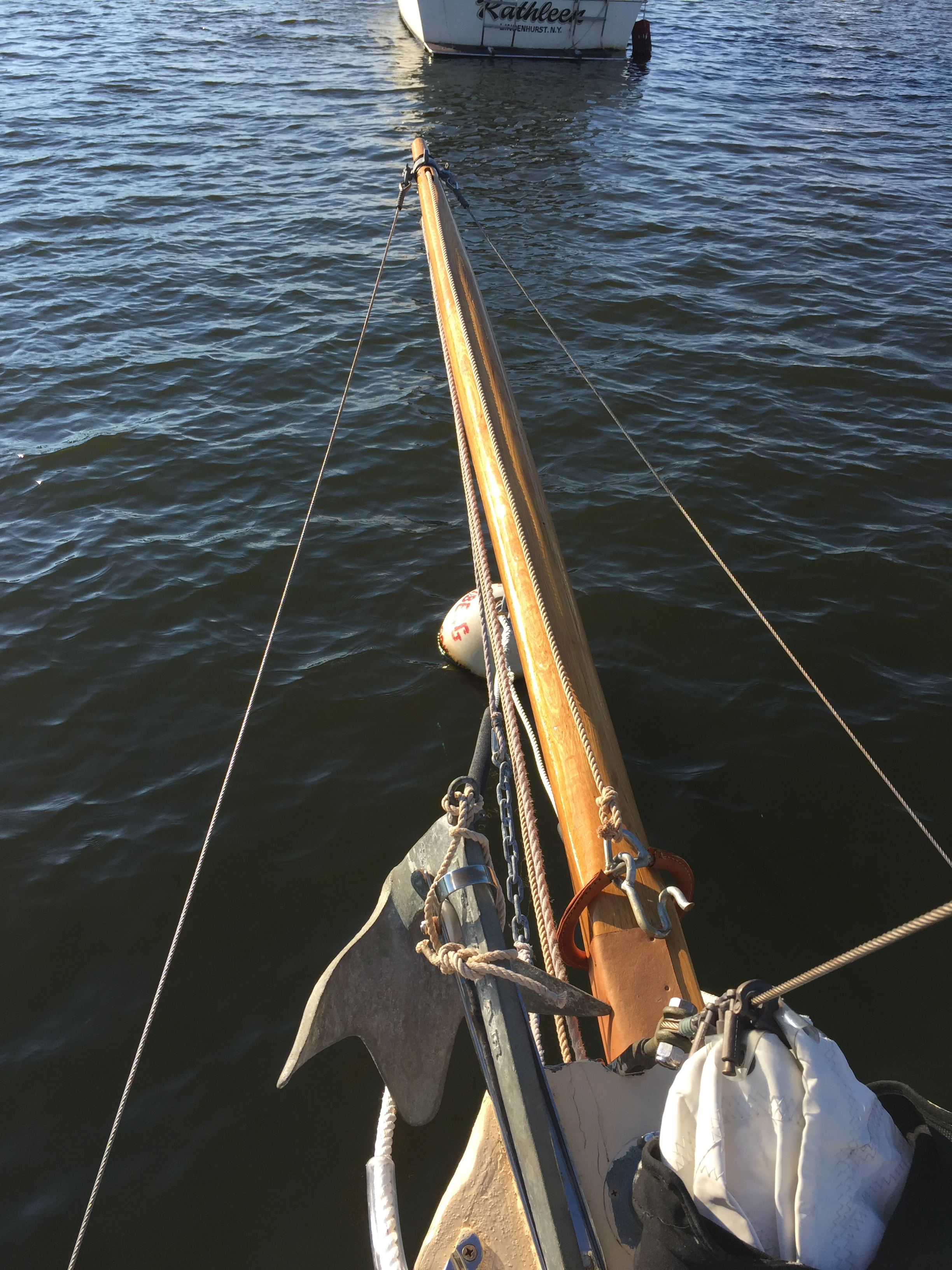 Leather bump pad protects varnish from fluke of anchor
And that was that! Tony and I took her out for a test sail and the sprit didn't break in half, and the bowsprit traveller worked beautifully. Of course, it was too exciting to take pictures. I'll post some as soon as I remember.
Anyway, a big project finally done.
Summer must be here because Eric Forsyth will be setting out on his next long trip, this time to the Baltic. Helena and I went to his
bon voyage
party this weekend. Lots of food, fun, videos of past adventures, and the traditional ragtime band were a good send off.
Here's Helena telling an old sea story to an enchanted well-wisher, with Eric listening approvingly: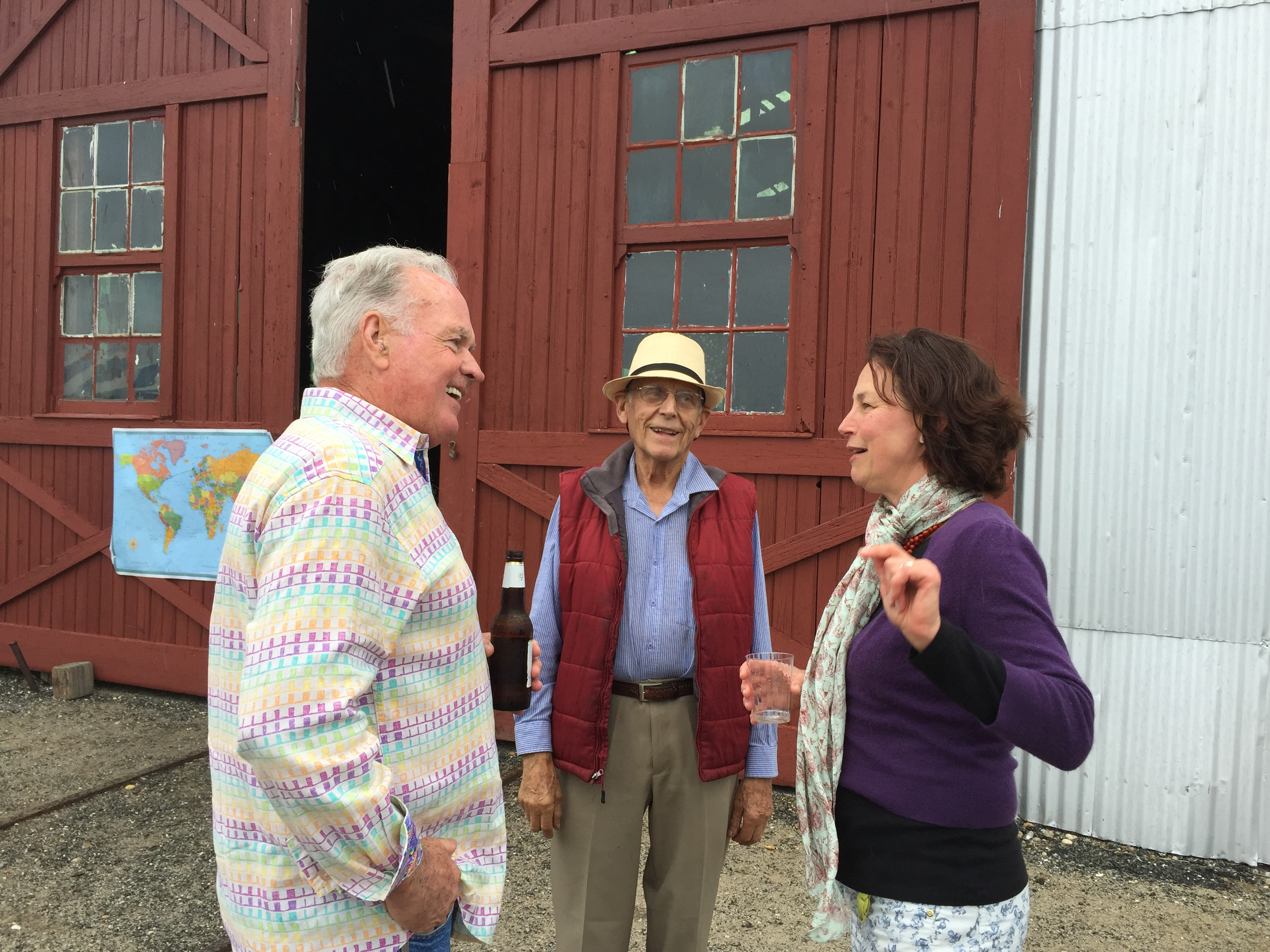 Helena telling stories of high-sea adventures, with Eric (middle) looking on.
And here's good-old Fiona,
mostly
ready for sea.
"Just a few more chores," said Eric.
Aren't there always?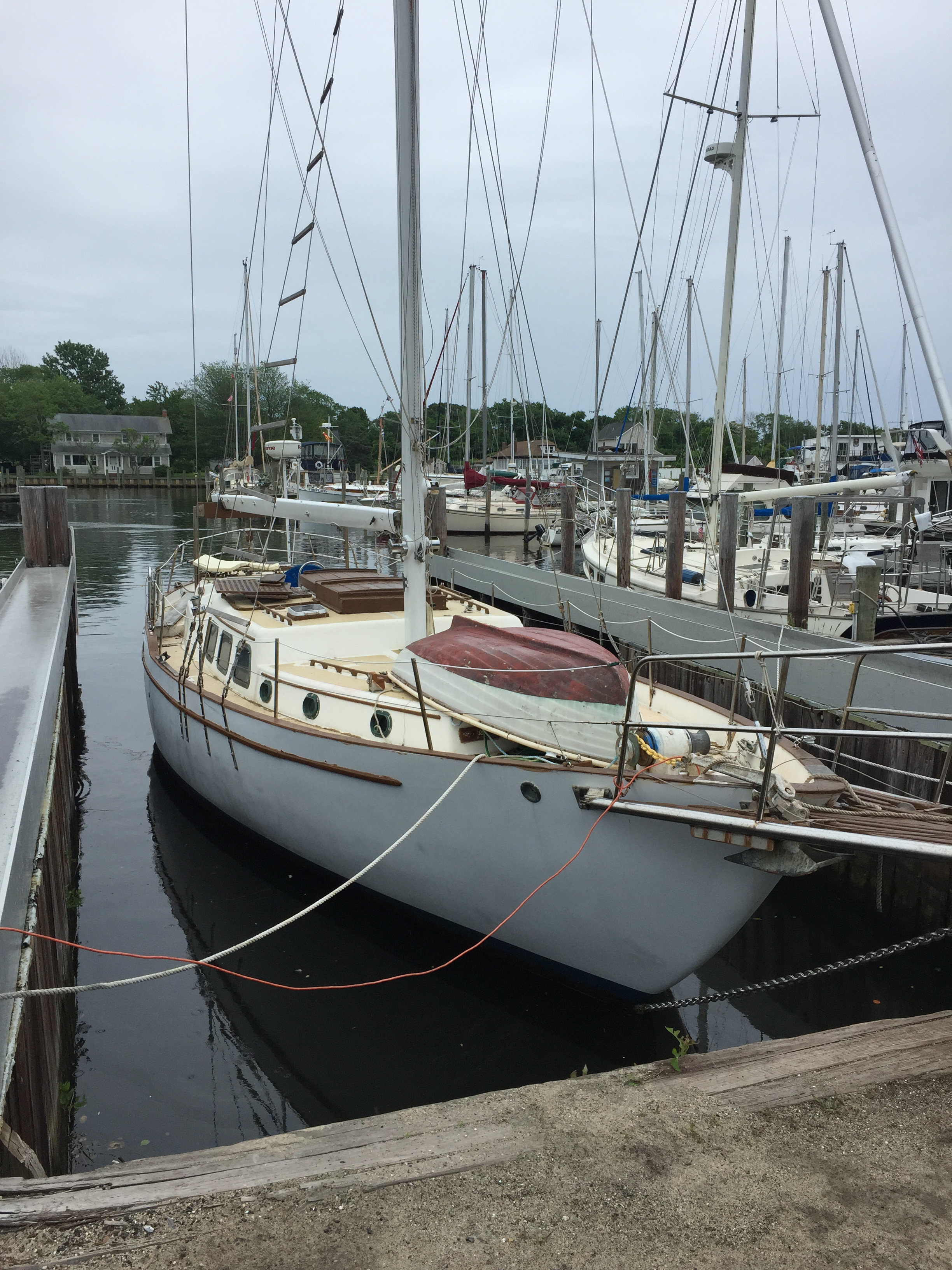 Fiona almost ready for sea
But summer is finally here. Time to seize it.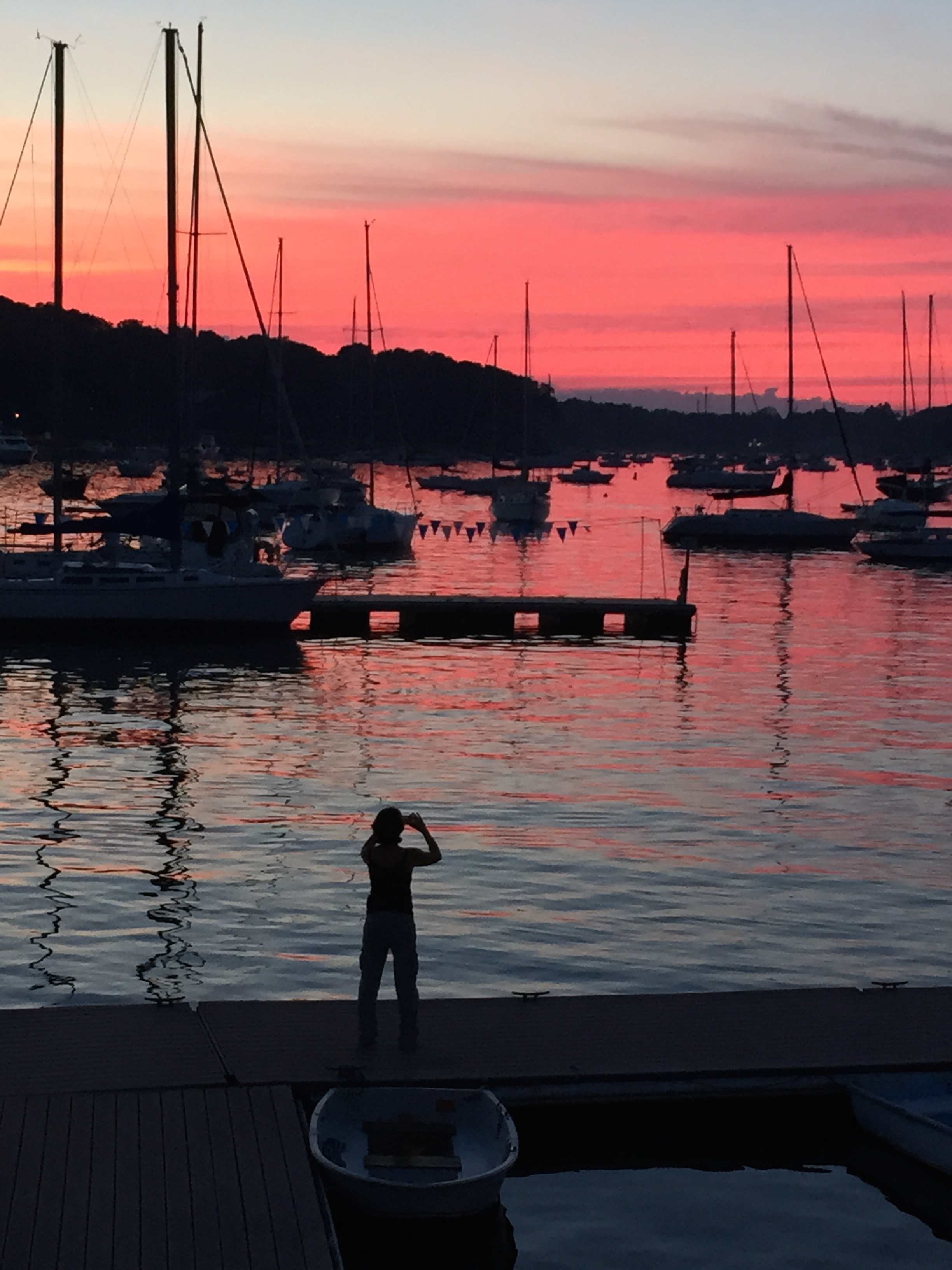 Sunset on Huntington Harbor
Next Up:
Cruise to the Baltic