One of the great things about getting old (okay, one of the
few
great things) is that you finally realize your parents weren't as dumb as you thought they were. That they actually might know more than you do about certain things. Not all things, but some things.
Young people are so focused on making their own way that they tend to rebuff advice, so gradually older people learn to pick their battles. As a result, when an older person does speak up it's probably a good clue you're doing something wrong. Not to say stupid.
So when Bob, the former owner of the
Blue Moon
, took time to write me, I listened. 85 (I think?) years young, expert sailor, owner of numerous wooden boats... yes, I listened...
I just read your latest blog and I enjoyed it. But, I am wondering if you are not putting a lot of unnecessary strain on yourself and your wife. It is obvious that you are a master of problem solving so far as the mechanical operation of your boat and your mind works in a methodical way that not all minds work.
You think that every one should enjoy how things work and and understand why... but in fact they should just enjoy being on the water and in the sunshine and the silent movement of the boat, done by the forces of nature. I fear that you have spent too much time in trying to make Helena a "Seaman" and not enough time in letting her enjoy the experience of the boat.
I would suggest that you determine what Helena either dislikes, or is afraid of, and pursue a different course of instruction.
I hope that I am not out of order in giving you my thoughts and suggestions I only want you and Helena to get the most enjoyment from the boat.
Best regards: Bob
As my daughter used to say,
Snap!
But I knew he was right, so I immediately took his suggestions to heart and began talking to Helena, trying to figure out what she wanted to get out of sailing. What she liked and didn't like. I tried to do this in a subtle way (well, as subtle as a man can be with a wife that can see straight through him), and then tried to implement the plan.
The result: a happy wife, which means a happy sailor.
I'm sure Helena will gradually pick up the details of sailing as we go along -- the same way I did when I was a kid. No one ever tried to 'teach' me sailing. I just gradually absorbed it from my Uncle Marty and my father, and from having my own boats, from that 14' O'Day
Widgeon
on Burden Lake, to the
Blue Moon
.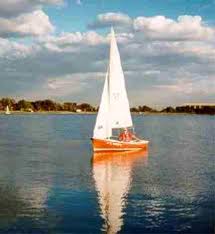 Widgeon -- a great little boat
But in the meantime, I'm going to order up a whole lot of summer nights and blue moons. With some sardines and crisp white wine for good measure.
Who says you can't teach an old sea dog new tricks?
Trust the Captain (Helena)
For some reason or another, my sailing lessons suddenly stopped. Yes, we were busy. Parents visiting, children coming back from college, summer engagements and parties.
Nevertheless, in the back of my mind, I was expecting that the next lesson would come along and soon. Maybe this weekend, maybe Monday since I didn't have any students, maybe on the next sunny Sunday morning... but somehow it didn't happened.
What happened were new friends, sailing friends, and something else...
Belonging to a sailing club necessarily means talking, dreaming, and meeting people that are fond of sailing. I was not reluctant to meet all those people but rather out of my comfort zone, so I probably seemed like a snob of some kind, not participating or having much to say. In reality, I just didn't know what to say. The sailing lessons were one way I expected to have something to discuss with other sailor's wives, but they all seem so sea-worthy and again I was lost about how to bond. Luckily there are ladies in the club who enjoy gardening and cooking and we had a great time talking about that, but I am still longing to belong as a mate, if you know what I mean.
Then Steve and Debbie came into our lives. John and Steve hit right away and off they went sailing, fixing things (very complicated things), exchanging tools and tips on how to make the best dingy, what are the best ropes (sorry, lines) for the job and agreeing on what beer tastes better on a nice summer evening.
Debbie and I were acquaintances. The only thing we had in common at that time was that we both had sailor husbands. Then came the invitation for a sail on their boat. Wow, I was so excited and at the same time nervous. John is a great sailor. Norwegian Steve, also a seasoned sailor, is a descendant of the famous boat designer,
Colin Archer
, and Debby has been sailing with Steve for eons and from what I hear, she is pretty good sailor herself.
We met on the dock for a sunset sail. Nice boat! Once permission to come aboard was granted, I settled my insecurities. There is no way one can be nervous with such a pleasant company. John steered the boat, Steve did whatever was needed to get sails up, Debby offered great conversation, cushions, snacks, beer and wine. I sat and watched the perfectly synchronized activity. We didn't get back on the dock until late that night.
Then it was our time to reciprocate, and now I am nervous: our boat is so much smaller, we don't have sink, kitchen, table, life-lines. Our head is in what John likes to call the foc'sle (that means half-hidden behind the mast, not behind a door.) I was nervous because if the boat heels too much, water gushes in the scuppers, and your bottom gets all wet no matter how thick the cushion you are sitting on.
I rigged a curtain to make the head more private and we sailed that evening.
As a hostess, I felt I should do what I can to make this sailing expedition smooth, undo the sail covers, get ready to raise the one sail I know how to, tie this and that line to where it goes, offer drinks and snacks to my guests.
What happened was unexpected. While we were motoring out into the Huntington Bay, Debbie uncorked the wine, Steve took over the steering, John took care of the sails, and by the time we got to the light house, we all had our favorite beverages in our hands, the motor was off, the sails raised and puffed, all the lines tied up where they should be, the ropes and covers folded and stored. Meanwhile, all I did was smile.
We were sailing beautifully, and I didn't have not even a little bubble of sweat popping and no adrenaline rush. It was a new and undiscovered pleasure to be sailing on my boat just for fun.
Now we are in the harbor, the wind is perfect; not too much, not too little. No water gushing into the scuppers. A beautiful big yellow
blue moon
rose behind the hills of Northport. The cool evening air had a hint of soon approaching fall. We all looked in awe of that beautiful sight. Our silence and the beauty of that moment was (I cannot think of any other better word) adorned by a light breeze on the sails and the water being gently sliced by our
Blue Moon
. We were speechless.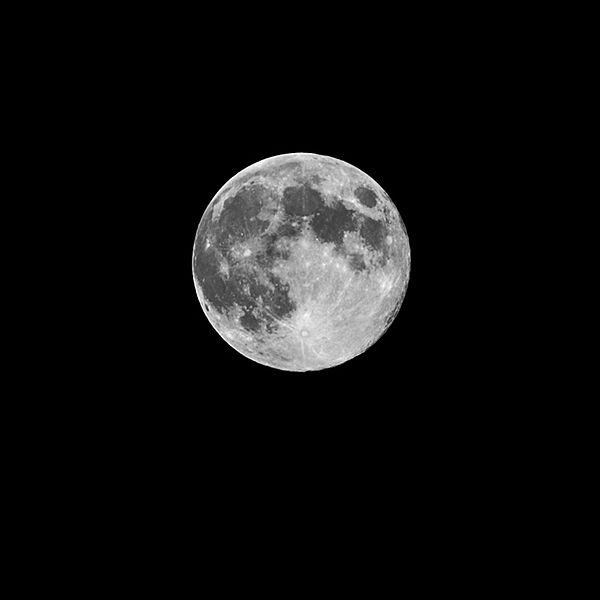 A real blue moon
We toasted to the blue moon and to the
Blue Moon
. Conversation was entertaining, we were laughing, bonding, telling stories and snacking in norwegian style, sardines, smoked salmon, hard boiled egg, black bread and wine, mmmm. We didn't head back until very late that night.
Back at the dock, I realized that this was the most important lesson I had all summer. It wasn't about how to sail, it was about the feeling of sailing.
Although John has been (trying to) tell me something all along, I wasn't listening. I was fretting, worrying and sweating. I was so wrapped up in memorizing the names of lines, sails, knots, so worried about drowning, getting lost at sea, so unsettled about rogue waves, sharks and wet bottoms.
I never noticed the beautiful sunsets, the gentle rocking of the boat, the swallows touching the water surface, the salt water droplets on my face. Now I do.
I look into John's eyes and I finally can read them, they tell me all, they tell me "Trust me", and I smile.
>>> Next Episode:
Cabin Boy Rowing Seat