With
Cabin Boy's
inwale
system pulled out of the boat for varnishing (which is kinda boring to write about), it was time to think about the
outwales
. It's easy to think of these external pieces as 'rub rails', but in traditionally built boats, their main purpose is to help stiffen the sides so they don't flex when you are rowing.
This isn't so important in a glued-lapstrake boat, which are plenty stiff to begin with. I rowed
Cabin Boy
nearly every day all the way up the coast, and was never bothered by any flexing, even on those few unfortunate occasions when I really had to muscle my way to windward. But a little extra stiffness would make rowing that much easier.
So I started looking around for wood to use. I thought I had some half-round red oak molding left over from a home improvement project -- perfect, I thought, for an outwale. But my memory was faulty. The leftovers weren't half-rounds, they were quarter round. Dang.
It has been my goal to complete this refit without buying any wood, but what choice did I have? Nothing in my junk pile looked right. I had a bunch of molding that I'd experimented with as lofting battens, but they were all odd-ball shapes. Nothing that looked like an outwale.
So reluctantly I headed down to my local Big Box store. Much to my surprise, they didn't have any half-round molding either. Not even cheap 'white wood' half-round molding. I stopped at a more upscale wood emporium on the way home, and they had some oak half-rounds, but the prices made my eyes pop. I drove home thinking, there must be a better way.
After mulling this problem over for a day or two, it suddenly occurred to me that I didn't need to
buy
half-round molding. That was for amateurs! Well, I was still an amateur, but I didn't need to buy any stinkin' half-round molding. I could make it!
You might be thinking, 'well, duh!', but I was thinking 'Wow! What a revelation!'
And, yes, that's why I'm an amateur.
Anyway, I rushed back to my junk pile and after digging a bit, found a 10' long strip of white oak, about 1" by 1/2" in cross section. I figured it was just wide enough for two outwales if I ripped it exactly -- and I mean
exactly
-- in half.
I set up my table saw and feather board and, before I knew it, I had two strips, pretty much exactly the same size. Unfortunately, I was so excited, I forgot to take 'before' pictures, but here are the two 'after' strips, all ready for shaping: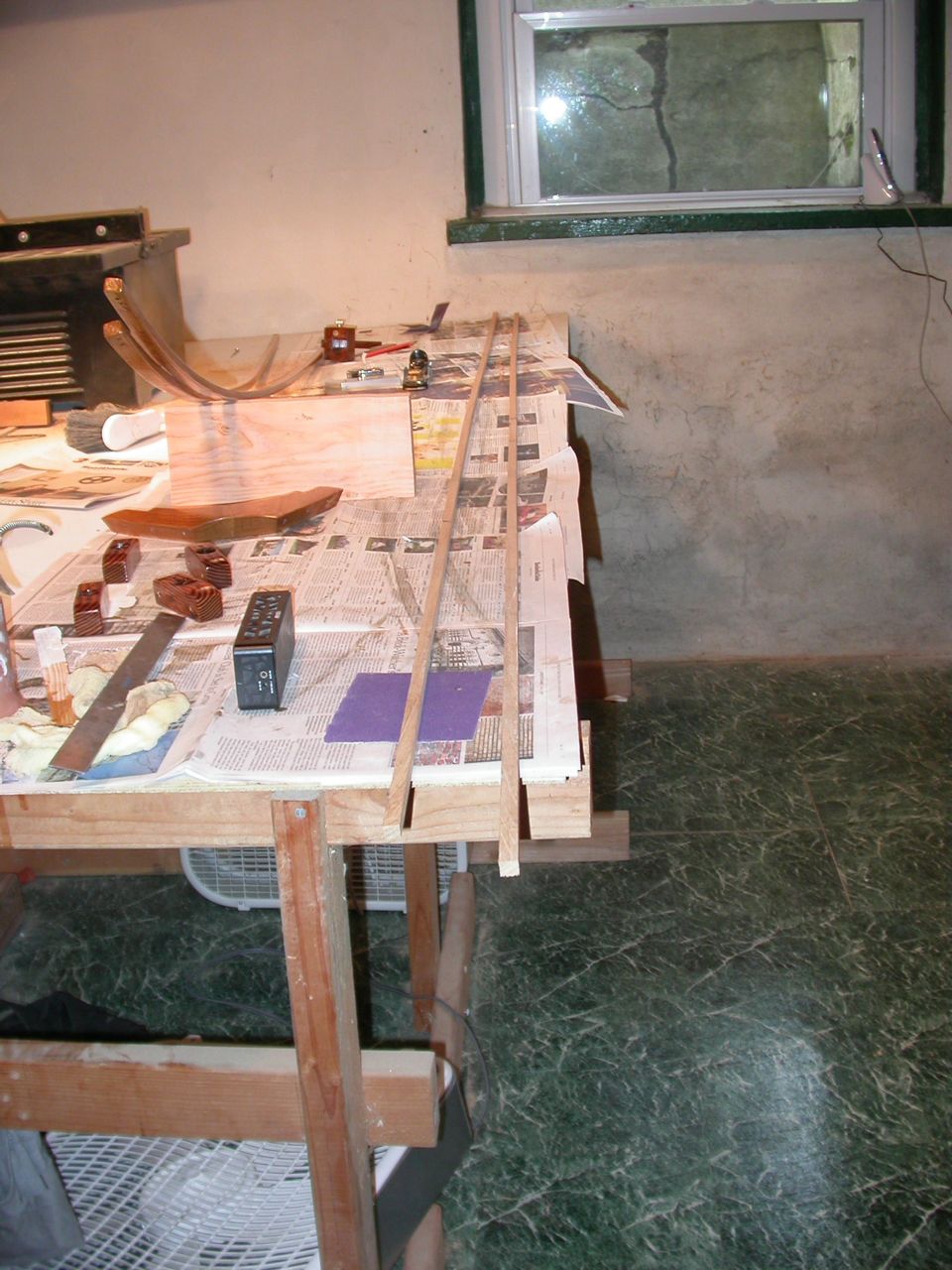 The secret of boatbuilding: mill your own wood
I quickly turned the square-sectioned strips into half-rounds with my block plane and some judicious sanding. This was so easy that I felt a little dumb for wasting all that time driving to lumber yards looking for half-round stock.
Never again.
I rounded off the end with a spokeshave and sand paper. Then it was ready to try on the boat.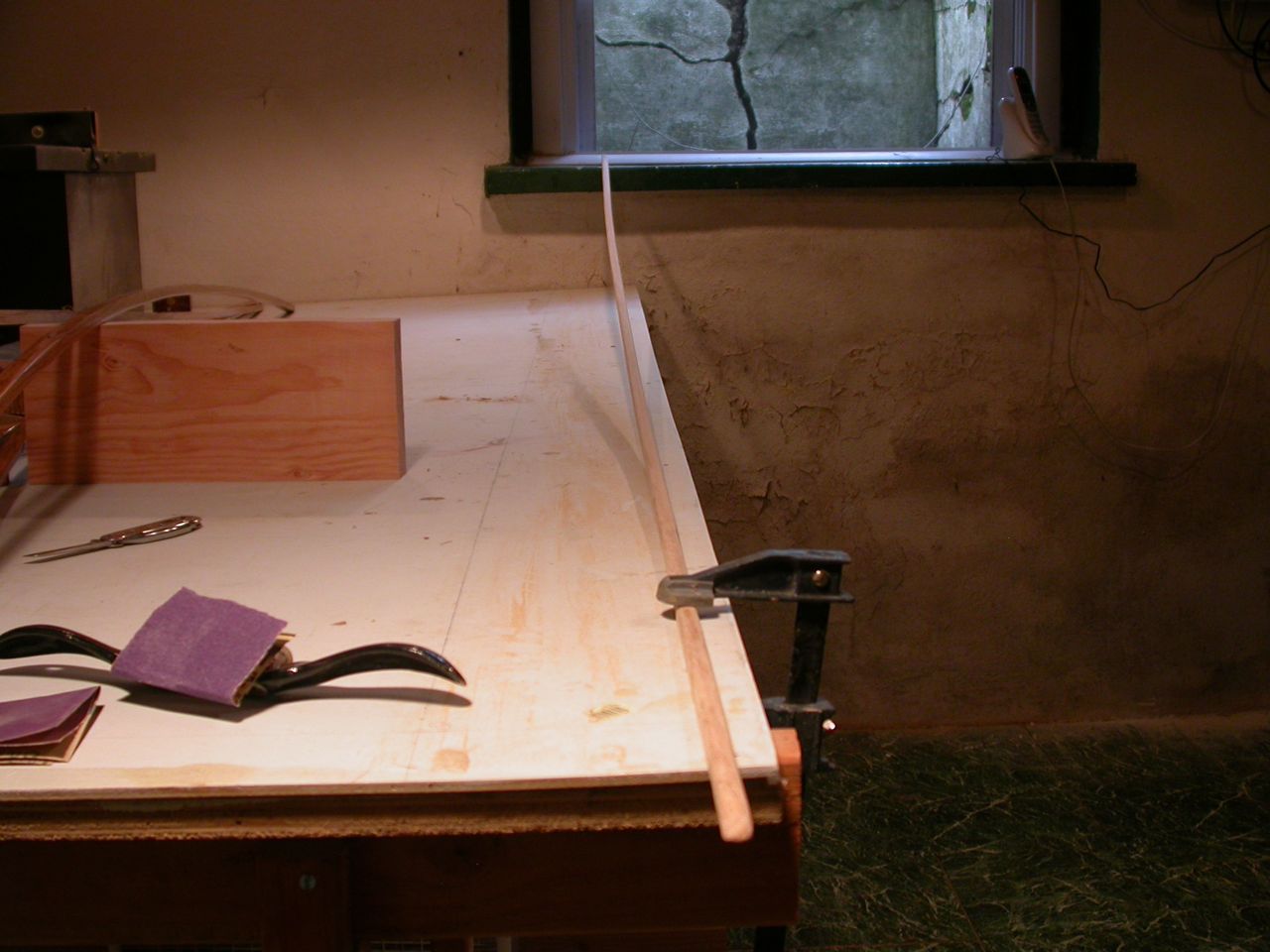 From square to half-round
I was worried that the strip would edge-set when I curved it along Cabin boy's sheer, and it probably is, a bit, but not enough to notice. So, I started drilling screw holes. The screws will go through the outwale and the sheer strake, and into the oak frames.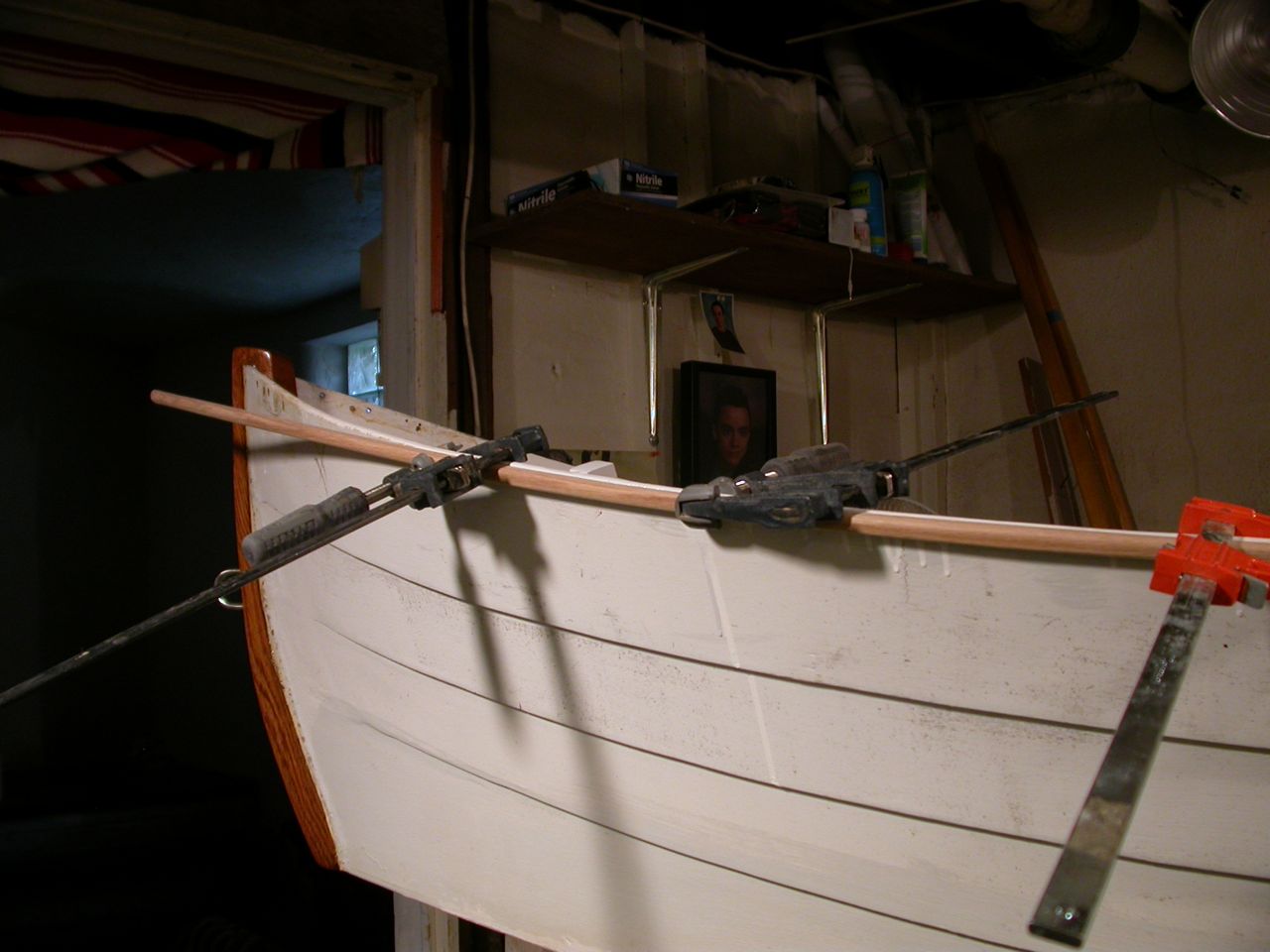 Lots of clamps needed
One thing I would change if I did it again would be to use smaller screws. I had #8 bronze screws on hand, so started drilling for that size, but realized half-way through that #6 would have been better. So I drilled the remainder of the wholes for #6 screws and used some cheap zinc screws temporarily. The bronze ones are on order.
Which proved you can never have enough goop on your shelves, or hardware. (My goop collection has become pretty impressive.)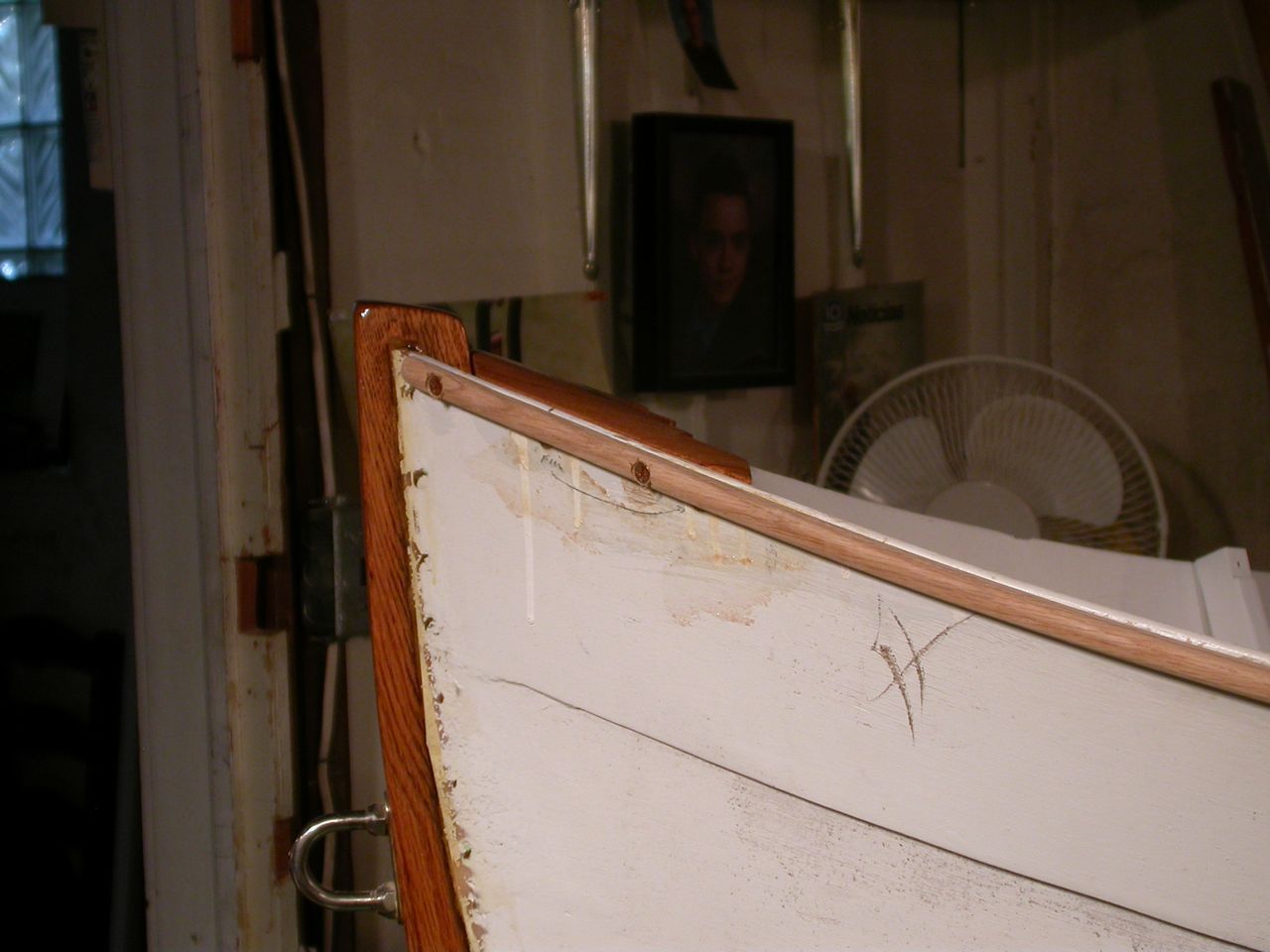 Size (of screws) matters
And here's the first strake screwed on. I never get tired of looking at that John Atkin sheer line. Sheer beauty, even when built by an amateur.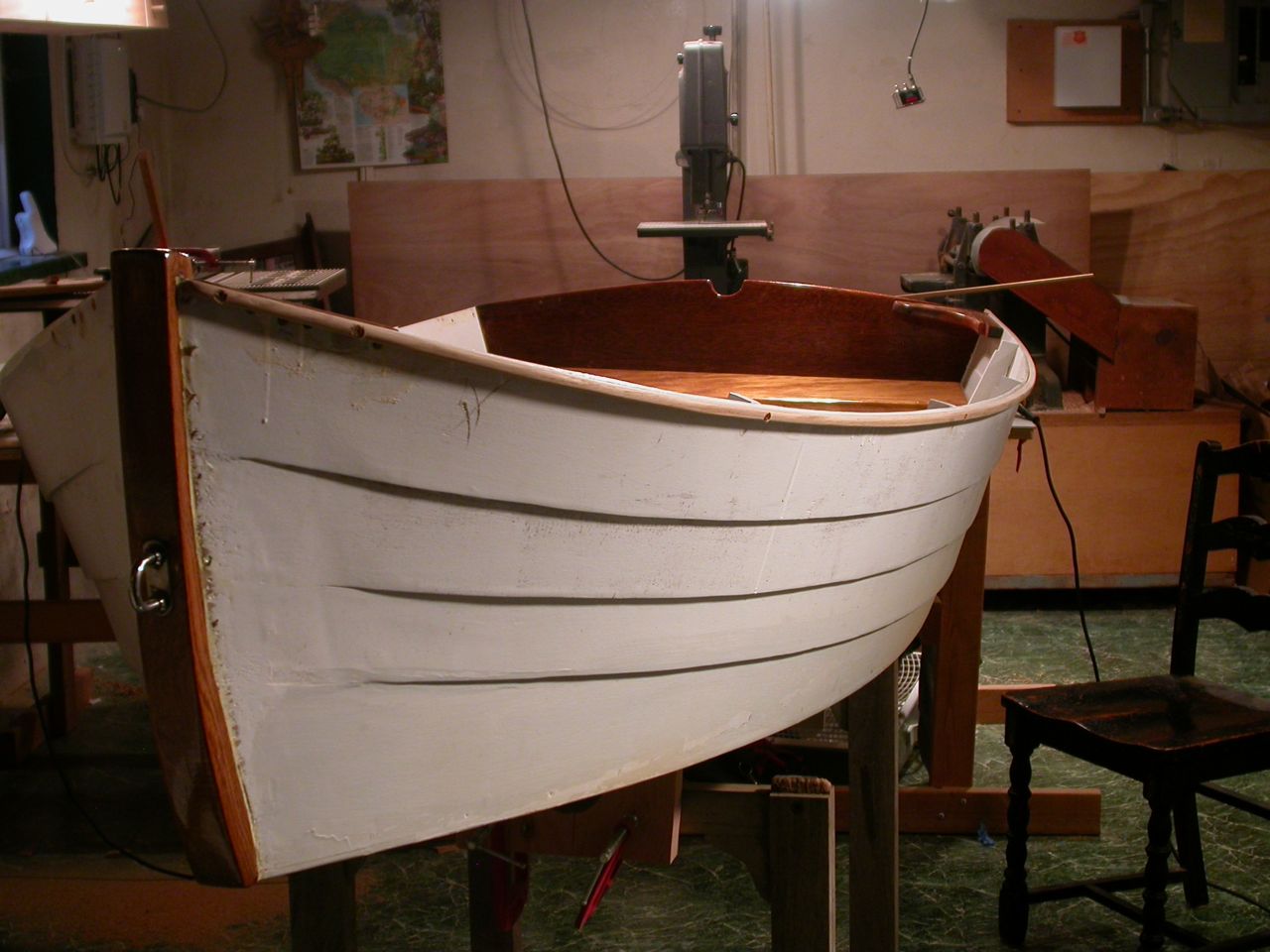 Not too bad, though!
So the outwales are being varnished and Cabin Boy is outside in the warm weather, getting three coats of topside paint, and three coats of bottom paint. He should be ready for his grand relaunch some time next week, if King Neptune is willing.
Meanwhile, there are my oars to worry about...
By the way, my comments section was getting inundated by spam there for awhile, so I disabled anonymous commenting. But a number of people complained that they couldn't comment any more, so I've reenabled it. One of these days I'll figure out how to get Google to filter this spam automatically. Maybe.
Next Episode:
Leathering Oars